Rotella t6 vs Amsoil Motor Oil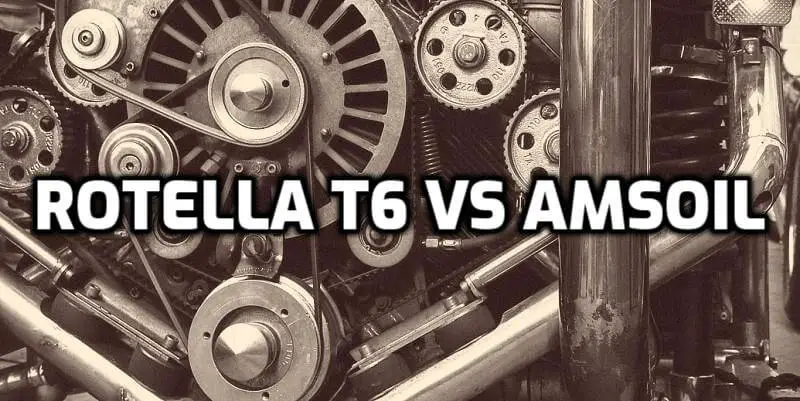 If you are looking for motor oil that will protect your engine and keep it running smoothly, you may be wondering which is the best option: Rotella T6 or Amsoil. In this blog post, we will compare these two oils and help you decide which one is right for you.
Rotella T6 vs Amsoil Table
Both of these oils are popular choices among drivers, but which one is the best? Keep reading to find out!
| | |
| --- | --- |
| | |
| | |
| Compatibility of Vehicle Emissions Systems | It Has Vehicle Emission Compliance and Engine Fuel Efficiency |
| It Offers Enhanced Fuel Economy Capability | Improving Fuel Economy and Cold-Weather Shifting. |
| Provides Excellent protection against harmful engine wear | Have Advanced Protection Against Wear |
| Improved Heat Resistance Capability | Protects Against Rust and Corrosion |
| Synthetic Oil for Diesel Engine | Synthetic Oil for Gasoline Engine |
| In Low Temperature Rotella Performs Better | Gives an Outstanding Performance at High Temperature |
| Protection in Extreme Operating Temperatures | Excellent High-Temperature Efficiency |
| Full Synthetic Oil With Triple Protection Plus Technology | Develops a Strong Fluid Film That Keeps Metal Surfaces Separated |
| | |
Why Compare?
When it comes to motor oil, there are many different brands and types to choose from. So, why compare Rotella T and Amsoil? Well, both of these oils are synthetic oils, which means they are designed to provide better protection for your engine than traditional motor oils. Synthetic oils also tend to last longer before needing to be replaced.
Shell Rotella T6 diesel engine oil is a synthetic motor oil with Triple Protection Plus technology. This technology protects against wear, deposits, and oil breakdown. Shell Rotella T6 Full Synthetic motor oil is an excellent option for contemporary low-emission heavy-duty engines as well as older hard-working diesel engines. It improves low-temperature flow while maintaining durability.
AMSOIL develops high-performance synthetic oils for car enthusiasts. AMSOIL Signature Series 0W-30 is a fully synthetic motor oil that exceeds the most stringent performance requirements, including those of API SN and ILSAC GF-Five. It offers extreme engine protection for gasoline engines.
The main difference between Rotella T and Amsoil is that Rotella T is designed for diesel engines, while AMSOIL is designed for gasoline engines. However, both oils are synthetic and offer excellent protection for your engine.
What is Rotella t6?
Rotella T6 diesel engine oil SAE 15W-40 is an entirely synthetic high-performance engine oil that has been developed and formulated to outperform standard and semi-synthetic Rotella 15W engine oil. It's compatible with almost all new high-power, low-emission engines, as well as older diesel engines.
It is an outstanding option for the fleet, with a range of features and acclaim from many of the world's leading engine manufacturers. It is appropriate for use in general aviation, manufacturing, irrigation, transportation, and diesel vehicles.
Benefits Of Rotella Oil
Wear resistance has been improved.
It has improved oxidation resistance.
Excellent for deposit removal or washing.
It improved low-temperature flow.
Excellent corrosion resistance.
Shear safety and stabilization are exceptional.
Extreme weather security.
Heat tolerance has been improved.
It is compatible with the emission system.
Rotella t6 has improved fuel economy.
It is resistant to viscosity loss caused by sheer.
Not only does it have sophisticated multi-functionality, but it also has low ash additive technology.
What is AMSOIL Synthetic oil?
AMSOIL creates industrial high-efficiency motor oil specifically for drivers, automotive enthusiasts, and endurance enthusiasts. They recognized the barriers to high efficiency and automotive life and then developed an utterly synthetic motor oil to assist you in overcoming these barriers. Its materials are meticulously designed to provide superior wear resistance, optimum fuel efficiency, and engine cleanliness.
AMSOIL high-quality diesel is made with a super-shear stable polymer framework that preserves viscosity better than low-quality goods. It has more excellent viscosity stability than rival engine oils.
Benefits Of AMSOIL
Resistant to high stresses.
AMSOIL oil maintains natural viscosity.
It reduces the amount of oil change.
Increases fuel efficiency.
Excellent high-temperature efficiency.
Six times the wear safety.
While handling large loads, it provides 60% turbocharger cleanliness.
Maintains viscosity after the high-temperature operation, thus shielding the engine and increasing performance.
It is resistant to thermal breakdown.
Reduce gasoline consumption by up to 76%.
Protection
A turbocharger can cause harm to your oil if the temperature exceeds up to 1000 degrees Fahrenheit. It can create deposits and wear. If your oil fails, then the turbocharger can be brutal on your oil, and eventually, you start losing horsepower. But AMSOIL is here to help you. AMSOIL gives extra protection and protects the horsepower. Research shows that AMSOIL provides protection 6X more than required.
On the other hand, the molecules of Rotella synthetic oil create a lubricating layer or a protective coating around the components. This layer ensures that there is no friction and wear between the parts of the engine.
The protective layer of Rotella is also beneficial, particularly during the startup phase. The oil settles while the engine is idle. On initialization, the engine components are subjected to friction and wear. However, the pressure with the protective layer is minimized until the oil flows to lubricate the piston.
Viscosity and Oil Consumption
AMSOIL has comparatively a low rate of burn-off (volatility), and that's why it passes less oil into the combustion chamber. Also, it reduces oil combustion while operating. Compared to other oil, it provides up to 76% less oil consumption. It has a very stable viscosity throughout its whole service life and fights against shear down.
Shell Rotella also has shear stability, which means it can withstand changes in viscosity. This is particularly useful in diesel engines, which work hard and under a lot of strain. The tolerance to viscosity loss means that your machine is still safe.
Conventional oils break down quickly due to a lot of heat generation in the heavy-duty diesel engine. But Rotella t6 synthetic oil has additives with thermal properties, so they do not break at high temperatures. And that ensures a long lifespan of the engine.
Who is Better?
The differences clearly show that AMSOIL outperforms Rotella T6 in any way. AMSOIL 5W-40 synthetic diesel oil has a pour point advantage of 8.69% over Shell Rotella T6 5W-40. After 400 hours, the viscosity of AMSOIL had decreased by 13.10%. On the contrary, the consistency of Shell T6 had been reduced by 15.49% of its original viscosity.
But AMSOIL is a bit more expensive than Rotella t6. So if considering the budget issue, AMSOIL is better according to the research. If you can consider that fact, otherwise Rotella t6 is an available option.
Conclusion
From the above discussion, it is clear that AMSOIL is a better choice over Rotella T66 in terms of protection, viscosity, and oil consumption. Although it is a bit more expensive, the benefits it provides are worth the price. If you can afford it, we would recommend using AMSOIL for your engine oil needs. Otherwise, Rotella T66 is also a good option.
We hope this article helped decide which oil is best for you. If you have any further questions, please feel free to contact us and we will be happy to help! Thanks again for reading!
Related Article