Bilstein 4600 vs Rancho 5000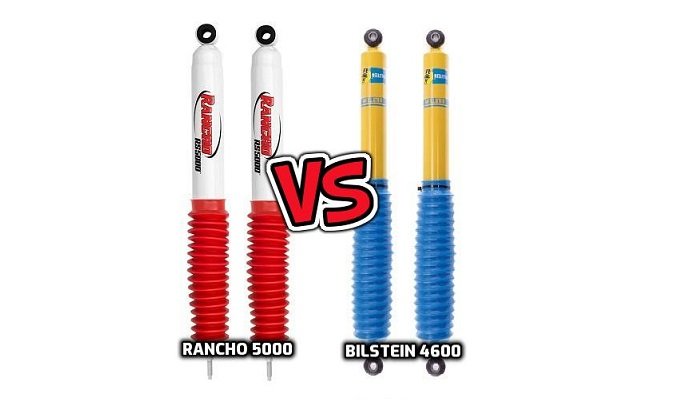 If you are looking for a new set of shock absorbers for your vehicle, you may be wondering whether to go with the Bilstein 4600 or the Rancho 5000. Both brands offer high-quality shocks that will improve your driving experience, but which one is right for you? This article will compare the two brands and help you decide which one is best for your needs.
Rancho 5000 vs Bilstein 4600
We will compare the two brands and help you decide the best option for your vehicle.
| | |
| --- | --- |
| | |
| | |
| Has a piston size of 46mm. This provides better damping. | Has a 35mm diameter piston. Has slightly less damping ability |
| With digressive valving, it easily adjusts to changes in road surface conditions. This provides excellent control and comfort both on and off road. | Ten-Stage Velocity Sensitive Valving makes tuning for your ride easy. This provides excellent dampening and smooth rides. |
| Has vulcanized neoprene rubber bushings which is extremely durable | The rubber bushings are 50% more thick. With the introduction of double welded loops, the rubber bushings are held firmly in place. |
| Built with monotube upside down technology, it is undoubtedly a top choice for sports cars and motorsports | It has a twin tube design. Suitable to day to day rides in affordable price. |
| The main body is made of chrome plated steel. Whole body is painted. This provide better rust protection | The main body is made of steel and is painted. There is no zinc coating. There remains chances of rusting |
| No additional spring is required. Can be bolted easily making installation easy | The installation is quite easy and can be done even without removing the front tires. |
| Can be lifted to different heights | Can be adjusted to the specification of each car. |
| Has great performance with fast transition. Provides optimum grip and also improved lane stability in every day drive and adventures. | Delivers good performance compared to the price. Can be bought individually in case there is fault in a single shock. |
| It offers limited lifetime warranty protects against defects and premature failure | It offers limited lifetime warranty protects against defects and premature failure |
| | |
Why Compare?
The main difference between Bilstein 4600 and Rancho 5000 shock absorbers is that the Bilstein is a mono-tube design while Rancho is a twin-tube design. The main advantage of the Bilstein shock absorber is that it has more consistent performance and can handle off-road driving better. However, the Rancho shock absorber is less expensive and offers a better ride experience.
Things to Keep in Mind
Look for the technology used and the features provided. There may be upgraded models of the same product with improved technology and features.

Be sure of what height you want. Choose the shocks which can be easily adjusted to your required size. This will make the installation easier and ultimately give you the preferred outcome.

Look for the durability of the shocks. Buying expensive shocks which might rust over time will do you no good. So look for the materials used in the build.

Find out the road conditions of your average routes. Different shocks are built to satisfy different needs and road surfaces. A better idea of the routes and requirements will help make a good decision.
Type of shock
Shocks need to be well-built and muscular. The function of the shock absorber demands them to be so. The type of shocks is mainly two. Mono or twin-tube. Both types are hugely popular and used interchangeably.
Here, 4600 is mono-tube powered, and the Rancho is twin-tube powered. Twin-tube is a little lagged behind technology compared to the mono.
Function
The Bilstein shock mentioned in the article has very good valving, which resonates with excellent ground traction with superb comfort regardless of on or off-road. The Rancho shocks come with even better valving; they are finally put into the shocks after passing all 10-sensitivity testing.
Built Material
These two companies have a proven reputation in the industry, and they always try to make their product stand out. This effort has ensured that their products are equipped with the best materials.
These shocks are made of fine selected steel with a painted zinc coating. Rancho being a hydraulic shock is filled with oiling, and the Bilstein contains pressurized nitrogen gas. Also, the first shock has a more oversized piston than the following one.
Life Span
The lifespan of the rancho adjustable shocks is expected to be around 1,00,000kms. The wonders are known to last longer if you change all the shocks simultaneously. This way, individual shocks don't have to carry out the weight of the others. Bilstein runs a little less than the Rancho. The service is up to 80,000kms, but they make up for the lacking of reliability they offer.
Price
At this point, we all know that to get something good, we pay a few bucks extra. Being so productive with the research and all, Bilstein charges a little more than others, yet they are sold in high quantity. Rancho is excellent in quality but is comparatively new in the market, and the charge is a little less than the prior one.
Our Observation
If you are looking for shocks for lifted vehicles, then Rancho 5000 is your only choice. Besides that, the Rancho 5000 has a smaller piston of 35mm. Has a twin-tube design. This is not suitable for extensive off-road use. The ride may not be as comfortable as its competitor and might result in a shock fade. There is no coating on the body, and it is only painted. This makes it prone to rust.
On the other hand, Bilstein 4600 has a monotube design and a more oversized piston of 46mm. It is more capable of handling off-road driving and performs more consistently. It is more secured against rust. If your budget is your concern or has a lifted vehicle, Rancho 5000 will provide a good performance and ride experience. But despite being slightly higher in price, Bilstein 4600 is better overall and is the wise option. For more of our in-depth comparisons, follow the link below. Rancho RS9000XL VS Bilstein 510The perfect one for your ride.
Frequently Asked Questions
When Should I Replace My Shock Absorbers?
Answer: This depends on the brand. Look for the average lifespan of the product. Consult with your dealer to get a checkup of your current ones.
How Do Brands Have Better Manufacturers?
Answer: Bilstein products are manufactured in Germany and the US, so it has a better manufacturer. Rancho's products are manufactured in Mexico and other Asian countries.

Peter Rees, your go-to car parts expert, bridges the gap between mechanics and motorists. With over decades in the automotive industry, he decodes the intricacies of vehicles in his insightful blog, steering readers toward savvy decisions and smooth rides.