Rancho RS9000XL VS Bilstein 5100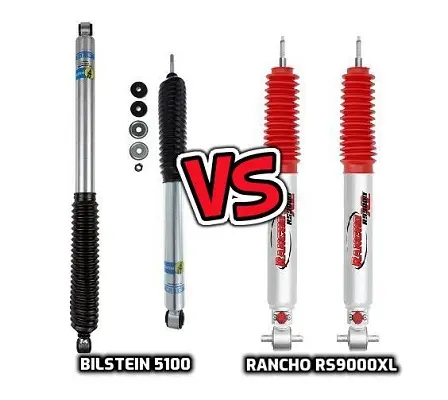 Our expert research team has done a comparison of their RS9000XL and 5100 series shock absorbers so that you can make an informed decision with all the facts. The latest trends in the automotive industry have pointed to these two as being highly sought after, but now it's time for us to determine which is best!
Bilstein 5100 vs Rancho RS9000XL
We'll go over the features of their pros and cons and which one is the best option for most people.
| | |
| --- | --- |
| | |
| | |
| | |
| | |
| Setting: Up to 4" height setting. | Setting: Only 3" setting. |
| | |
| In-built adaptable damping feature available. | 5100 shock absorbers are designed as a direct fit solution |
| Has the technology of 9-position system | It change on road conditions to assure optimal performance |
| Has the self-lubrication feature | Has the self-lubrication feature |
| Body Material is Steel & Finish in Zinc Plated | Body Material is Steel & Finish in Zinc Plated |
| Delivers smooth performance to on- and off-road trucks, SUVs and Jeeps | The BILSTEIN B8 5100 series is perfect for lifted trucks and SUVs. |
| Has nine-position manually adjustable ride control series in the off-road market | It offer a significant improvement in ride quality, handling, and comfort. |
| | |
Why Compare?
Bilstein and Rancho are two of the most popular options, and for a good reason. Both brands make high-quality shocks that offer a lot of features and benefits. However, deciding which brand to go with can be challenging, as they both have unique advantages.
The BILSTEIN 5100's monotube design and digressive valving aid in its rapid response to changing road conditions. When the vehicle is packed or unloaded, on or off-road, it assists in keeping the ride smooth, controlled, and pleasant.
The RS9000XL series is the first adjustable ride control series for off-road vehicles. The adjustable damping makes the ride more comfortable by countering the extra weight of larger tires and wheels. The RS9000XL series is engineered and manufactured in the U.S, and a limited lifetime warranty covers all units.
Adjustable Settings
The big selling point of the Bilstein 5100 is that it's adjustable. You can set it to one of four positions depending on your needs and preferences. This is a huge advantage for some people, giving them more control over their rides.
The Rancho RS9000XL is also adjustable but in a different way. Rather than having four different positions, it has nine different settings. You can fine-tune the shocks to match your needs and preferences better.
Ride Quality
Both brands offer excellent ride quality, but the Bilstein 5100 is better. It can handle bumps and other road irregularities better than the Rancho RS9000XL.
Function
Bilstein has impressed us all with the consistent functionality of its product. 5100 is the golden example for them. This damper does everything. Of course, you can put these mono-tube shocks to regular aggressive usage, but it would take care of any common need.
Rancho dampers just brought their A-game to the market with the 9000 series. It is just way more futuristic compared to the other available product. The tri-tube, nine-position system are eye-catching features that other companies have yet to catch up with.
Built Quality
Both these shocks are built out of steel with zinc coating on top. But the Rancho is chromed twice, making it sturdier and better off for long roads. Both the shocks are self-lubricated. 9000xl has four height settings for lifting the vehicle, whereas the 5100 has 3. Rancho wins the comparison when we see the built-in dampening feature that dampens vibration and talks about the nine-position system.
Size & Weight
The difference in size is crystal clear, and we see the Rancho as the bigger one. 9000xl has a more extensive body compared to the 5100. However, the piston of the 9000 is made smaller than the Bilstein shocks to accommodate the 9-position system.
Life Span
Rancho dampers are known to provide a superior lifespan to any other shocks. When you look at their features, it's not much of a surprise anymore. They are believed to service for 1,00,000 km. 5100 has proven its worth and goes 50,000kms without any hassle. It is reported that they can go up to 80,000kms, but that will require you to drive with care and compassion.
Price
9000xl shocks are priced over the Bilstein's. When you look at the features like a tri-tube, a nine-position system, an adjustable knob, and a nitro-crab, you'll realize that it is worth the investment. Besides, it brings a personalized touch to your car.
Our Observation
The main difference between Rancho RS9000XL and Bilstein 5100 is that the Bilstein 5100 is a monotube design, and the Rancho RS9000XL is a twin-tube design. The main advantage of the monotube design is that it dissipates heat better and is more resistant to cavitation (the formation of air bubbles in the hydraulic fluid).
This makes the Bilstein 5100 a good choice for off-road use, where the shocks can get hotter, and there is more chance of cavitation. The twin-tube design of the Rancho RS9000XL is more common and is less expensive to manufacture. It also dissipates heat better than a single-tube design but is more susceptible to cavitation.
The main advantage of the twin-tube design is that it allows for a larger volume of oil, making the shocks more resistant to fade (the loss of damping power due to heat build-up). This makes the Rancho RS9000XL a good choice for on-road use, where the shocks are not likely to get as hot, and there is less chance of cavitation.
Conclusion
So, which one should you buy? The Bilstein 5100s are the better choice for most people. They offer a smoother ride, a better response to changing road conditions, and a more comfortable ride overall.
However, you are looking for an adjustable ride control series specifically for off-road vehicles. In that case, the Rancho RS9000XL series may be a better option. Whichever option you choose, you can be confident that you are getting a high-quality product from a trusted brand.
Related Article