Bilstein 5100 VS Fox 2.0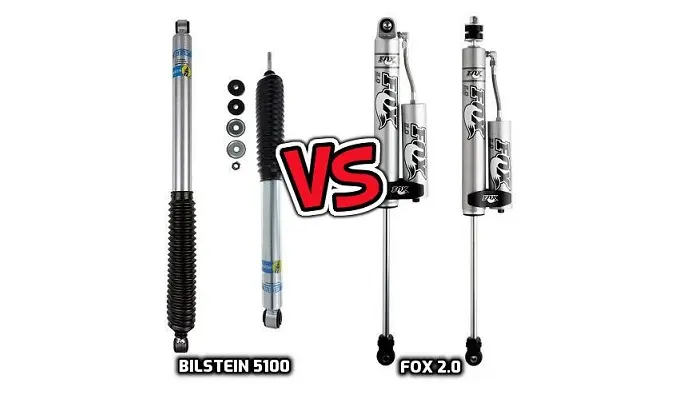 If you're looking to improve the ride quality of your truck, then you may be wondering whether to go with Bilstein 5100 or Fox 2.0 shocks. Both brands are popular options, and it can be hard to decide which one is right for you. This article will compare the two brands and help you decide which option is best for your needs.
Bilstein 5100 vs Fox 2.0 Table
Both of these shocks are popular options, and they both have their pros and cons. We will compare the two shocks and help you decide which one is right for you.
| | |
| --- | --- |
| | |
| | |
| | |
| | |
| | |
| Heat Dissipation Ability: Good | Heat Dissipation Ability: Better |
| No specific valving adjust facility available. | Specific valving adjust opportunity available. |
| Built with Zinc Plated Steel. | |
| Around 200 PSI number of Nitrogen assures steady riding through the bumps. | The 3000 PSI Nitrogen gas makes the riding way firmer and steadier. |
| Designed for moderate trails. | Designed for aggressive tracks. |
| Bilstein B8 5100 Has Limited Lifetime Warranty on this product | Has one year warranty protects against defects and premature failure. |
| | Direct Fit For Lifted Trucks And Suv |
| | |
Why Compare?
For example, Bilstein shocks are designed for off-road use, while Fox shocks are intended for on-road use. So, if you're looking for a shock absorber that will improve your truck's ride quality on the road, you should go with a Fox shock. On the other hand, if you're looking for a shock absorber that will improve your truck's ride quality on off-road terrain, then you should go with a Bilstein shock.
The 5100 shock absorber series is perfect for lifted trucks and SUVs. This shock absorber has a monotube design and patented digressive valving that is uniquely suited to confront the extra demands these types of vehicles place on the damping ability of a shock absorber.
The Fox 2.0 Performance Series IFP smooth body shocks are some of the best shocks on the market today. They use the latest technology to improve your truck or SUV's performance. The shocks are made with race-proven damping control to give you a smooth ride on the road and predictable handling off-road. The precision metal impact aluminum body is designed to dissipate heat more effectively, so your shocks will last longer.
Construction
The Bilstein shocks are made with a monotube design. This design is better at dissipating heat, so your shocks will last longer. The Fox shocks are also made with a monotube design, but they use precision metal impact aluminum to dissipate heat more effectively. Both of these brands use a nitrogen gas charge.
Function
The 5100 shocks changed the industry with efficiency and controlled it while driving. This shock easily adapts to a lifted vehicle and adds additional height. With 200 PSI built for moderate off-road driving, this shock impresses all with the functionality.
The Fox shocks are a big name in the market. And when they came into the industry, it created an immediate impact. This shock is built for aggressive tracks and extensive usage. You can use it on any road. 3000 PSI shows the shock absorbers' sheer power; functionality-wise, it is the best as the shock absorbers get.
Built Material
2.0 fox shocks are delicately built. The body is built with aluminum and a floating piston in it. It can dissipate heat very quickly and has a vehicle-specific valving, and you can adjust it to your need.
The 5100 shocks are steel built with zinc and nickel coating outside. The valving is good, and so is the heat nullification, but comparing it with the fox shocks it lags a little behind.
Size & Weight
The shocks are built almost the same with a bit of change in the piston or the body. You've already seen that in your comparison table. Being Mono-tube and gas-powered shocks, they are filled with nitrogen. That explains their ability to anticipate heavy-duty tasks without carrying much weight itself.
Life Span
5100 shocks are used to replace OEM. I am saying this is to demonstrate the amount of reliability it comes with. The 5100 shocks are suitable for 80,000kms.
Fox shocks, on the other hand hardly used for any city road or daily use. Tracks and off-roads are the most common choice. They are good to go for 50,000kms. The difference is that you can't find a shock that broke down. The shocks wear out, and having to work 24/7 and shocks are bound to wear out quickly, no matter how expensive.
Our Observation
Now it's time to run a head-to-head exemplification. Let's try to discover which one justifies the claims by the manufacturers better. Howsoever, everything depends on your personal preferences. It would be best if you also chose based on your riding style. If you are a high-speed driver, you must go for the aluminum-bodied Fox 2.0 series.
It offers you an actual suspension for the wheels because of its out-of-the-box valving feature. If you have an outstretched off-road racing car, these shock absorbents are like a dream catcher for you. On the contrary, the 5100 series shocks are a budget-friendly option for regular use. Although they give excellent output being mid-level shock absorbents, no luxurious features are incorporated for rugged terrain.
The main difference between Bilstein 5100 and Fox 2.0 Shock Absorber is their intended usage. Bilstein is more for regular, city driving, while Fox is designed for more aggressive off-road driving. Both use nitrogen gas to power them, but Fox has a higher PSI rating of 3000. Bilstein is made of steel with a zinc and nickel coating, while Fox is made of aluminum.
Final Words
After going through the widespread discussion on both the extreme off-road shocks, now it's your turn to decide the winner of this face-off. If you want a mid-level performance with a moderate budget, the 5100 series can beat suit your needs. They offer a lot with a way cheaper price tag.
On the other hand, look for the Fox 2.0 Performance Series if you have a healthy budget. Indeed, they will provide sturdier construction, better longevity, and last but not least, a smoother ride on aggressive terrains. So, choose wisely between the 5100 series and Fox 2.0 series.
Related Article