Bilstein 5100 vs 6112 Shock Absorber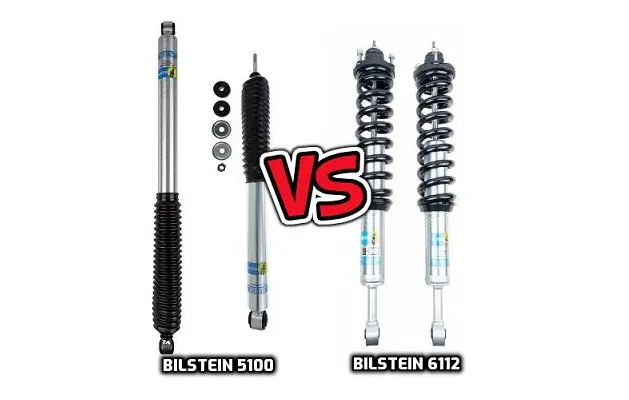 A dependable shock absorber is akin to an impenetrable vest, shielding your car from destruction and guaranteeing a secure drive while providing the spine-tingling experience most drivers yearn for – both on and off-road.
Bilstein 5100 vs 6112 Table
Both of these shocks are high-quality options, but they have some essential differences you should know about before making a purchase. Let's take a closer look at each one!
| | |
| --- | --- |
| | |
| | |
| | |
| 5100 gets the job alright but apparently lacks the guarantee of handling heavy loads. | On the other hand the beefy and huskiness enables 6112 to exceed at all of the conditions and is excellent on aggressive terrain. |
| To a certain extent 5100 ensures the basic requirements but in the case of excessive amount of weight it remains doubtful. | The suspension kit with adjustable options help vehicle from dampening with extra dead weight equipment. |
| Both products carry Bilstein's Limited Lifetime Warranty | Both products carry Bilstein's Limited Lifetime Warranty |
| The 3 height setting limits the option of a driver for their exceeded outfitted heavy load. | Had 5 height settings that are designed to address the variations of the equipment. |
| The classic shock has a backdated yet incumbent that works as a hard core base for all the updated shocks of Bilstein. | The basic size difference is pretty visible at the first glance. The muscular stiff built of 6112 is promising without a doubt. |
| 5100 is tried and true for every day truck drivers for its work efficiency. | 6112 is for warrior adventure lovers or campers that travels a lot in rural places through uneven roads. |
| Body Material is Steel & Finish in Zinc Plated | Body Material is Steel & Finish in Zinc Plated |
| Direct fit solution for lifted trucks and SUV | Direct fit for your light truck or SUV. |
| It utilize a unique & digressive piston which reacts to changing road conditions | it increased damping control for optimal on-road and off-road capabilities |
| | |
Why Compare?
The main reason to compare the Bilstein 6112 and the Bilstein 5100 is that they are both great shocks but have some key differences. The Bilstein 6112 is an excellent choice for modern trucks that are heavy and athletic. At the same time, the Bilstein 5100 is a perfect choice for those who want a more comfortable and smoother shock.
The Bilstein 6112 has some amazing features that make it the best series version. It is very efficient and luxurious. Monotone shocks are excellent for both off-road and on-road driving. Nitrogen gas charge designs at 300 PSI have a longer lifespan. Additionally, the larger piston and body sizes improve the cooling process and protect the internals from debris.
The Bilstein 5100, on the other hand, is more comfortable with a smoother ride. It is an excellent choice for those who want a shock that will improve their on-road driving experience. The Bilstein 5100 also has a nitrogen gas charge design but is at a slightly lower pressure of 250 PSI. This shock is also designed with a larger piston and body size to improve cooling and protect the internals.
Height Adjustment
Both the Bilstein 6112 and the Bilstein 5100 offer height adjustment to help you get the perfect ride for your needs. Bilstein 5100 offers three height adjustment settings to choose from. You can easily adjust the spring's pre-load to level your vehicle with or without a load. Bilstein 6112 offers five height adjustment settings. You can adjust the spring's pre-load to level out your vehicle and get a custom ride.
Function
The shocks in today's content are both made by an illustrious company Bilstein. Function-wise, 5100 is excellent; it handles all the regular stuff, even the occasional off-road activities. This is still the go-to shock in the market, full of new and advanced shocks for light trucks and jeeps.
The 6112 is monstrous if you compare it with the 5100. This is a hunk of a damper. The built material and quality allow it to withstand anything. Seriously, imagine the most challenging load of cargo. It would still function just nicely.
Built Quality
Bilstein makes both dampers, so there's no compromise or difference. They are both made of fine steel with zinc coating. Each carries a standard load without any hassle, but a spur of doubt comes into mind when you pick cargo-style products with a 5100. You can put your mind at ease with the 6112. Size and weight will explain why.
Size & Weight
The size and weight are considered the core difference between these shocks. The size of the 5100 is about 1.95'', whereas the 6112 is measured as 2.65''. You can see a clear difference there. That's not all.
The 6112 has a vast 60mm piston, whereas the compared one has a piston of 45mm. Explains the whole scenario behind the massive strength the shock possesses.
Installation
Even on the installation, the 6112 is better off by some considerable margin. The 5100 was the rank holder with three different height settings to determine the ideal height for your vehicle. But with the 6112, you get five different positions to set your car height.
Price
With so many positives, you can guess that the 6112 is the most expensive. And it is also no surprise because the extra money you pay allows you to explore nature without worrying.
Transition Ability
The 6112 also has a much better transition ability. It can adjust to different types of terrain much more quickly. Whether you are driving on a bumpy road or a smooth one, the 6112 will be able to adapt and provide a comfortable ride.
The Bilstein 5100 is the better choice if you are looking for a shock absorber that can provide a smooth ride. If you are looking for a shock absorber that can handle all terrain, the Bilstein 6112 is the better choice. It is more expensive, but it is worth the price if you want a shock absorber to do it all.
So, Which One Should You Choose?
It depends on what you are looking for in a shock. If you are looking for a great all-around shock that will improve your on and off-road driving experience, then the Bilstein 6112 is the best choice. If you are looking for a more comfortable and smoother shock, then the Bilstein 5100 is the best choice.
These shocks are excellent choices, so it comes down to what you are looking for in a shock absorber. Do the research and decide which is the best fit for you and your truck. You can't go wrong with either one!
Related Article

Peter Rees, your go-to car parts expert, bridges the gap between mechanics and motorists. With over decades in the automotive industry, he decodes the intricacies of vehicles in his insightful blog, steering readers toward savvy decisions and smooth rides.