Everstart Vs Duralast Car Battery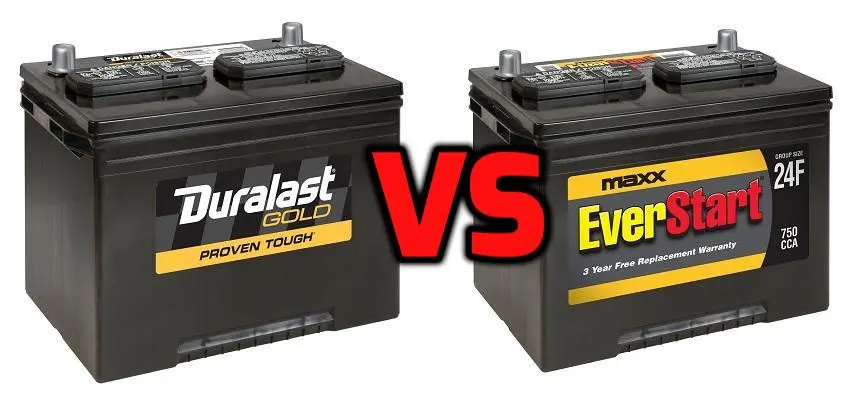 If you are looking to replace your existing batteries, you have to dig deep into the fact of what you are looking for in a replacement. Some mandatory measurements like group size, minimum of cold cranking and reserve capacity are involved. There are some personal preferences involved in the subject too, like which brand you prefer and what your batteries are made of.
Duralast vs Everstart
| | |
| --- | --- |
| | |
| | |
| | |
| Weight is around 37.33 lbs | Weight is around 41.6 lbs |
| Dimension is 10.25 x 7.06 x 7.68 inch | Dimension is 10.25 x 7.06 x 7.68 inch |
| Battery Group Size Designation is 78 | Battery Group Size Designation is 78 |
| | |
| 2 Years Replacement Warranty | 1 Years Replacement Warranty |
| Reserve Capacity is 120 Minutes | Reserve Capacity is 80 Minutes |
| Positive Terminal in the Left Side | Positive Terminal in the top post |
| | |
| Good for extreme sports and heavy power usage cars | Good for All weather regular cars |
| | |
In the battery industry, there are a lot of companies and many of their products will fit right in your car. So it is obvious to do a little inspection of the fact. Popular comparisons the vehicle owners make about batteries are these two of our segment today.  By viewer's demand, we are making a thorough comparison of the two batteries.
Everstart Battery Review
The batteries from this company are one of the best for its value, hands down. The company itself is one of the leaders in the battery industry in recent times. Batteries are brought on to the market after intensive testing over and over again. To carry out such testing they even set up an independent laboratory. You can easily notice the effort the put into each product just to make sure you get the value you are paying for.
It will give you proper power, it reduces vibration and most importantly, it's super cheap. Sometimes it can be half of the price of another brand. Before buying anything, our primary motive is to buy it in as little price as possible and bring out the best efficiency, and these batteries are just that. Having being priced so low, it performs surprisingly well.
Made of the lead-acid inside, the product is quite sturdy on the outside. The shell of the battery is made out of the finest components. The grids are welded so precisely that the paste inside doesn't spill out. In addition to that the robust has a strong divider in them. unique built quality allows the batteries to be functional in multiple tasks.
It is fairly common to see this company's battery used in marine vehicles too. Tasks like lighting and giving enough power to the plug-ins are nicely done. The start which is the main goal is also very efficient. Check out the best of Interstate vs Everstart comparison here.
They come with an above standard cranking of 730amps and a cold-cranking of 600 which is quite impressive for its price. As you are going to use it regularly through all seasons, you will notice how this cheap product is able to carry out every task given to them. Being moderately new product in the industry their batteries are now quite popular and from surveys carried out among the vehicle users, the efficiency and lifespan satisfied its buyers.
Battery Specification
Part of the battery is serviced and the other part is not, which will allow you to put water (distilled) in them.
They have a prorated warranty system along with the traditional replacement warranty. Meaning if you need to replace the product after their warranty is over, you will be offered new batteries at a low price.
The lead-acid is powerful and has a high tolerance
Low discharging give preference over its fellow rivals
Simple in design and good for the environment
Built Quality
The brand that ensures quality is the brand that makes the most profit. Quality-wise, these two batteries are quite impressive. Valucraft batteries are known for their ability to stick around for a long time. This 34DT-VL is no different. Weighing about 40.59 pounds and marked under 34 size groups, these batteries are powered with a patented, company-specific grid.
With ergonomics design and clean pest and eye-catching performance, this is one of the cheapest batteries available in today's market. Duralast batteries are no different. They too bear the fame of being extremely reliable. 40R-DL is the ideal budget-friendly battery weighing just 34.81 pounds and marked under the 40 size group.
Performance
The range is wide if you are looking for batteries. As the range varies, so performs the batteries. These two batteries here fall somewhat in the same category. The first product has a reserve capacity of 80 minutes and cold cranking amps of 690 which is above the class standard. The other one we have here gives a cranking amp of 590 but evens it with a greater 105 minutes reserve capacity.
Specific feature
Valucraft has a patented technology for the grid that makes the battery more consistent and at the same time increases lifespan. The ignition is also very efficient, even in colder regions. The succeeding battery has a strong reserve capacity considering how cheap it is. It comes with a premium vent cap and the paste is very dense and the grid can resist any corrosion or rust.
Lifespan
My one-year free replacement warranty backs up the opening battery of our article. And the other one has a two-year replacement warranty. These batteries are expected to last 3-5 years minimum though. With a little maintenance, this can be increased.
Suitable Vehicle
Both of the batteries fall under the same price category and do a similar job. The manufacturer introduced this product intending to provide regular vehicles with a cheap but service-oriented solution.
Our observation
We noticed that the second battery has a very low price comparing to the first one and very respected among everyday users. But the first one has plus points in the rest of the service like cranking, RC or warranty. The price will play a vital part in making a purchase decision.