AC Delco vs Everstart Battery
With the automotive world adapting to intricate electronics and advanced functionalities, the demand for a robust and reliable battery has been undeniably elevated. 
Two prominent batteries floating on the current market – the ACDelco Gold 48AGM and EverStart Platinum AGM Automotive Battery – have captured the attention of auto enthusiasts and everyday drivers alike. 
AC Delco vs Everstart
| AC Delco | EverStart |
| --- | --- |
| Price: $182.58 | Price: $179.84 |
| 36 Month Warranty | 4 year free replacement warranty |
| Absorbent Glass Mat (AGM) | Absorbent Glass Mat (AGM) |
| CCA: 760 | Cold Cranking Amps: 760 |
| 120 minute reserve capacity | 120 minute reserve capacity |
| LxWxH: 11.9 x 7.5 x 7.6 inches | Dimensions: 11.00 x 6.94 x 7.50 Inches |
| Weight: 45.5 Pounds | Weight: 45.42 lb |
| Terminal Type A | Top post |
| Enhanced life alloy & Silver Calcium | Extended life up to 2X conventional |
| Robust envelope separator | For high electrical needs |
| High density negative paste, improves performance and increases battery life | Free battery testing and installation at your local Walmart Auto Care Center |
Battery Types
AC Delco Gold 48AGM and the Everstart Platinum AGM employ AGM (Absorbent Glass Mat) technology, acclaimed for its efficiency and resilience.
AGM batteries are renowned for their ability to stand up to frequent cycles and support high-drain applications, making them apt choices for vehicles with extensive electronic systems.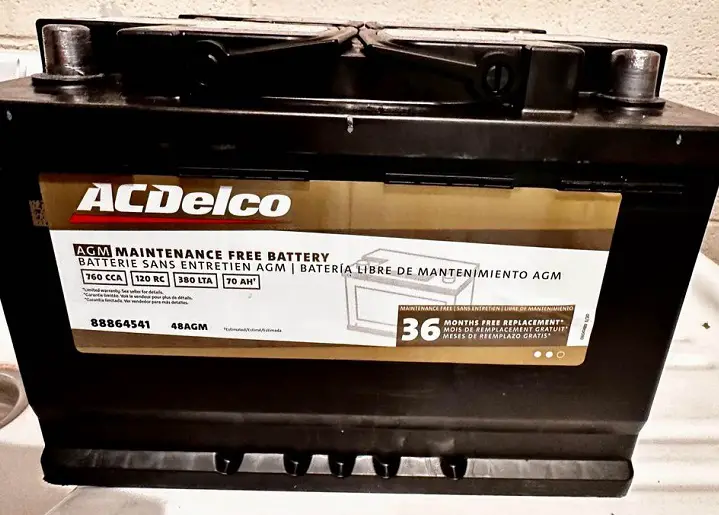 Reserve Capacity
Both batteries champion a reserve capacity of 120 minutes, ensuring they can adequately support your vehicle's electrical needs in scenarios where the alternator fails, granting peace of mind during nocturnal drives or extensive use of electronics without the engine running.
Cold Cranking Amperage
Equally matched, the AC Delco and Everstart batteries each proffer a Cold Cranking Amps (CCA) of 760, ensuring reliable starting power in cold climates.
This critical attribute signifies the batteries' ability to provide the necessary jolt to bring your engine to life in frigid temperatures, minimizing the dread of winter mornings.
Voltage
Navigating through the electrical spectrum, both contenders operate at a standard 12 volts, aligning with the conventional automotive electrical systems and efficiently catering to the myriad of vehicular applications.
Group Size
A variance is encountered in the group size: the AC Delco sports a BCI Group 48, whereas the Everstart associates itself with Group Size H6. 
This slight divergence implies a subtle difference in physical dimensions and terminal configurations, potentially influencing the compatibility with various vehicles.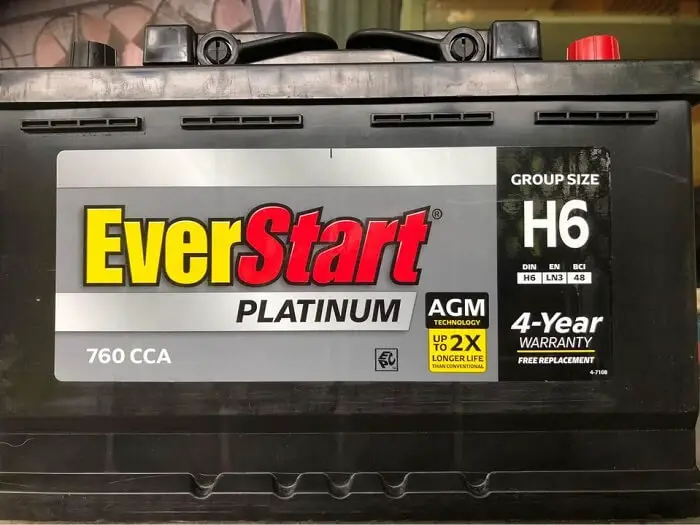 Warranty
AC Delco offers a 36-month warranty, ensuring a reasonable duration of secured performance and reliability. On the other hand, Everstart outshines with a generous 4-year free replacement warranty, presenting a more enticing guarantee for those seeking longer-term assurance.
Dimensions LxWxH
The AC Delco adheres to dimensions of 11.9 x 7.5 x 7.6 inches, slightly more extensive in comparison to Everstart's 11.00 x 6.94 x 7.50 inches. 
This minor difference might influence the fitting in specific vehicle models, thus warranting consideration during selection.
Terminal Location
Both batteries maintain a similar terminal configuration, with the negative terminal at the top right and the positive at the top left, enhancing their compatibility across various vehicle models and ensuring a straightforward installation.
Weight
Nearly identical in their heft, AC Delco tips the scales at 45.5 pounds, while Everstart is a hair lighter at 45.42 pounds, rendering the difference almost negligible in handling and installation.
Important Feature
AC Delco luxuriates in a plethora of features, including a high-density negative paste and robust envelope separator, which collectively enhance performance battery life and resist acid leakage.
Conversely, Everstart plays to the tune of modern vehicular demands, optimally designed to cater to the high electrical needs of modern vehicles, thereby positioning itself as a formidable power source amidst the plethora of electronics and sophisticated functionalities.
Our Observation
Comparing the ACDelco Gold 48AGM and the EverStart Platinum AGM, I'm struck by their similarities. Both batteries are designed with advanced AGM technology and boast a 760 CCA, which speaks volumes about their robust performance.
The ACDelco takes pride in its Silver-Calcium composition, enhancing its lifecycle, while the EverStart emphasizes its suitability for power-demanding applications. Interestingly, they're almost neck-and-neck in terms of weight and dimensions.
However, the EverStart edges out with a generous 4-year warranty, compared to the 36-month one by ACDelco. Price-wise, they're in the same ballpark, making the choice down to brand preference and warranty duration.

Peter Rees, your go-to car parts expert, bridges the gap between mechanics and motorists. With over decades in the automotive industry, he decodes the intricacies of vehicles in his insightful blog, steering readers toward savvy decisions and smooth rides.