Extang Trifecta 2.0 vs Gator SFX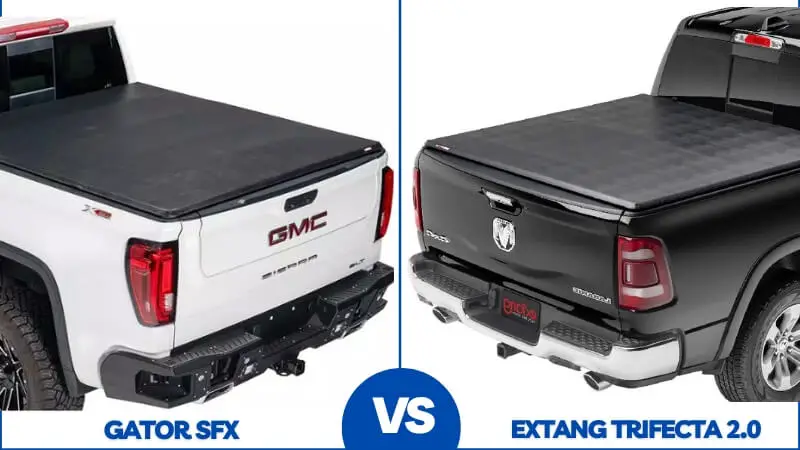 Pursuing the perfect truck bed tonneau cover can be daunting, given the array of options available in the market. Two such remarkable options are the Extang Trifecta 2.0 and the Gator SRX Roll-Up covers.
Both are distinguished brands revered for their robust design and innovation, offering extensive utility and protection for truck beds. Below, we delve deep into the distinctive features, design, materials, and usability, helping you choose the tonneau cover that best suits your needs.
Extang vs Gator Table
Dive into a side-by-side comparison to find the perfect fit for your vehicle.
| Feature | Extang Trifecta 2.0 | Gator SRX |
| --- | --- | --- |
| Type & Design | Premium soft trifold | Roll-Up |
| Material | Heavy-duty, leather-grain vinyl | Heavy-duty vinyl |
| Frame Material | Aircraft-grade aluminum | Not specified |
| Installation | No-drill, comes fully assembled | No-drill |
| Appearance | Sleek with contoured, low profile | Low-profile, 3/4″ above bed caps |
| Locking Mechanism | EZ-Lock clamps | Basic lock with tailgate lock |
| Usability | Can drive folded open | Secured with hooks when fastened |
| Warranty | Lifetime | Frame: Lifetime, Tarp: 10 years |
| Special Features | Dual-pivot MAX hinges, corner tuck system | Adjustable tension control |
Design & Appearance
The Extang Trifecta 2.0 boasts a sleek, low-profile appearance, and its smoother, contoured design coupled with a heavy-duty, leather-grain vinyl tarp, emphasizes aesthetic appeal and durability.
The Gator SRX, however, brings in a low-profile design that sits only 3/4″ above the bed caps, enveloped in industrial-strength leather-grain vinyl, blending style with ruggedness.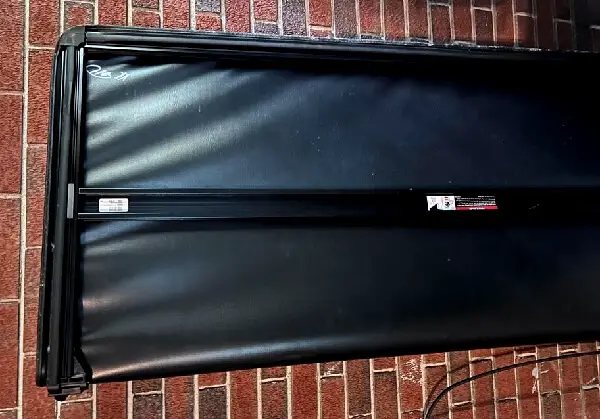 Type & Usability
The Trifecta 2.0 is a premium soft trifold cover, allowing users to drive with the cover folded in the open position and granting exceptional weather protection. Its integrated corner tuck system assures improved tarp tension and a neater look.
Contrarily, the Gator SRX is a roll-up type, facilitating full bed access when completely rolled up and secured safely with hooks when driving, maximizing convenience.
Materials & Durability
Both tonneau covers prize durability and strength, with the Extang Trifecta 2.0 having a frame made of aircraft-grade aluminum and marine-grade, fade-resistant cover material.
Its redesigned frame, hinges, and corners amplify structural strength. The Gator SRX, enveloped in heavy-duty vinyl, assures long-lasting resilience, protecting your cargo under various conditions.
Installation
Installation is seamless with both models. The Trifecta 2.0 comes fully assembled with no special tools needed, allowing easy adjustments and positions, and can be entirely removed in minutes with a no-drill installation.
The Gator SRX also ensures drill-free installation with clamps and offers adjustable tension control to keep the cover tight in all climatic conditions.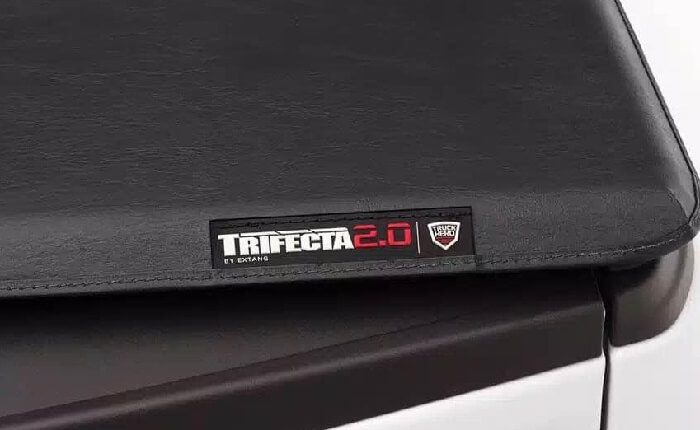 Lock Systems
Extang Trifecta 2.0 features an exclusive clamp design with Front Jaw-Grip clamp and rear EZ-Lock clamp, and superior triple fin seals exceeding OEM standards. These self-locking EZLock clamps offer secure fastening.
Gator SRX, while having a basic lock mechanism, provides adequate cargo security, locking with the tailgate and ensuring excellent protection against theft.
Warranty
Extang Trifecta 2.0 provides a best-in-class lifetime warranty, reflecting the brand's commitment to enhancing utility, convenience, and the appearance of trucks.
Gator SRX comes with a limited lifetime warranty on the frame, a 10-year warranty on the tarp, and a 30-day "love it or swap it" guarantee, affirming the brand's confidence in its product.
Compatibility
Extang Trifecta 2.0 is specifically designed to fit the 2019 – 2023 Dodge Ram with a 5′ 7″ bed but does not fit with a multifunction tailgate. The Gator SRX's inside-mount design allows full access to stake pocket holes for compatibility with other accessories, extending its utility.
Conclusion
Choosing between the Extang Trifecta 2.0 and the Gator SRX Roll-Up comes down to personal preference, needs, and the specific requirements of your truck. If a sleek, premium soft trifold cover with superior materials and enhanced structural strength appeals to you, the Trifecta 2.0 is the way to go.
However, if you prefer a roll-up type with industrial strength, low-profile design, and full bed access, the Gator SRX is a viable choice. Both models stand out for their easy installation, durability, brand commitment, and warranties, promising reliability and satisfaction for users in their respective ways.

Mark Takahashi, Car parts guru with a passion for mechanics. Blogger extraordinaire, translating auto jargon into everyday magic. Drive into his world of knowledge!