Gator EFX vs FX Tonneau Cover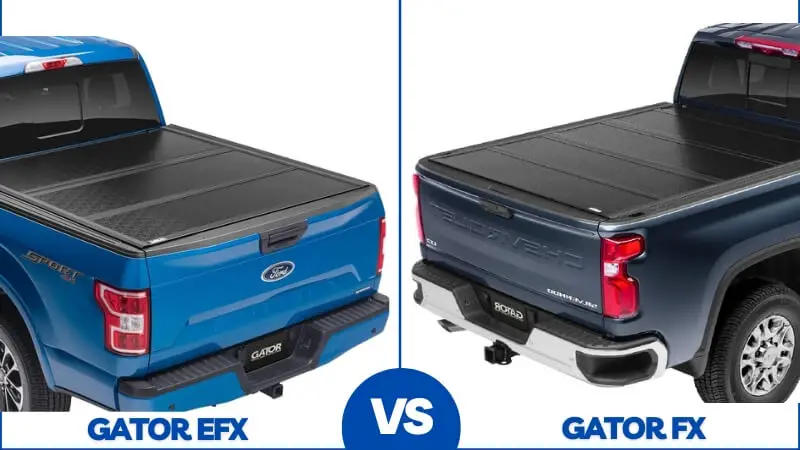 Tonneau covers have become a sought-after truck accessory, offering protection, enhanced aesthetic appeal, and increased fuel efficiency. Among the popular brands in the market, Gator stands out with its innovative designs and impeccable functionality.
Two models that truck enthusiasts often compare are the Gator EFX and the Gator FX. Both are exemplary in their own right, but which one reigns supreme for your truck? Let's dive in and compare.
| | |
| --- | --- |
| | The Gator EFX offers a low-profile design with heavy-duty aluminum panels, ensuring durability and security, complemented by a 3-year warranty. |
| | |
| --- | --- |
| | The Gator FX boasts a hinged folding design with full bed access when folded and locks at each fold, with a 4-year warranty on specific models. |
Gator EFX vs FX Table
The Gator EFX and Gator FX are both top-quality tonneau covers, offering advanced truck bed protection. While both ensure security and durability, they possess unique features tailored to specific needs.
| Gator EFX | Gator FX |
| --- | --- |
| The Gator EFX has a low-profile design sitting flush with the truck bed. | The Gator FX has a hinged, folding design with a low-profile appearance. |
| Constructed with heavy-duty aluminum panels. | Built with aircraft-grade aluminum panels. |
| Tool-free installation, completed in under 30 minutes. | Offers a no-drill installation in 20-30 minutes using heavy-duty clamps. |
| Has integrated water management with EPDM seals and drain tubes. | Protected by EPDM rubber seals and hinges. |
| Provides users with ⅔ bed access. | Can be folded up for full bed access against the rear window. |
| Features an interior latch system that locks with the tailgate. | Equipped with an automatic locking mechanism at each fold. |
| Can be removed easily with four quick-release knobs without tools. | Can be removed in minutes without the need for tools. |
| Flaunts a scratch-resistant, UV-protective black powder coat. | Also has a scratch and UV-resistant black powder coat finish. |
| Supported by a 3-year warranty and US-based customer service. | Comes with a 2-year warranty and US-based customer service (varies by model). |
| Proudly made in the USA using globally sourced materials. | Also proudly made in the USA with globally sourced materials. |
Design & Appearance
The Gator EFX is known for its low-profile design, which sits perfectly flush with your truck bed. This unobtrusive flush-mount approach sets it apart, making it a top choice for those who lean towards a minimalist, sleek look.
In contrast, the Gator FX showcases a hinged, folding design. This not only offers easy access but also guarantees a tidy appearance. While it leans more towards the practical side, it certainly doesn't compromise on aesthetics.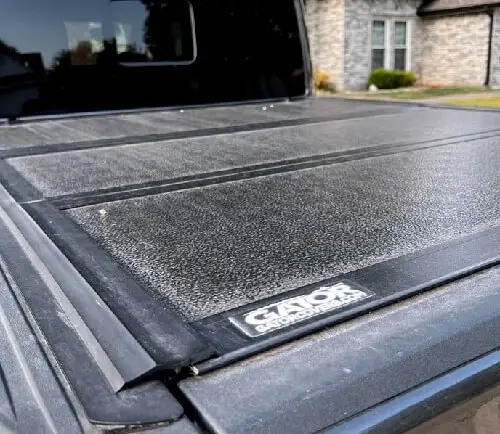 Construction & Durability
When it comes to construction, the Gator EFX stands out with its heavy-duty aluminum panels which are further enhanced with a UV-protective, black powder coat finish. This aircraft-grade aluminum is a testament to its longevity. Moreover, its EPDM rubber hinges play a significant role in boosting its overall durability.
On the other hand, the Gator FX is no less. Built with robust aluminum panels, this cover boasts the strength to support up to 300 lbs of evenly distributed weight. Complemented by a scratch and UV-resistant powder finish, it's geared to withstand the rigors of outdoor elements.
Weather Protection
The Gator EFX is equipped with an integrated water management system. It features unique seals and built-in rails that effectively channel water away from the bed. Add the EPDM rubber seals and drain tubes, and you have a comprehensive system guarding against water intrusion.
On the flip side, the Gator FX employs EPDM rubber seals which excel in keeping water at bay. Perimeter seals and sturdy hinges further amplify its resilience to diverse weather conditions.
Functionality
Functionality-wise, the Gator EFX is hard to beat, offering a feature that provides ⅔ bed access. This is particularly beneficial when it comes to transporting oversized cargo. However, a notable limitation is its design, which hampers using the deck rail system and other related accessories.
Contrarily, the Gator FX scores points with its ability to allow complete truck bed access when it's fully folded up against the rear window. Its integrated prop rod system adds another layer of versatility for various hauling requirements.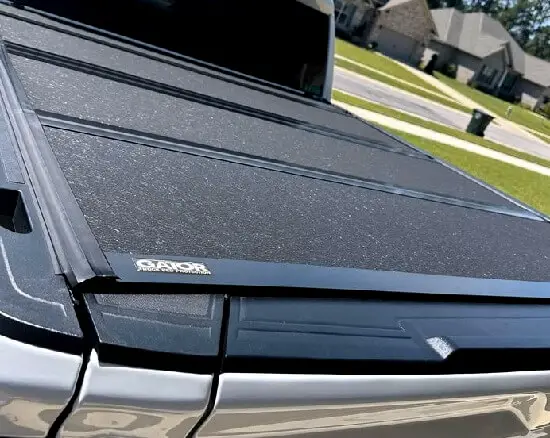 Installation
The installation process for the Gator EFX is quite straightforward. It promises a setup in under 30 minutes without the need for any tools or drilling. What simplifies this process further are its four quick-release knobs which facilitate a tool-free removal.
Meanwhile, the Gator FX also boasts an efficient installation process. Thanks to its no-drill setup and heavy-duty clamps, it can be securely installed within 20-30 minutes. And if removal is ever needed, it can be done effortlessly without tools.
Security & Protection
Regarding security, the Gator EFX shines with its interior latch mechanism. This feature significantly enhances safety, especially when the cover and tailgate are locked. In comparison, the Gator FX is equipped with intuitive slam latches. These automatically lock the moment they're closed, amplifying security when the tailgate is in the down position.
Customer Feedback
Feedback suggests that the Gator EFX generally sits well with customers. Its affordable price, ease of installation, and impeccable design are often praised. However, a minor grievance some users have pointed out is the complexity of its instruction manual.
The Gator FX, on the other hand, frequently receives a barrage of 5-star reviews. Customers often commend its installation process, robustness, and practicality.
Origin & Warranty
The Gator EFX and FX stand as proud products made in the USA, albeit with globally sourced materials. While the EFX offers a solid 3-year warranty, the FX provides a 2-year warranty, but only on specific models.
Lock Mechanism
The locking mechanisms of both models underline their emphasis on security. The Gator EFX uses a sturdy interior latch system. When this is paired with a locked tailgate, it guarantees that the truck bed is even more secure than the main cab.
Its panels further enhance security as they automatically lock upon closing. Meanwhile, the Gator FX introduces its own unique system: the slam latches. These automatically lock at every folding juncture, allowing users to secure the cover effortlessly.
It ensures steadfastness during transit. Both models hold security in high regard. However, while the EFX bets on an interior latching system, the FX stands out with its rapid slam latch convenience.
Our Observation
Upon comparing the attributes and customer reviews of both the Gator EFX Hard Tri-Fold and Gator FX Tonneau Covers, the Gator EFX holds a slight edge, especially for those valuing durability and security.
Its heavy-duty aluminum panels coated with scratch-resistant, UV-protective, black powder coat finish ensure longevity and aesthetic appeal. At the same time, its compatibility with Ford's automatic tailgate feature adds to its utility.
However, the easy, no-drill installation and automatic locking at each folding point of the Gator FX is notable, accommodating users looking for convenience and flexibility. Nonetheless, the distinctive construction and advanced features of Gator EFX appeal to a wider user base seeking resilience, security, and sleek design, making it our top pick among the two.

Mark Takahashi, Car parts guru with a passion for mechanics. Blogger extraordinaire, translating auto jargon into everyday magic. Drive into his world of knowledge!