Gator FX3 vs Bakflip F1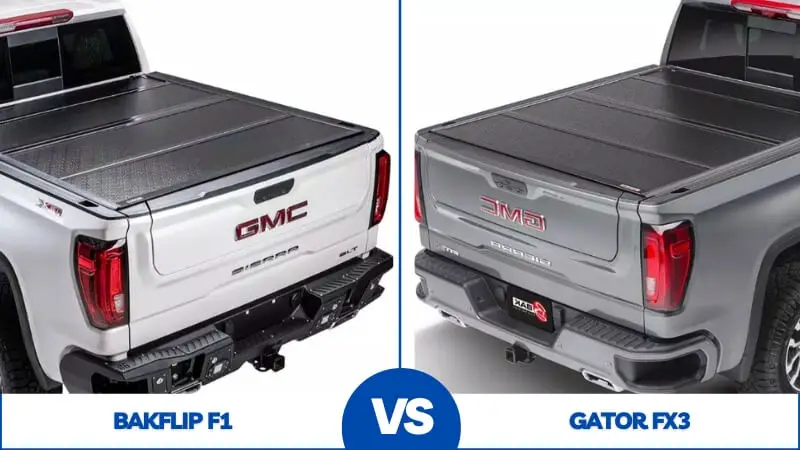 In the world of truck accessories, the right tonneau cover can be the unsung hero that protects, enhances, and redefines the functionality of your pickup. Out of all the options available, two are prominent, the Gator FX3 and the BAKFlip F1.
Each boasts impressive designs, robust security features, and innovative technology that promises to upgrade your truck experience. So, how do they match up against each other? Let's dive deep into the world of these two premium covers and uncover their strengths, differences, and which might be the ultimate fit for your truck.
Gator FX3 vs Bakflip F1
This table provides a side-by-side comparison of the Gator FX3 and BAKFlip F1 tonneau covers in a descriptive sentence format.
| Gator FX3 | BAKFlip F1 |
| --- | --- |
| Manufactured with impact-resistant fiberglass-reinforced polymer (FRP) top panels and aluminum sub-panels. | Constructed with heavy-duty FRP top panels, a rigid aluminum frame, and a high-density foam core. |
| Equipped with easy-to-operate slam latches that lock each panel and are accessible only once the tailgate is opened. | Features a latching mechanism that locks into the aluminum rails when closed. |
| Designed with EPDM weather seals that overlap the bed caps and integrated drain tubes. | Uses premium EPDM weather seals and rounded style hinges to prevent water and debris ingress. |
| Hinges allow for full bed access by folding up to the cab and can be secured in a 2/3 open position with buckle straps. | Can be fully folded up to the cab for complete bed access, resting on rubber bumpers. |
| Boasts a sleek, semi-gloss textured black finish with a low-profile design. | Features an ultra-low-profile appearance that is mounted flush with the bed of the truck. |
| Supports up to 300 lbs. evenly distributed. | Can handle up to 400 lbs. of evenly distributed weight. |
| Offers a no-drill installation process using drill-free clamps. | Provides a no-drill clamp installation. |
| Comes with a 2-year limited warranty. | Backed by a 5-year warranty against manufacturing or workmanship defects. |
| Dual-action tailgate seal allows for operation without raising the cover. | Upgraded tailgate operation with a premium dual-action seal. |
| Tri-fold design allows the cover to be closed with or without the tailgate open. | Water drainage system that channels water to the front of the bed. |
Design & Aesthetics
The Gator FX3 is an eye-catcher with its sleek, semi-gloss textured black finish. It employs a low-profile design and exudes a professional look that complements any truck when combined with a flush hinge system.
On the other hand, the BAKFlip F1, with its textured FRP top panel, brings both durability and elegance to the table. Just like the FX3, the F1 is designed to be low-profile and sits flush with the bed of the truck, making it both functional and fashionable.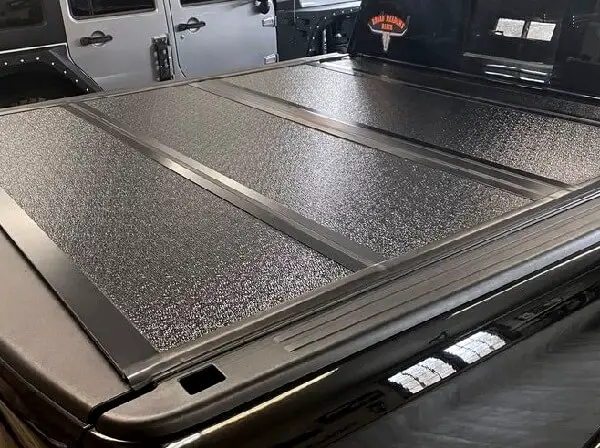 Construction
When it comes to construction, the Gator FX3 is built with resilience in mind. It features impact-resistant fiberglass-reinforced polymer (FRP) top panels. Moreover, the aluminum sub-panels beneath give it an extra touch of structural rigidity.
Similarly, the BAKFlip F1 stands its ground with heavy-duty FRP top panels. The inclusion of a rigid aluminum frame and a high-density foam core further ensures that it remains resistant to dents and scratches.
Weather Resistance
Weather is unpredictable, but the Gator FX3 seems ready for anything. It's equipped with EPDM weather seals that comfortably overlap the bed caps. Plus, it has integrated drain tubes for added protection against the elements.
The FX3 also boasts a dual-action tailgate seal, a feature allowing the tailgate to function without needing to lift the cover. The BAKFlip F1, on the other hand, takes sealing seriously with its premium EPDM weather seals and rounded-style hinges.
These features ensure a snug fit, keeping water and debris at bay. Its sophisticated water drainage system is also worth mentioning, efficiently directing water away via drainage tubes.
Functionality
The Gator FX3 shines with its special hinges, granting complete bed access. Its prop rods are designed to hold the cover against the truck's cab safely. Plus, it can be securely buckled when 2/3 open for driving convenience.
The BAKFlip F1 parallels the FX3 in terms of bed access. A standout feature of the F1 is its ability to rest on rubber bumpers, ensuring the truck remains unscratched and the 3rd brake light unobstructed.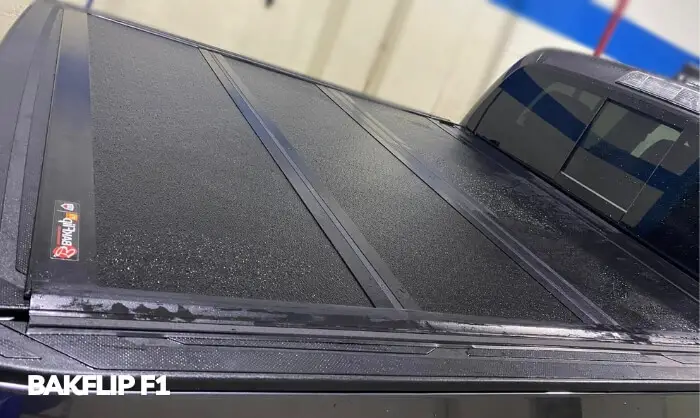 Security Features
When it comes to security, the Gator FX3 is a tough contender. It's equipped with user-friendly slam latches, a reliable pull-cable unlocking system, and panels that are resistant to cutting.
The BAKFlip F1, however, places its trust in a latching mechanism that snugly secures into the aluminum rails once closed, making unauthorized access a challenge.
Weight Capacity
Weight capacity is vital, and the Gator FX3 promises to support up to 300 lbs., provided the weight is evenly spread. The BAKFlip F1 edges out slightly in this department, boasting a capacity of up to 400 lbs.
Warranty
Peace of mind is crucial, and warranties offer just that. The Gator FX3 comes with a 2-year limited warranty. At the same time, the BAKFlip F1 goes the extra mile, offering a generous 5-year warranty against defects in manufacturing or workmanship.
Installation Process
Ease of installation can't be overlooked. The Gator FX3 ensures a hassle-free experience, offering a no-drill installation for most vehicles.
This user-friendly approach means even non-professionals can set it up at home with basic tools. The BAKFlip F1 matches this convenience with its own no-drill clamp system, simplifying the mounting process.
Appearance from the Side
Viewed from the side, the Gator FX3 flaunts a design so sleek that the cover seems to merge with the truck bed, ensuring an alluring side profile.
In contrast, the BAKFlip F1's ultra-low-profile design makes it almost undetectable from the side, providing a smooth look that perfectly complements the truck.
Cargo Hauling
Cargo hauling capabilities can be a deal-breaker for many. The Gator FX3 does provide full bed access, but there's no emphasis on advanced features for cargo hauling other than its 2/3 open position feature.
The BAKFlip F1 offers more flexibility here. Its design allows for securing in an upright position, facilitating the transportation of larger items without removing the cover.
Price Range
For those considering cost, the BAKFlip F1 Tonneau Cover is priced between $1,049.88 and $1,299.99. Meanwhile, the Gator FX3 Tonneau Cover has a slightly narrower range, priced between $1,049.00 and $1,089.00.
Our Observation
Having reviewed the BAKFlip F1 and Gator FX3 Tonneau Covers, I'm impressed by the security and functionality they both offer. The BAKFlip F1 promises durability and protection with its robust FRP top panels and advanced impact-resistant construction.
It's evident that the attention to detail, like the premium weather seals and no-drill clamp installation, reflects a high standard of workmanship. Conversely, the Gator FX3 also stands out with its sleek design, cut-proof FRP panels, and convenient dual-action tailgate seal, offering aesthetics and utility.
Both covers are designed with user-friendly features, allowing easy operation and access to the truck bed. Choosing either cover would be a substantial upgrade to any truck, enhancing its functionality and appearance.

Peter Rees, your go-to car parts expert, bridges the gap between mechanics and motorists. With over decades in the automotive industry, he decodes the intricacies of vehicles in his insightful blog, steering readers toward savvy decisions and smooth rides.