Gator Trax vs Roll N Lock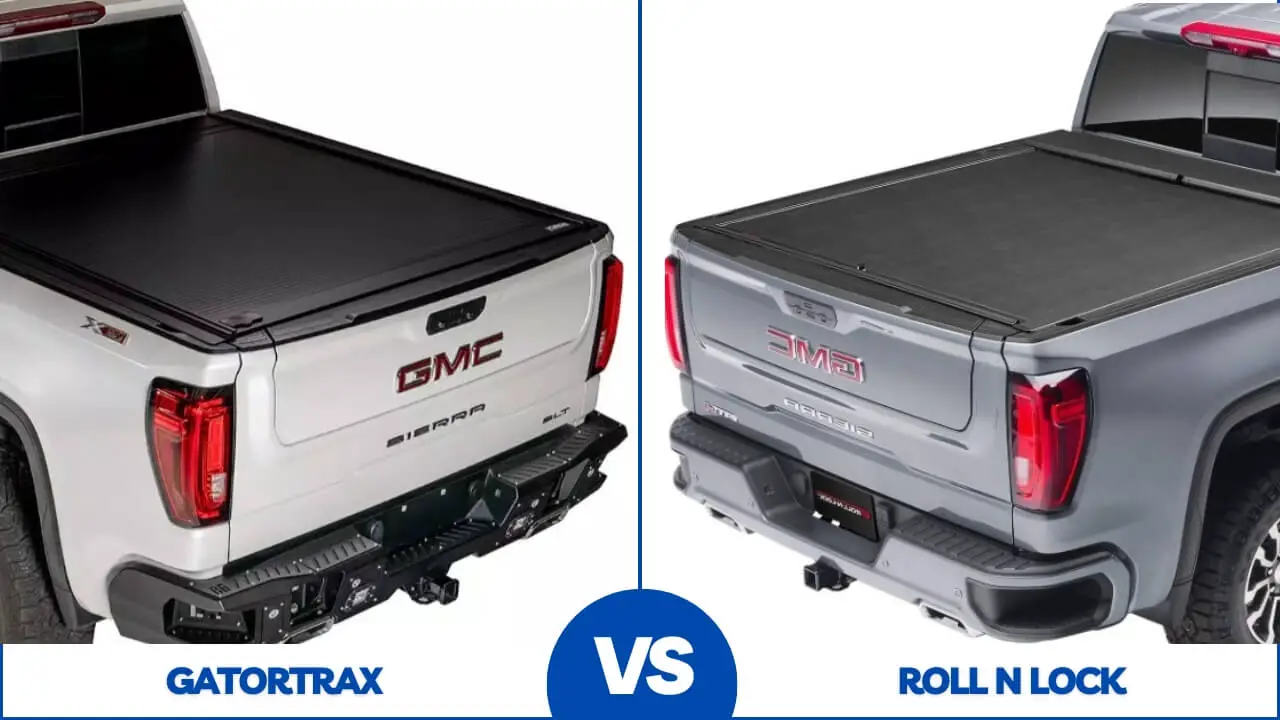 In truck customization, tonneau covers are not just about aesthetics; they play an integral role in security, cargo protection, and enhancing vehicle efficiency.
Among the myriad choices available to truck owners, the GatorTrax and the Roll-N-Lock M-Series stand out as two of the most reputable tonneau covers. But which one is right for you? Let's dive in!
Gator Trax vs Roll N Lock
This table provides a direct comparison of the features and benefits of the GatorTrax and Roll-N-Lock M-Series Tonneau Covers.
| GatorTrax | Roll-N-Lock |
| --- | --- |
| Made from durable LEXAN polycarbonate, similar to fighter jet cockpits. | Constructed with industrial-grade vinyl over aluminum slats. |
| Boasts a flat matte finish for a stealthy appearance. | Features a vinyl-over-aluminum low-profile design. |
| Uses sealed ball bearings for smooth operation; can be locked in ANY position. | Retractable with a torsion spring; locks in multiple open positions. |
| With the tailgate locked, the truck bed is more secure than the cab. | Enhances security when both tailgate and M-Series are locked. |
| Features an 11″x11″ canister, consuming about a foot of bed space. | Retracts into an ultra-slim 8-inch deep canister, the smallest in its class. |
| Resistant to temperatures ranging from -50 to +200 ℉; UV resistant. | Designed with an aluminum undercarriage featuring a patented hinge design. |
| Installed with clamp-on rails and comes with a 1-year warranty. | Installed using a patented clamp-on track design; backed by a 3-year warranty. |
| Can withstand most weather conditions, with slight water seepage under pressure wash. | Aluminium construction might offer better damp-resistance. |
| Compatible with most 5th wheel hitches and can be opened without opening the tailgate. | Fits 2019 – 2023 Chevy/GMC Silverado/Sierra with specific tailgate types. |
Retractable
Both the GatorTrax and Roll-N-Lock M-Series covers come equipped with a retractable mechanism. This feature enables users to conveniently open and close them, ensuring ease of use and adaptability to varying cargo needs.
Design & Finish
The GatorTrax cover proudly features a flat matte finish, giving it a stealthy, low-profile look that meshes seamlessly with any truck's design. It's particularly noted for its flush appearance, without the protruding hump found in other covers.
On the other hand, the Roll-N-Lock M-Series marries the ruggedness of aluminum with the polished look of industrial-grade vinyl, offering a blend of security and style.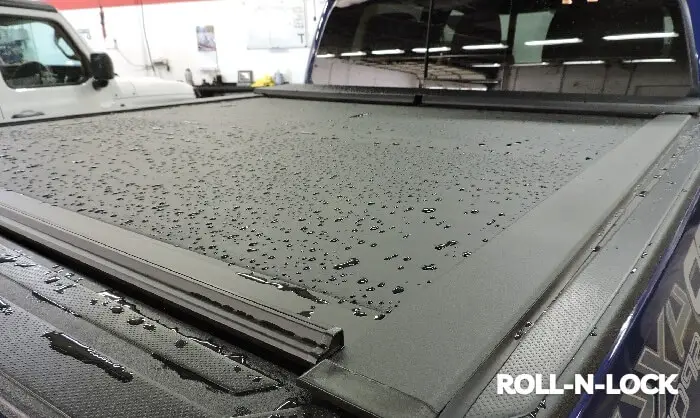 Construction
The GatorTrax stands out in the durability department, being crafted from LEXAN polycarbonate – the very material used in constructing fighter jet cockpits. It's not only tough but also UV-resistant and can hold its own against extreme temperature variations.
In contrast, the Roll-N-Lock M-Series relies on a sturdy aluminum undercarriage coupled with a unique contoured hinge design, providing frictionless rotation and heightened theft deterrence.
Functionality
In terms of operation, the GatorTrax is a smooth operator, attributed to its sealed ball bearings that never succumb to freezing. Its canister's spiral track system is designed to prevent jamming, and a remarkable feature is its ability to lock at any desired position.
Meanwhile, the Roll-N-Lock M-Series showcases an easy retraction process powered by a torsion spring housed within a 3″ aluminum casing. The patented contoured hinge design is an added bonus; it can also be locked in several open positions.
Aesthetic Appeal
Aesthetically speaking, while the GatorTrax leans into a flat matte finish for a more understated, stealthy look, the Roll-N-Lock M-Series goes for a dash of elegance, integrating the smooth aesthetics of vinyl with the sturdiness of aluminum.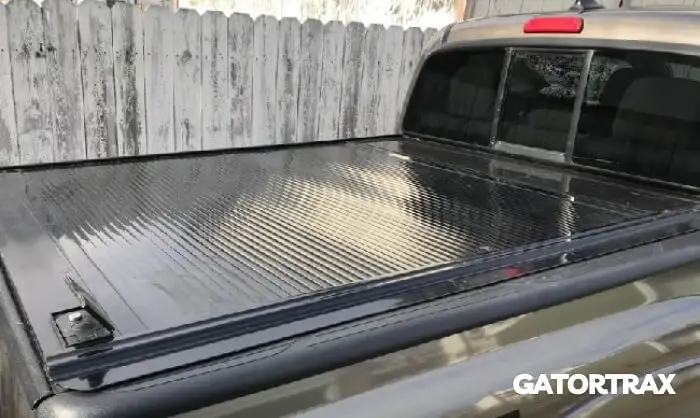 Weight & Portability
In the weight arena, the GatorTrax, made predominantly of lightweight polycarbonate, might edge out as being lighter, potentially simplifying the manual operation of the cover.
The Roll-N-Lock M-Series, with its aluminum-centric build, might be on the heavier side, but its retractable mechanism is adeptly designed to handle this weight with efficiency.
Storage Space
Regarding storage footprint, the GatorTrax houses an 11″x11″ compact canister, which means sacrificing around a foot of your truck's bed space.
On the flip side, the M-Series from Roll-N-Lock retracts into a super-slim 8-inch deep canister, claiming the title for the most compact canister in the retractable cover market.
Weather Resistance
Weather-wise, the GatorTrax, made of LEXAN polycarbonate, might have an edge in extreme temperatures, be it scorching sun or freezing snow.
The Roll-N-Lock M-Series, with its aluminum underpinning, could be better suited for damp conditions, thanks to the corrosion-resistant traits of aluminum.
Security
Security is paramount, and here, when the tailgate is locked, the GatorTrax asserts itself as providing a level of security surpassing even the cab. Its capability to lock the cover at any spot is a distinctive advantage.
As for the Roll-N-Lock M-Series, its patented latching mechanism and the facility to lock at various open positions spells formidable security, especially when paired with a shut tailgate.
Warranty
Installation convenience is a shared trait. GatorTrax offers clamp-on rails for effortless setup, accompanied by a 1-year warranty.
Roll-N-Lock M-Series is just a little behind with its patented clamp-on track design, ensuring a quick installation process. And in terms of warranty? Users can be reassured with a 3-year coverage.
Our Observation
After closely examining the GatorTrax and Roll-N-Lock M-Series tonneau covers, I'm compelled to admire the GatorTrax for its stealthy, low-profile design and formidable LEXAN construction—guaranteeing resilience in diverse climates. Its ability to lock in any position offers unparalleled security and flexibility, suitable for varying cargo needs.
Conversely, the Roll-N-Lock M-Series impresses with its sleek vinyl-over-aluminum construction and compact canister, optimizing bed space without compromising style. The effortless operation and multiple locking positions elevate its functionality.
I'm intrigued by the unique benefits each brings, offering options to cater to diverse preferences and needs in truck bed covers. Choosing between the rugged elegance of Roll-N-Lock and the robust stealth of GatorTrax ultimately boils down to individual lifestyle and usage requirements.

Peter Rees, your go-to car parts expert, bridges the gap between mechanics and motorists. With over decades in the automotive industry, he decodes the intricacies of vehicles in his insightful blog, steering readers toward savvy decisions and smooth rides.