Gator FX Tonneau Cover Review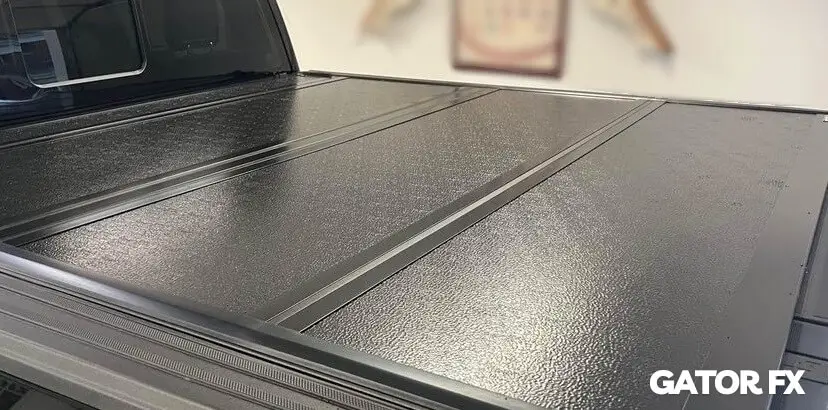 The Gator FX Tonneau Cover represents a versatile and secure option for truck owners seeking to protect their cargo. Its resilient, aesthetic design and advanced features offer users optimum security, convenience, and access to their truck beds.
| Feature | Gator FX |
| --- | --- |
| Design | Strong, sleek, low-profile, hinged folding design. |
| Bed Access | Full truck bed access with integrated prop rod to lock cover fully open. |
| Lock System | Automatic locking at each folding point; Secure when tailgate is closed. |
| Installation | Easy, no-drill installation, removable without tools in minutes. |
| Durability | Heavy-duty aluminum, supports up to 300lbs, made in the USA. |
| Finish | Scratch and UV-resistant black powder coat. |
| Protection | Advanced truck bed protection with automatic slam latches. |
| Weather Resistance | EPDM rubber seals, hinges offer water and varying weather resistance. |
| Custom Fit | Aircraft-grade aluminum panels, specific to different truck models. |
| Warranty | 2 to 4-year warranty depending on the model, |
| | |
| --- | --- |
| | The Gator FX boasts a hinged folding design with full bed access when folded and locks at each fold, with a 4-year warranty on specific models. |
Design & Appearance
The Gator FX Tonneau Cover boasts a sleek and low-profile appearance, with its hinged folding design offering easy access to the truck bed.
The design is aesthetically pleasing and robust, featuring aircraft-grade aluminum panels. The cover's matte black powder coat finish is scratch and UV-resistant, ensuring longevity and sustained aesthetic appeal.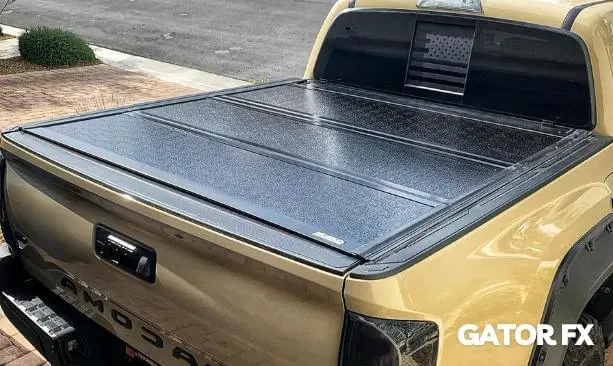 Accessibility
Ease of use is paramount with the Gator FX, allowing full truck bed access by folding up completely against the rear window. It has an integrated prop rod system to lock the cover securely when it's fully open, ensuring the hauling of large loads is convenient and safe.
The accessible pull latches allow users to operate it effortlessly, offering incremental access to the truck bed. Moreover, it can be achieved easily if the user wants full bed access without removing the cover.
It's secured against the truck's cab by rotating the prop rod up into place. This feature also serves a dual purpose as it acts like a headache rack, protecting the truck's cab from loose cargo during sudden stops.
Locking System
Security is enhanced by an automatic locking system at each folding point, coupled with slam latches that lock automatically when closed, offering advanced protection for the cargo.
Opening the cover requires first opening the tailgate, ensuring the cargo inside the bed of the truck is secure as long as the tailgate is locked.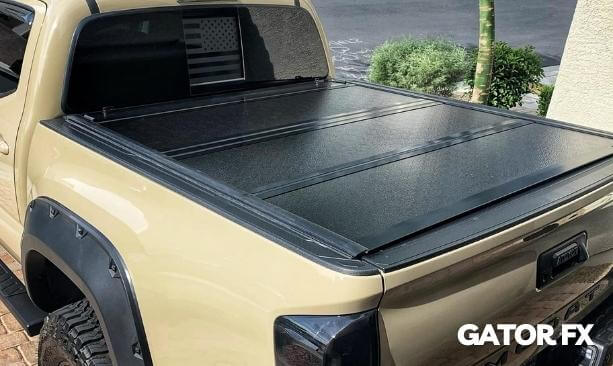 Installation
Installation is a breeze, requiring no drilling on most vehicles, and can be completed in approximately 20-30 minutes. The cover is secured with heavy-duty clamps and can also be removed in minutes without needing tools.
Durability
Manufactured in the USA with globally sourced materials, the cover demonstrates high quality and durability. It can support up to 300 lbs of evenly distributed weight, ensuring it withstands the demands of everyday use.
The durability is also evidenced by its resistance to varying weather conditions, thanks to EPDM rubber seals and hinges.
Custom Fit
The inside mount design provides a flush fit, and it is specific to different truck models and years, allowing full access to stake pocket holes. This customization ensures that every Gator FX Tonneau Cover fits perfectly and performs optimally on the designated truck models.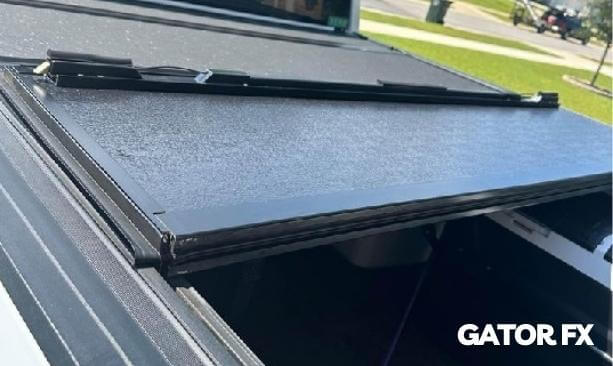 Warranty
Customers with a 2-year or 4-year warranty for specific models can expect high-quality U.S.-based customer service support. Knowing that the company stands behind its product offers peace of mind.
Additional Features
The Gator FX Tonneau Cover also offers perimeter seals and hinges for extra weather protection and buckle straps to secure the cover when it is 2/3 open. It has received 5-star reviews from customers praising its easy installation, durability, and security it provides.
Economic Benefits
By streamlining the airflow over the truck bed, the cover helps reduce fuel consumption. This aerodynamic design can lead to savings at the pump, making the Gator FX an accessory and investment.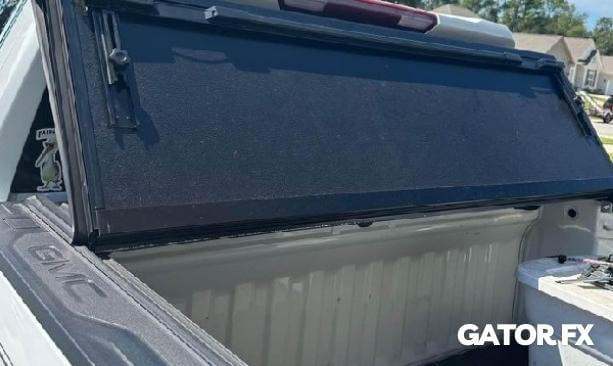 Resale Value Boost
Installing a Gator FX Tonneau Cover could increase the truck's resale value. Well-maintained trucks with added security and functionality features have a competitive edge in the resale market.
Our Observation
Upon examining the Gator FX Tonneau Cover, I'm genuinely impressed with its multifunctionality. Its strong aluminum top surface ensures durability and can remarkably withstand weight up to 300 pounds, making it robust for day-to-day use.
I'm particularly fond of its ultra-flat design, which gives it a sleek appearance and offers top-notch protection against external elements. The added security of needing to open the tailgate first, before the cover, is a thoughtful touch, ensuring that the cargo remains safe.
Its versatility extends to its capability to offer incremental access and full bed access, making hauling different-sized items a breeze.
Moreover, it's commendable that this product is made in the USA, backed by a 2-year or 4-year warranty, based on the specific models. Overall, it's a solid investment for those wanting aesthetics and functionality in a truck bed cover.

Peter Rees, your go-to car parts expert, bridges the gap between mechanics and motorists. With over decades in the automotive industry, he decodes the intricacies of vehicles in his insightful blog, steering readers toward savvy decisions and smooth rides.