Gator FX vs FX3 Tonneau Cover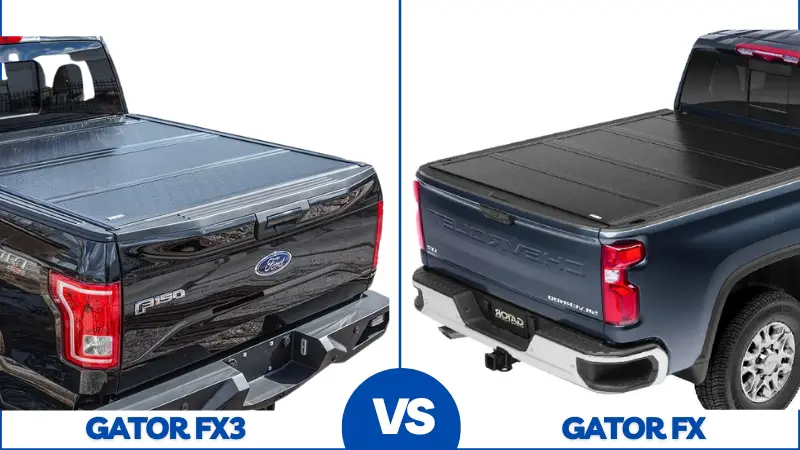 Among the leading names in the industry, the Gator series stands tall, offering exceptional protection, style, and convenience. But how does one decide with options like the Gator FX and Gator FX3 on the table? Dive in as we unravel the intricacies of these two prominent Tonneau covers, comparing their features, materials, and overall functionality.
| | |
| --- | --- |
| | The Gator FX boasts a hinged folding design with full bed access when folded and locks at each fold, with a 4-year warranty on specific models. |
| | |
| --- | --- |
| | FRP and aluminum build, scratch, dent & UV-resistant, under 1-hour no-drill install, 2-year warranty. Perfect for enhanced features and easy installation. |
Gator FX vs FX3
The Gator FX and Gator FX3 Tonneau Covers are both reliable choices for truck bed protection. Here's a side-by-side comparison to help discern the key differences
| Gator FX | Gator FX3 |
| --- | --- |
| Constructed with heavy-duty aluminum. | Features fiberglass reinforced polymer (FRP) top panels with underlying aluminum sub-panels. |
| Flaunts a trifold design and fully folds against the rear window. | Designed to lean against the cab, offering a pull cable mechanism for sequential panel folding. |
| Finished in a scratch and UV-resistant black powder coat. | Exhibits a textured black finish, ensuring resistance against UV, scratches, and dents. |
| Installation typically falls within the 20 to 30-minute range. | Boasts a convenient no-drill installation, complete in under an hour. |
| Warranty varies by model, with coverage extending up to 4 years. | Comes with a limited two-year warranty. |
| Comes equipped with buckle straps and pull latches. | Enhanced with rubber bumpers, a dual-action rear seal, cut-proof FRP panels, and a prop for safe driving. |
| Price Range $999.00 – $1,039.00 | Price Range $1,049.00 – $1,089.00 |
Material
The Gator FX boasts an all-aluminum construction, promising a robust and long-lasting life for the cover. This heavy-duty design ensures that it can withstand the test of time and resist the wear and tear of regular usage. On the other hand, the Gator FX3 incorporates the best of both worlds.
While it retains the aluminum sub-panels, its top panels are designed with Fiberglass Reinforced Polymer (FRP). This FRP coating adds to the cover's durability and enhances its resistance against scratches, heat, and UV rays.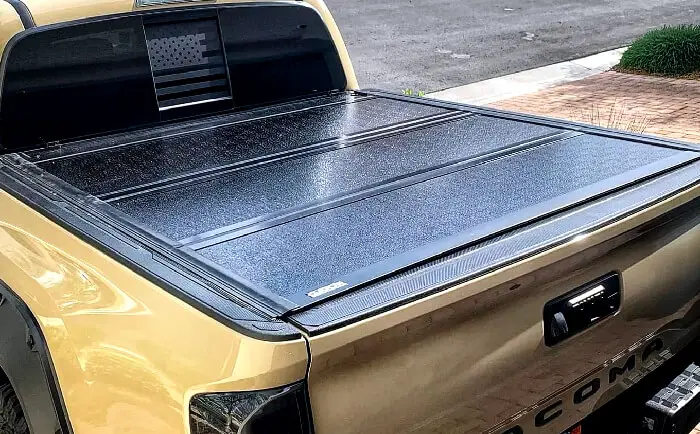 Design & Access
Functionality is paramount when it comes to tonneau covers. The Gator FX excels with its trifold configuration, allowing users to fold it completely against the rear window. This feature ensures that truck owners get full bed access without any hindrance.
Meanwhile, the Gator FX3, with its sleek design, allows the cover to lean gracefully against the cab. The pull-cable feature further facilitates panel-by-panel folding, adding to its flexibility of usage.
Finish & Aesthetics
Both covers are designed to impress but in slightly different ways. The Gator FX is finished with a scratch and UV-resistant black powder coat. This adds to its longevity and gives it a polished, elegant look.
In contrast, the Gator FX3 shines with its semi-gloss textured black finish. The FRP coating protects the cover against scratches, dents, and harmful UV rays, ensuring it remains as polished as the day you bought it.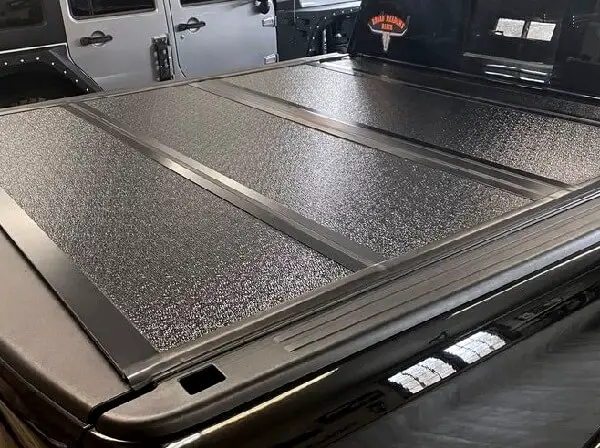 Installation
For truck enthusiasts who prefer a DIY approach, ease of installation is crucial. The Gator FX promises a swift installation in just 20-30 minutes, meaning you can get it up and running quickly. The Gator FX3 takes this a step further, emphasizing its no-drill installation.
With drill-free clamps, you can have your cover ready in under an hour. Additionally, the FX3 comes with rubber bumpers and a dual-action rear seal, making its operation smoother and more efficient.
Warranty
Last but not least, let's talk about the warranty and price. While both covers are competitively priced, with the Gator FX at $999.00 – $1,039.000 and the Gator FX3 slightly costly at $1,049.00 – $1,089.00, the warranties differ.
The Gator FX offers an extended warranty of up to 4 years, depending on the model. In contrast, the Gator FX3 provides a two-year limited warranty against manufacturing defects.
Conclusion
Choosing between the Gator FX and Gator FX3 boils down to personal preferences and specific needs. If you're looking for a sturdy all-aluminum design with the potential for a longer warranty, the Gator FX might be your best bet.
However, if you value a combination of materials with enhanced features and ease of use, the Gator FX3 could be the perfect fit. Either way, both covers promise durability, security, and a touch of elegance to your truck.

Peter Rees, your go-to car parts expert, bridges the gap between mechanics and motorists. With over decades in the automotive industry, he decodes the intricacies of vehicles in his insightful blog, steering readers toward savvy decisions and smooth rides.