Gator ETX vs SRX Tonneau Cover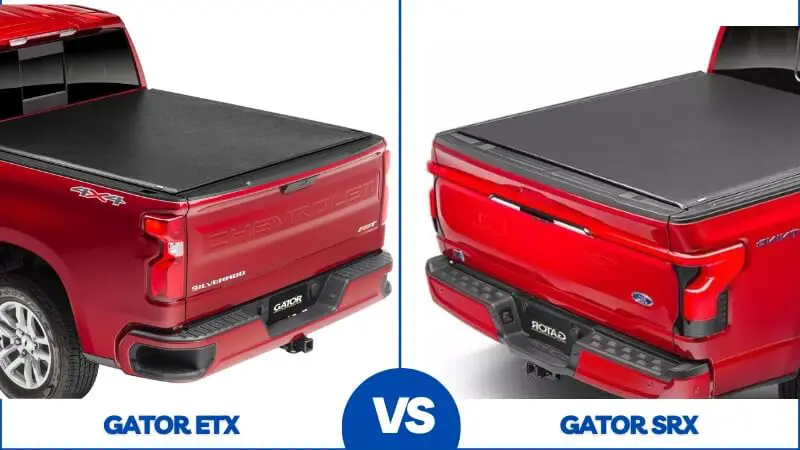 Gator Covers, a recognized leader in the tonneau cover market, offers multiple options to suit varied needs, with the Gator ETX Soft Tri-Fold and the Gator SRX Roll-Up being two prominent models. Both are celebrated for their design, functionality, and reliability.
However, choosing between them necessitates a closer look at what each brings to the table. In this article, we delve into the features, installation, design, and customer satisfaction related to these two models to help you decide which cover best suits your truck protection needs.
| | |
| --- | --- |
| | Gator ETX offers quick, no-tool installation, superior sealing, 2/3 bed access, and a sleek design, with a lifetime frame and 10-year tarp warranty. |
Gator SRX Roll-Up Tonneau

Gator SRX, with drill-free installation, provides full bed access, a sleek, low-profile, and a tailgate lock, backed by a similar warranty.
Gator ETX vs SRX
While both serve the core purpose of securing your truck bed, each brings unique features to the table.
| Gator SRX | Gator ETX |
| --- | --- |
| Drill-Free Installation | Fast & Easy, No-Tool Installation |
| Full Bed Access | 2/3 Bed Access |
| Heavy-Duty Vinyl Material | Industrial-Grade Leather-Grain Vinyl |
| Low-Profile Design | Sleek and Durable Design |
| One-Handed Trigger Latch Operation | Simple Folding Operation |
| Basic Lock Mechanism Security | Integrated Buckling System Security |
| Adjustable Tension Control | Adjustable Tension Control |
| Made in USA (with global materials) | Made in USA (with global materials) |
| Limited Lifetime Warranty for Frame & 10-Year for Tarp | Limited Lifetime Warranty for Frame & 10-Year for Tarp |
| Compatibility is not specified, offering flexibility. | Compatible with Specific Chevy/GMC and Ford models |
| 30-Day "Love it or Swap it" Guarantee | Compatible with MultiPro/Flex tailgate |
| Tailgate Locks with the tailgate System | Superior Seals System Inside the Bed |
Installation
The Gator ETX is known for its quick and hassle-free installation process. It doesn't require any tools or drilling, allowing users to set it up in approximately 10 minutes.
On the other hand, the Gator SRX also prioritizes ease of installation, offering a drill-free method that uses clamps for secure attachment.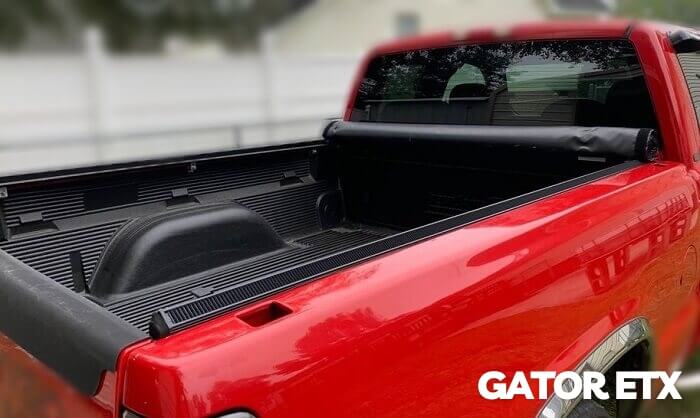 Design & Appearance
With a sleek, durable, and low-profile design, the Gator ETX mounts atop the truck bed rails, which not only gives the truck an enhanced appearance but also emphasizes its sturdy design.
Conversely, the Gator SRX has a low-profile structure, positioning just 3/4″ above the bed caps. This feature lends the truck a sleek and natural appearance that melds seamlessly with the truck's overall aesthetic.
Material & Durability
Durability is a strong suit for the Gator ETX, which is constructed using a heavy-duty aluminum frame. Complemented by industrial-strength vinyl, it is also tear-resistant, ensuring a long-lasting life.
The Gator SRX, however, employs heavy-duty, industrial-strength leather-grain vinyl. This robust material ensures maximum protection and promises longevity.
Accessibility
Regarding operation, the Gator ETX stands out with its simple panel folding mechanism. Users can fold the panels toward the cab and even have the option to secure it in a 2/3 open position for larger loads.
The Gator SRX, in contrast, is designed to roll up conveniently, ensuring full bed access. Once rolled up, it can be secured with hooks at the cab.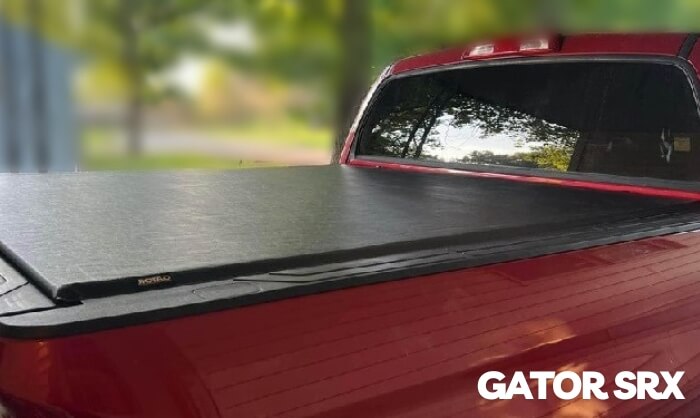 Protection & Security
Protection against the elements is a prime concern for truck bed covers. The Gator ETX excels in this area by providing superior perimeter sealing. This sealing keeps out rain, snow, and dust, guaranteeing all-weather protection for the cargo.
The Gator SRX adds an extra layer of security by incorporating a tailgate lock system. This protects the cargo from theft and does so without the need for elaborate clamps.
Warranty & Support
Backing their products, the Gator ETX offers a limited lifetime warranty on its frame and a 10-year guarantee on the tarp. They also pride themselves on providing US-based customer support.
Similarly, the Gator SRX assures customers with a limited lifetime warranty on its frame and a 10-year warranty on its tarp.
Customer Reviews
The Gator ETX has garnered a positive reputation among users, especially for its user-friendly installation process and undeniable durability. Gator SRX is not far behind, receiving praise for its stylish design and reliability.
An added bonus for SRX users is the 30-day "love it or swap it" guarantee, which provides an added layer of confidence in their purchase.
Conclusion
In conclusion, both the Gator ETX Soft Tri-Fold and Gator SRX Roll-Up Tonneau Covers hold significant value, offering robust protection, sleek design, and easy installation. The choice between the two largely depends on individual preferences regarding accessibility and appearance.
The Gator ETX stands out for its superior sealing and the ability to secure larger loads in a 2/3 open position. In contrast, the Gator SRX is notable for its full bed access and stylish, low-profile appearance. Either choice guarantees quality, durability, and enhanced truck aesthetics, making them a worthwhile addition to your vehicle.

Peter Rees, your go-to car parts expert, bridges the gap between mechanics and motorists. With over decades in the automotive industry, he decodes the intricacies of vehicles in his insightful blog, steering readers toward savvy decisions and smooth rides.