Gator FX3 vs Bakflip MX4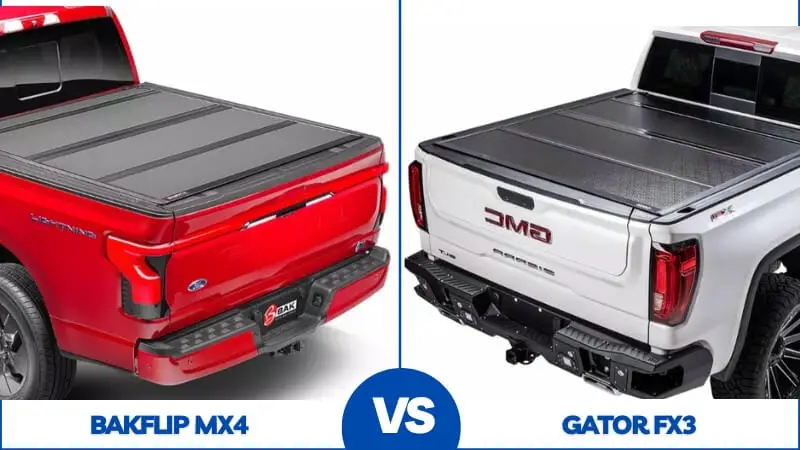 Tonneau covers have become an essential accessory for truck owners, both for their protective functionality and aesthetic appeal. With the myriad of choices in the market, picking the best fit for your truck can get overwhelming.
Today, we dive deep into comparing two of the most popular choices: the Gator FX3 and the BAKflip MX4. Let's uncover the truth and see which one comes out on top.
| | |
| --- | --- |
| | Premium aluminum build, supports 400 lbs, superior water resistance, auto-lock latches, 5-year warranty. Pricier, but top-tier features. |
| | |
| --- | --- |
| | FRP and aluminum build, scratch, dent & UV-resistant, under 1-hour no-drill install, 2-year warranty. Perfect for enhanced features and easy installation. |
Bakflip MX4 vs Gator FX3
By looking at this comparison table, you can easily comprehend the distinctions between the options.
| Gator FX3 | BaKflip MX4 |
| --- | --- |
| Constructed with Fiberglass Reinforced Polymer (FRP) top panels. | Constructed with corrosion-resistant aluminum panels. |
| Supports up to 300 lbs (evenly distributed). | Supports up to 400 lbs (evenly distributed). |
| Features gloss-black finish with a textured appearance. | Features matte-black finish. |
| Equipped with a flap seal that overlaps the tailgate. | Features a dual-action tailgate seal. |
| Offers enhanced UV resistance due to FRP. | Comes with standard UV resistance. |
| Boasts enhanced aesthetic with color-coated hinges & bumpers. | Exhibits a premium design with low-profiled hinges. |
| Has locking latches with cables that might hide occasionally. | Equipped with automatic latching of better quality. |
| Generally less expensive. | Generally more expensive. |
| Possibly weaker lateral seals, impacting weather resistance. | Features better EPDM seals for improved weather resistance. |
| Panel composition is a composite covered with aluminum sheets. | Panel composition is exclusively aluminum. |
| Offers basic functionality. | Provides beneficial dual tailgate sealing for enhanced functionality. |
| Comes with a 2-year warranty. | Comes with a 5-year warranty. |
Durability
Diving into the heart of both tonneau covers, the Gator FX3 flaunts top panels constructed from the lauded fiberglass reinforced polymer (FRP). Not just an aesthetic choice, FRP is the knight in shining armor against menacing dents and the relentless sun, guaranteeing an undying luster even after years under the scorching rays.
On the other hand, Bakflip MX4 goes the metallic route, brandishing panels forged from corrosion-resistant aluminum. Although it might shy away from a direct sunlight face-off compared to the FX3, its rugged aluminum body is synonymous with endurance.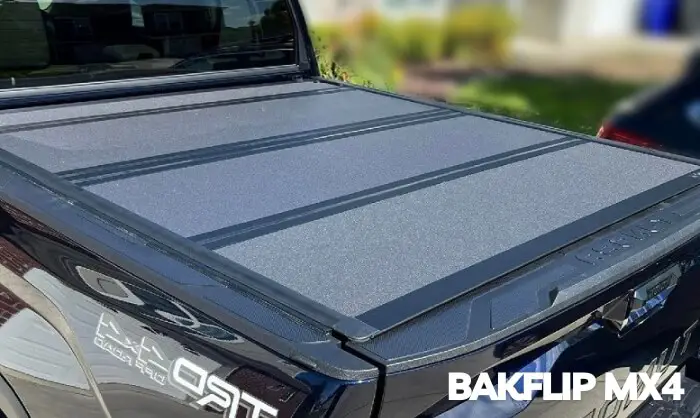 Weight Capacity
Regarding heft and haul, the Gator FX3 doesn't disappoint, holding firm under the weight of up to 300 pounds. But the Bakflip MX4 muscles ahead, bearing a staggering 400 pounds.
For those with a penchant for packing their truck beds with more than just camping gear, MX4 might just be the way to go.
Finish & Design
Aesthetics matter, and the Gator FX3 knows it. Draped in a gloss-black robe with a hint of texture, it's the epitome of rugged elegance. And with rubber bumpers strategically placed between panels, friction is a forgotten foe.
On the opposite corner, the Bakflip MX4 sports a matte-black attire, oozing sophistication and luxury. Its low-profile hinges ensure a flat, seamless look, eliminating any mid-panel awkwardness.
Tailgate Seal
The Gator FX3 makes a splash with its overlapping flap seal at the tailgate. However, the side seals could let in the occasional droplet. The Bakflip MX4 is about to keep that from happening on its watch. With a dual-action tailgate seal and an EPDM armor, it's almost as if it was built with Poseidon in mind, ensuring watertight protection.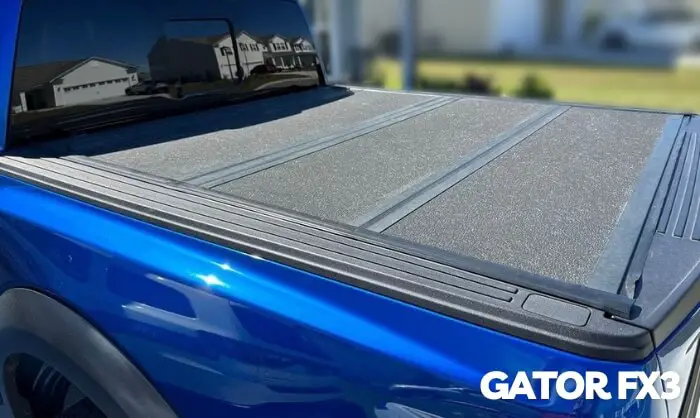 Locking Mechanism
Lock it and forget it? Not quite with the Gator FX3. Although its slam latches and pull cable system is commendable, the occasional mischievous cable slipping under the cover could cause a hiccup. In stark contrast, the Bakflip MX4's automatic locking latches are a symphony of convenience and security.
Price Point
The Gator FX3 is a masterclass in affordability without skimping on features, with its FRP coat being its crowning jewel. The Bakflip MX4, although a bit heavy on the pocket, justifies its price tag with its bevy of advanced features and elite build.
Warranty Comparison
Stepping into the ring of guarantees, the BAKflip MX4 is an undisputed champion with a generous 5-year, hassle-free warranty, showcasing not just the product's resilience but the company's unwavering faith in its creation.
Gator FX3, although offering a shorter two-year shield, ensures that any manufacturing gremlins that might sneak in are promptly shown the door.
Additional Feature
Beyond the basics, the Gator FX3 brings its A-game with UV-resistant FRP coating and those all-important rubber bumpers. Additionally, its cut-proof panels combined with an auto-locking mechanism mean security isn't just a feature; it's a guarantee.
The Bakflip MX4 doesn't lag, being the preferred choice for many a Toyota Tacoma. And with its user-friendly no-drill clamp system and double tailgate seal, it's a harmonious blend of convenience and safety.
Our Observation
Upon examining both the Gator FX3 and Bakflip MX4, it's evident that each cover presents distinct advantages. The Gator FX3's fiberglass-reinforced polymer panels offer commendable dent resistance and UV protection. Its finish and design, combined with an affordable price point, render it a valuable pick for budget-conscious consumers.
The Bakflip MX4, on the other hand, leans towards premium with its robust aluminum construction, superior weight capacity, and enhanced water resistance. It also boasts a more user-friendly locking mechanism and a more extended warranty period, signaling confidence in its product quality. However, this comes at a higher price.
Overall, while the Gator FX3 delivers on durability and value, the Bakflip MX4 excels in terms of features, security, and compatibility, positioning it as a top-tier choice for discerning users.

Mark Takahashi, Car parts guru with a passion for mechanics. Blogger extraordinaire, translating auto jargon into everyday magic. Drive into his world of knowledge!