Gator Recoil vs GatorTrax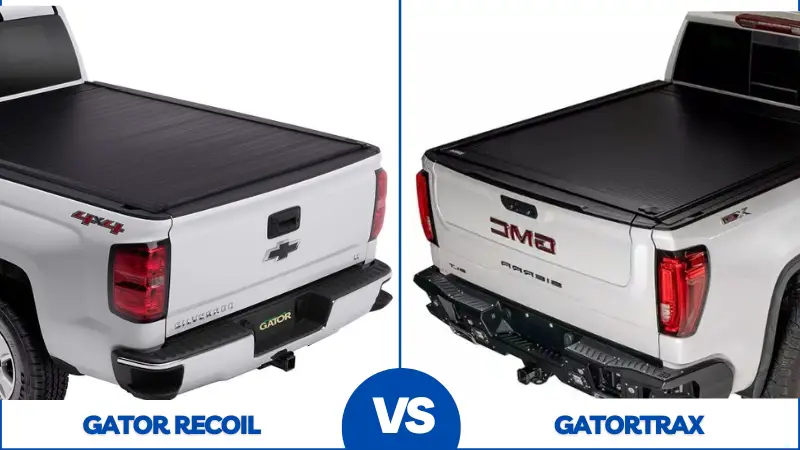 In the world of trucks, tonneau covers are akin to shields, protecting the precious cargo and optimizing the utility of the truck bed. They are designed to secure, safeguard, and offer easy access to the treasures within your vehicle. Gator Covers is a prominent name in this domain, offering products designed to meet truck owners' needs and lifestyles.
The Gator Recoil and GatorTrax tonneau covers are among their arsenal, each boasting unique features, impressive durability, and seamless operation. This article delves into comparing these two remarkable products, aiming to assist you in choosing the perfect cover to shield your cargo.
Gator Recoil Retractable Cover

Gator Recoil, with rigid aluminum, ensures enhanced security and efficient water drainage, backed by a 2-year warranty.
Gatortrax Retractable Cover

GatorTrax offers resilient LEXAN construction, customizable locking, and superior water resistance with a 1-year warranty.
Gator Recoil vs GatorTrax
Both crafted with precision and equipped with unique features, let's explore how they stack up against each other.
| GatorTrax | Gator Recoil |
| --- | --- |
| Constructed from LEXAN polycarbonate, the same material used in jet cockpits. | Made of rigid aluminum panels with a UV-resistant matte black finish. |
| Comes with a flat matte finish. | Features a UV-resistant matte black finish. |
| Employs a sealed ball bearings operation system. | Utilizes a sealed ball bearing roller design. |
| Can be locked in ANY position. | Offers three intermittent positions and unlimited locking positions with movable latch stops. |
| It's lockable with a key and becomes secure with a locked tailgate. | Cannot be opened when the tailgate is locked, ensuring security. |
| Installation is hassle-free with clamp-on rails, requiring no drilling or cutting. | Features bolt-on clamps for easy installation without any drilling. |
| Water-resistant, though there might be some seepage during pressure washing. | Not completely waterproof, but designed to drain water efficiently through the system. |
| Designed with a low profile, providing a flush appearance. | Sports a low-profile design for a sleek look. |
| Comes with a 1-year warranty. | Offers a 2-year warranty for peace of mind. |
| Made in the USA, though some materials are globally sourced. | Made in the USA, with some materials sourced from global suppliers. |
| It's compatible with most 5th wheel hitches and features a manual retractable system. | Includes a "No-Profile" front canister, a tether hand release, and compatibility with MultiPro/Flex tailgate. |
Design & Material
The Gator Recoil stands out with its rigid aluminum panels combined with a UV-resistant matte black finish. The aluminum slats are held together with a robust elastomer hinge, ensuring no entry for water or debris.
The GatorTrax, on the other hand, is crafted from LEXAN polycarbonate, a material known for its exceptional durability and UV resistance. Its flat matte finish ensures a stealthy, clean look, further accentuated by its flush appearance with no noticeable hump.
Operation & Flexibility
The Gator Recoil uses a sealed ball-bearing roller design, allowing for a spring-free operation. It boasts a grip latch on either side for adjusting the cover and offers three specific locking positions.
Conversely, the GatorTrax utilizes the same sealed ball bearings but brings added flexibility by locking at ANY position, enhancing its accessibility and user experience.
Installation Guide
Both tonneau covers champion ease of installation. The Gator Recoil provides a no-drill installation process, with bolt-on clamps ensuring attachment to bed rails in around 30 minutes.
The GatorTrax also boasts a simple clamp-on rail system, negating the need for any drilling. In terms of maintenance, the GatorTrax slightly edges out the Recoil with its zero-maintenance sealed bearings.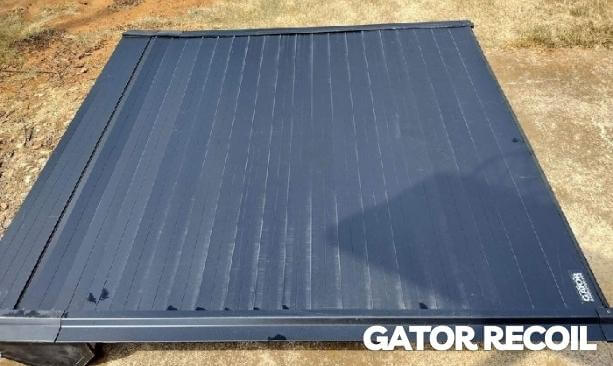 Security & Protection
Both covers offer enhanced security, ensuring that unauthorized access is denied when the tailgate is closed and locked. While neither is 100% waterproof, they effectively channel water away from the truck bed.
However, the GatorTrax's H-shaped aluminum beams provide a tad more resilience against water accumulation, making it slightly superior in water resistance.
Warranty
Both the "GatorTrax" and "Gator Recoil" tonneau covers underscore a commitment to quality and durability. The GatorTrax comes with a 1-year warranty, offering buyers a safety net against potential defects or issues within the first year of purchase.
On the other hand, the Gator Recoil offers an extended sense of reliability with its 2-year warranty. Both warranties underscore Gator Covers' dedication to customer satisfaction and trust in their products.
Our Observation
Both the "GatorTrax" and "Gator Recoil" tonneau covers demonstrate Gator Covers' commitment to producing quality and functional products for truck owners. The GatorTrax stands out with its unique locking system, the ability to be locked at any position, and its LEXAN polycarbonate construction.
The Gator Recoil, on the other hand, boasts a rigid aluminum panel construction and a sophisticated draining system to keep cargo dry. While both offer top-notch security and protection, choosing between them depends on user preference, bed size compatibility, and specific use cases. Both are prime examples of Gator Covers' prowess in melding aesthetics with utility.

Peter Rees, your go-to car parts expert, bridges the gap between mechanics and motorists. With over decades in the automotive industry, he decodes the intricacies of vehicles in his insightful blog, steering readers toward savvy decisions and smooth rides.