Gator FX3 Tonneau Cover Review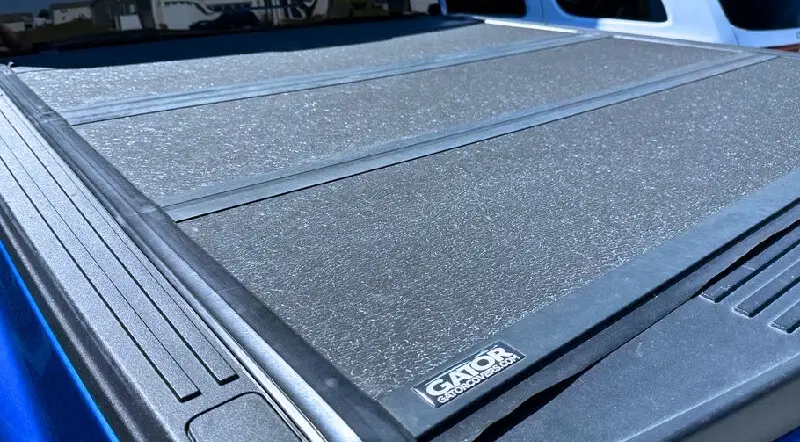 Every so often, a product comes along that sets itself apart in more ways than one. The Gator FX3 Tonneau Cover is a testament to this, boasting various features that combine functionality with aesthetics.
In this review, we delve deep into the specifics of this product, assessing its merits and determining whether it's truly worth the investment.
| Feature | Gator FX3 |
| --- | --- |
| Material | FRP top panels & Aluminum sub-panels |
| Installation | No-drill, clamp-on |
| Bed Access | Full, with prop rods |
| Weather Resistance | EPDM seals & Drain tubes |
| Security | Auto-locking slam latches & Cut-proof FRP panels |
| Weight Capacity | Supports up to 300 lbs (evenly distributed) |
| Finish & Design | Sleek, semi-gloss textured black & Low-profile |
| Operation | Pull cable & Slam latches |
| Tailgate Operation | Dual-action seal |
| Protection | Rubber bumpers & FRP panels |
| Warranty | Limited two-year |
| | |
| --- | --- |
| | FRP and aluminum build, scratch, dent & UV-resistant, under 1-hour no-drill install, 2-year warranty. Perfect for enhanced features and easy installation. |
Design & Aesthetics
With its sleek, semi-gloss textured black finish and low-profile design, the Gator FX3 is as stylish as it is practical. The aesthetics of the cover offer a sophisticated and smooth appearance, complementing the overall look of the vehicle and ensuring that functionality does not compromise style.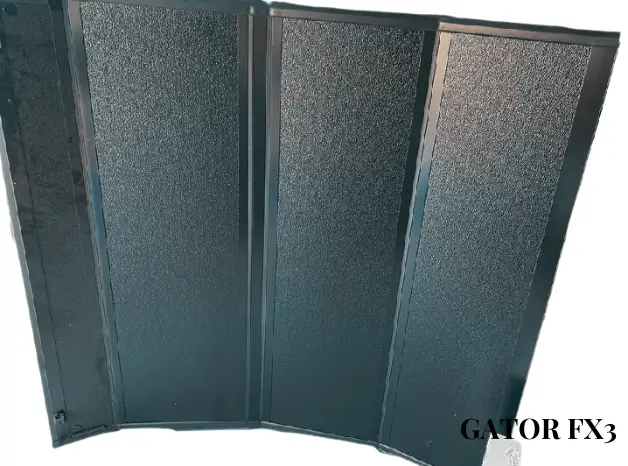 Construction
Manufactured with a hybrid construction featuring Fiberglass Reinforced Polymer (FRP) top panels and aluminum sub-panels, the Gator FX3 offers the best of both worlds. The FRP is UV resistant and adept at protecting against scratches and dents.
While aluminum provides the needed structure and rigidity, holding up to 300 lbs when the weight is evenly distributed. This combination ensures that the cover remains a long-lasting companion for your truck.
Installation Guide
The Gator FX3 champions user-friendly installation with its no-drill, clamp-on design, allowing most users to complete installation in less than an hour using basic tools like a socket wrench.
The operation is equally seamless, with slam latches that lock each panel into place, easily unlockable via a pull cable.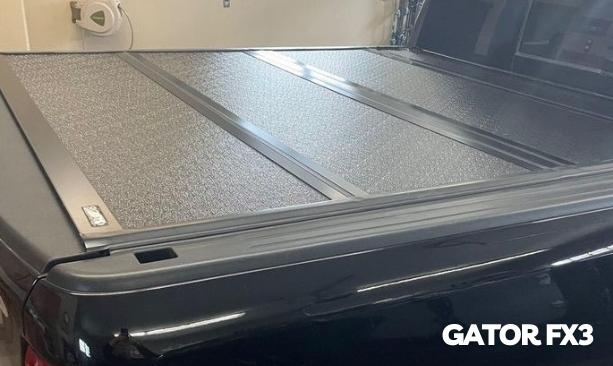 Bed Access
One standout feature of the Gator FX3 is its ability to provide full bed access, allowing users to fold the cover, panel by panel, to the front of the bed. For partial access, the cover can be secured 2/3 open with buckle straps for driving.
If you require complete access, the cover can lean against the cab and be secured with prop rods, with rubber bumpers ensuring the protection of the rear of the cab.
Security & Protection
Combined with a locking tailgate, the Gator FX3 is a formidable guardian of your cargo, with auto-locking slam latches and cut-proof FRP panels providing enhanced security.
The dual-action tailgate seal allows for closing the cover with or without the tailgate open, adding an extra layer of convenience and protection.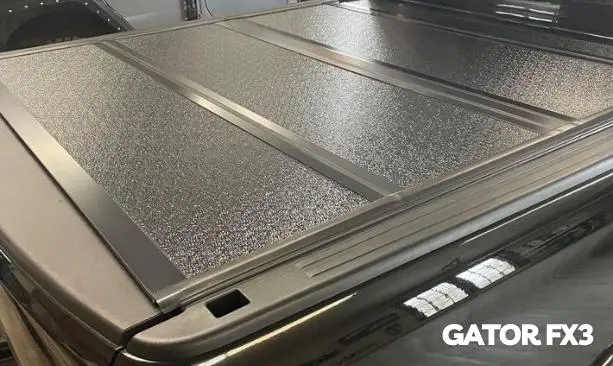 Weather Resistance
In the battle against the elements, the Gator FX3 stands resilient, featuring EPDM weather seals and integrated drain tubes to keep the cargo dry and safe from weather conditions.
The EPDM seals and hinges along the panels significantly enhance the cover's resistance to varying weather conditions, ensuring the cover's longevity and the cargo beneath it.
Warranty
With a two-year limited warranty against manufacturing defects, Gator FX3 assures quality and reliability. Gator's warranty and reputation as a brand instill confidence in users, making the Gator FX3 a worthwhile investment for truck owners seeking protection and style.
Adaptability
The Gator FX3 has been designed keeping in mind a broad spectrum of truck models. Its adaptable nature ensures a snug fit across various truck bed sizes, allowing users to maximize its potential regardless of vehicle type.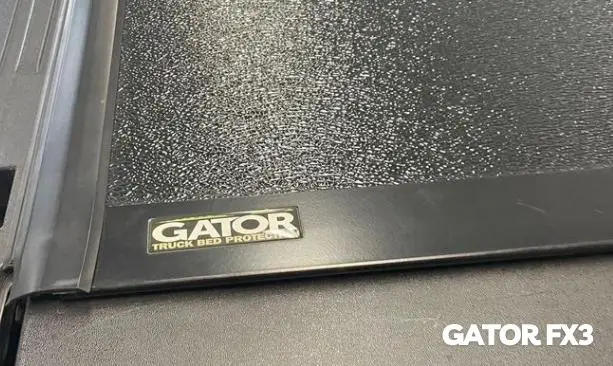 Eco-friendliness
Being environmentally conscious is increasingly important in today's market. The materials used in constructing the Gator FX3 are sustainable, ensuring a reduced carbon footprint. Not only does it serve your truck, but it also serves the planet.
Aerodynamic Efficiency
One often overlooked benefit of a good tonneau cover is its ability to enhance aerodynamic efficiency. With the Gator FX3's streamlined design, it can improve fuel economy by reducing drag, thus offering savings in the long run.
Resale Value
A well-maintained truck bed can significantly boost the resale value of your truck. By using the Gator FX3, you're protecting your cargo and ensuring that the truck bed remains pristine, making your vehicle more appealing to potential buyers.
Our Observation
In observing the Gator FX3 Tonneau Cover, I'm genuinely impressed by its blend of aesthetics, durability, and functionality. The meticulous construction using Fiberglass Reinforced Polymer and aluminum ensures resilience and security, crucial for anyone keen on maintaining the integrity of their truck bed.
Its sleek, semi-gloss black finish and low-profile design don't compromise style for functionality, a balance often hard to strike in automotive accessories. The no-drill installation and easy operation, paired with full bed access and weather resistance, make it user-friendly and versatile in diverse conditions.
Additionally, its eco-friendly and aerodynamically efficient design can subtly contribute to environmental conservation and fuel economy, adding a responsible touch to truck ownership.

Mark Takahashi, Car parts guru with a passion for mechanics. Blogger extraordinaire, translating auto jargon into everyday magic. Drive into his world of knowledge!