Bakflip MX4 Tonneau Cover Review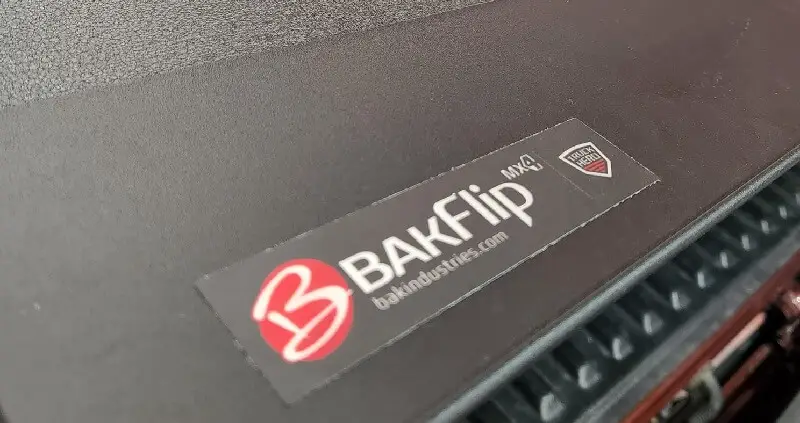 It's no secret that pickup truck owners have a myriad of choices when it comes to protecting their truck beds. Yet, amidst the clutter of products and brands, the BAKFlip MX4 has managed to carve a niche for itself. But what makes this tonneau cover stand out?
After 18 months of putting it through its paces, from the harsh winters of Alaska to the rainy season in Georgia, here's my comprehensive review of the BAKFlip MX4.
| Feature | BAKFlip MX4 |
| --- | --- |
| Bed Access | Folds for 100% bed access, includes prop rods. |
| Upgraded Side Rails | Channeled with rubberized endcaps. |
| Tailgate Functionality | Triple fin seals, closes with tailgate up or down. |
| Finish | Matte black with UV protection. |
| Installation | No-drill clamp; less than an hour. |
| Operation | Automatic latching, pull-cable deactivation. |
| Construction | Heavy-duty aluminum with weather-resistant seals. |
| Design | Flush with pickup bed rails, sleek look. |
| Security | Aluminum panels, latches lock with tailgate. |
| Weight Capacity | Up to 400 lbs of evenly distributed weight. |
| Additional Features | Drain tubes, dual-sided opening; durable prop rods. |
| Warranty | 5-year with US-based support. |
| | |
| --- | --- |
| | Premium aluminum build, supports 400 lbs, superior water resistance, auto-lock latches, 5-year warranty. Pricier, but top-tier features. |
Bed Access
The BAKFlip MX4 boasts a unique folding mechanism, allowing users to fold the cover towards the cab for 100% bed access. The prop rods securely hold the cover in place, and upgraded cab bumpers prevent paint scuffing.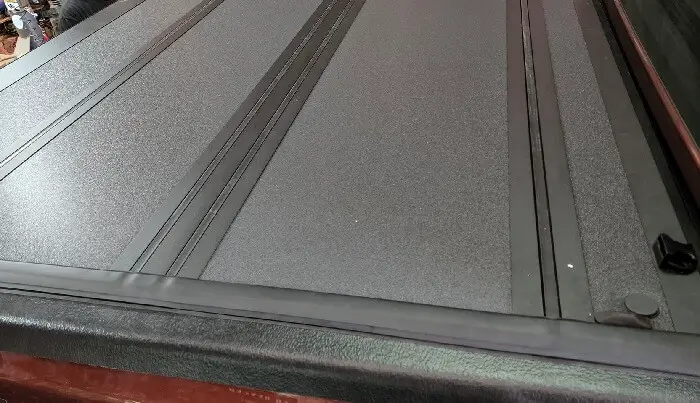 Functionality
The cover remains securely in place with channeled and rubberized endcap rails, ensuring that no raw aluminum is exposed. The triple fin seals offer universal tailgate operation, allowing users to operate the tailgate whether the cover is open or closed without any hindrance.
Aesthetic Finish
The cover sports a sleek matte-black finish, sitting flush with the truck's bed rails and offering superior scratch resistance and UV protection. This aesthetic addition ensures the vehicle maintains its sophisticated appearance while enduring everyday wear and tear.
Security & Durability
Constructed with heavy-duty aluminum panels, the cover guarantees top-notch security, with automatic latching panels that lock in conjunction with the tailgate.
The automatic latching to mounting rails and durable aluminum construction fortified with weather-resistant EPDM seals and end caps make it a secure and durable choice.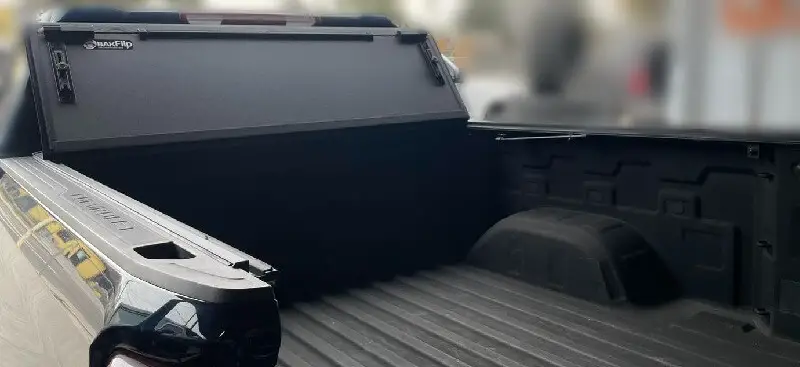 Easy Installation
The cover's design allows for installation in less than an hour without any need for drilling, thanks to its no-drill clamp. It is equally effortless, with latches deactivating with a simple cable pull.
Weight Capacity
The BAKFlip MX4 can support up to 400 lbs of evenly distributed weight, making it a reliable option for carrying heavy loads without worrying about damage or sagging.
Warranty
Features such as drain tubes, injection-molded latch housing, and the non-obstructive design for the third brake light are bonuses that make the MX4 stand out.
Furthermore, a 5-year hassle-free warranty with US-based support is the cherry on top, ensuring that you're investing in a product that comes with peace of mind.
User Experiences
The BAKFlip MX4 mostly received positive nods for keeping the majority of the weather out, even in extreme conditions. However, a few points of contention were noted, including some concerns about its scratch and dent resistance. Some users found that the top scratched quite easily.
Additionally, there were minor issues with the clips used for locking, with some needing additional adhesives to keep them in place. However, these issues were considered minor, and quick fixes were enough to resolve them.
The locking rods, designed to support the cover while driving, were found to sometimes fall off during a ride on rough roads, but applying Loctite was a sufficient solution.
Despite these minor inconveniences, many felt the cover's overall functionality, security, and aesthetic appeal outweighed the drawbacks, considering it a worthwhile investment.
Our Observation
BAKFlip MX4's design strikes a balance between functionality and aesthetics with its sleek matte-black finish that sits flush with the pickup's bed rails.
The cover's full bed access, combined with the easy operation and no-drill installation, stands out. It's evident that much thought went into ensuring security and convenience, especially with features like the automatic latching panels that lock in tandem with the tailgate.
The added bonus of a 5-year warranty only solidifies my belief that this is a well-crafted and reliable product. Whether you prioritize security, functionality, or aesthetics, the MX4 caters to all needs.

Peter Rees, your go-to car parts expert, bridges the gap between mechanics and motorists. With over decades in the automotive industry, he decodes the intricacies of vehicles in his insightful blog, steering readers toward savvy decisions and smooth rides.