Bak Revolver x4s Tonneau Cover Review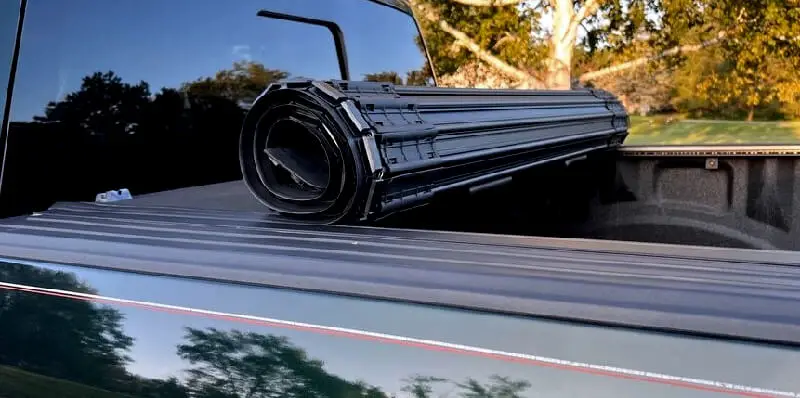 Whether carrying valuable equipment, moving house, or securing groceries, the BAK Revolver X4s Tonneau Cover positions itself as an essential companion for truck owners, promising superior protection, sleek design, and smooth operation.
This American-made cover is not just a protective accessory; it's a statement piece that accentuates the entire look of your truck while serving a practical purpose.
| Feature | BAK Revolver |
| --- | --- |
| Material | Marine-grade vinyl & aluminum |
| Finish | Matte black |
| Weather Protection | Integrated bulkhead seal |
| Operation | One-hand, easy-roll |
| Locking System | Patented rotational rails |
| Bed Access | Full bed access when rolled up |
| Compatibility | 2021-2022 Ford F-150 8'2″ Bed |
| Weight Support | Up to 400 Lbs. evenly distributed |
| Installation | No-drill |
| Warranty | 5 years |
| Country of Manufacture | USA |
| Design Enhancements | Sleek side seals & corner caps |
| Additional Security | Interlocking aluminum slats |
BAK Revolver Hard Rolling

Bak Revolver X4S has Sleek matte design with durable vinyl and aluminum construction. Offers a 5-year warranty and can handle 400 lbs. Ideal for modern aesthetic appeal.
Matte Finish
Stepping away from the shine, the first thing you notice about the BAK Revolver X4S is its sophisticated matte black finish. Every inch, from its vinyl overlay to its aluminum slats and even its hardware, oozes class with this top-to-bottom matte finish.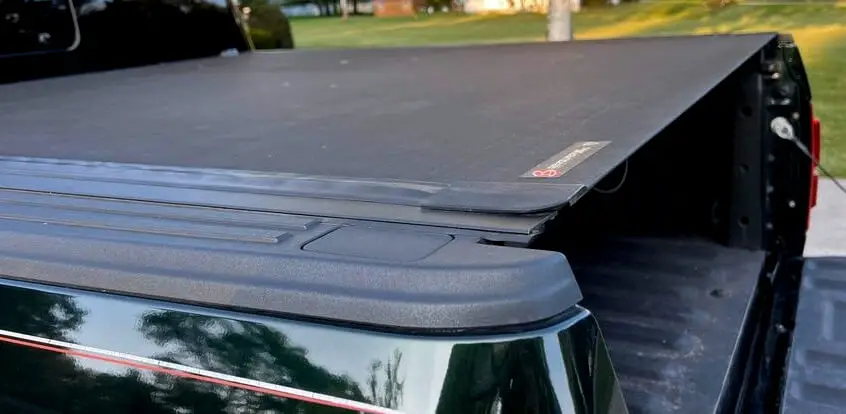 Sturdy Construction
Constructed from cut-resistant aluminum slats and overlaid with marine-grade vinyl, the BAK Revolver X4S isn't just about looks. Its design ensures a strong defense against potential breaches, securing cargo from prying eyes and mischievous hands.
Weather Protection
The heavy-duty integrated bulkhead seal is an unsung hero. Your cargo remains shielded from the harshest elements, be it rain, snow, or desert sun.
Seamless Operation
With a patented rotational locking system and an easy-to-use latch mechanism, accessibility is a breeze. One-handed operation from either side of the tailgate ensures quick access whenever needed.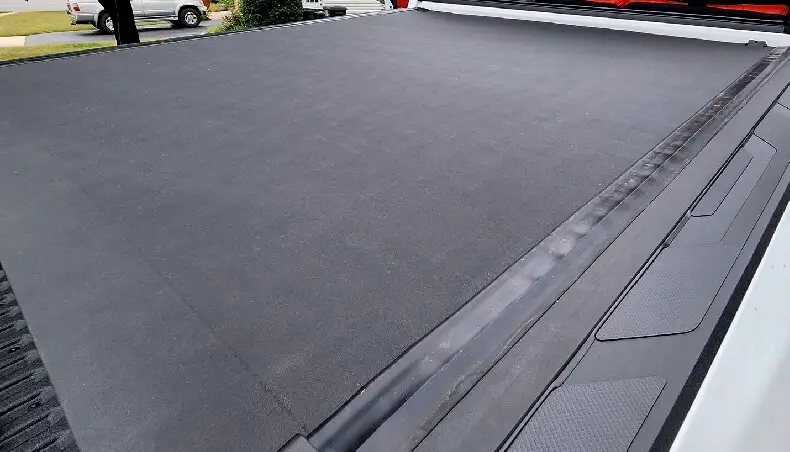 Bed Access
When fully rolled up to the cab, the BAK Revolver X4S provides 100% truck bed access without obstructing rear visibility. Whether you're hauling lumber or just groceries, the full bed is yours to use.
Functionality
Flat side seals, finished rear corner caps, and a complete matte-black styling bring together a sleek, modern look without compromising its robust build.
Enhanced Security
Security is paramount. The patented rotational locking rails, spanning the entire length of the truck bed on both sides, offer unrivaled strength and peace of mind.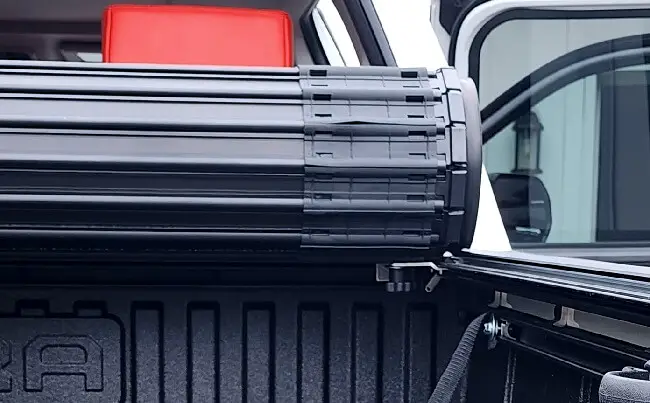 Compatibility
Specially engineered for the 2021-2022 Ford F-150 8′ 2″ Bed, the Revolver X4S also harmoniously works with Ford's unique truck bed and its automatic tailgate feature.
Warranty
A five-year warranty is a testament to BAK's confidence in the Revolver X4S. Add to that a US-based customer support team, and you're not just buying a product but also peace of mind.
Quick Installation
One of the standout features of this tonneau cover is its simple, no-drill installation. This means less hassle and more time to enjoy your truck's enhanced functionality and appearance.
Our Observation
Observing the features and specifications of the BAK Revolver X4S Tonneau Cover, I'm impressed by the meticulous design and robust construction. It's a premium solution for those who prioritize security and style equally.
The marine-grade vinyl and cut-resistant aluminum slats ensure durability and protection. At the same time, the matte black finish adds a sleek, refined appearance. I appreciate the ease of operation, allowing one-handed access, and the cover rolls smoothly, ensuring full bed access without obstructing visibility.
The precision in compatibility, especially with Ford models, and the added weather protection make it a comprehensive choice for truck owners. Lastly, the USA manufacturing and a five-year warranty are commendable, reflecting the brand's confidence in its product.
Final Thoughts
The BAK Revolver X4S Tonneau Cover blends form and function seamlessly. It promises protection for your cargo and an upgrade in your truck's appearance. Made in the USA, it carries the hallmark of quality and craftsmanship. For those looking for a reliable, stylish, and efficient truck bed cover, the Revolver X4S is undoubtedly a top contender.
In conclusion, the BAK Revolver X4S Tonneau Cover is not just a product; it's a statement. It tells the world that you value quality, style, and security. Look no further if you're in the market for a tonneau cover that delivers on all fronts.

Peter Rees, your go-to car parts expert, bridges the gap between mechanics and motorists. With over decades in the automotive industry, he decodes the intricacies of vehicles in his insightful blog, steering readers toward savvy decisions and smooth rides.