Truxedo Truxport Tonneau Cover Review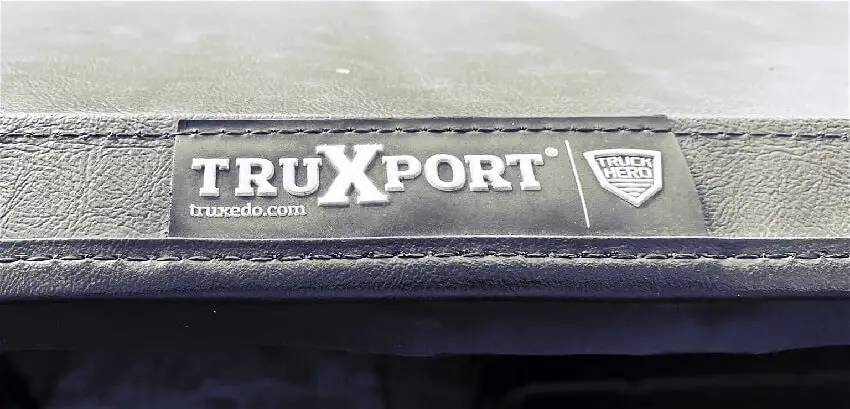 The hunt for the perfect tonneau cover often leaves truck owners in a fix. With the market flooded with numerous options, each boasting a unique feature or the other, the choice becomes increasingly difficult.
The TruXedo TruXport is a soft roll-up truck bed tonneau cover that isn't just about looks but also offers often unmatched functionality. Let's dive deep into the details and discover what makes it a worthy pick.
| Feature | TruXedo TruXport |
| --- | --- |
| Price Range | $349.99 – $379.99 |
| Design | Sleek, 1.5″ top-mount, with straight cross tubes for a smooth, flat look |
| Material | Marine-grade vinyl with a heavy-duty aluminum frame |
| Installation | No-drill clamps for easy installation within 20-30 minutes |
| Bed Access | Full bed access with secure strapping for safe driving |
| Latch System | Simple latch and roll system with dual paddle latches |
| Tension Control | Easy, with pre-set tension controls |
| Weather Resistance | Built to withstand extreme weather conditions, keeps cargo dry |
| Support Rods | Alloy support rods prevent sagging |
| Warranty | Five-year, no-hassle warranty |
| Fit | Designed for 2015 – 2023 Ford F-150 5′ 7″ Bed (67.1″) |
| Appearance | Quality leather grain fabric for a premium look |
| Service | Dedicated service team for any needs or replacements |
| | |
| --- | --- |
| | Marine-grade vinyl with efficient tension control. Hassle-free installation and dedicated customer support. Comes with a 5-year warranty. |
Price Point
In a market where truck bed covers can run into the high hundreds or even thousands of dollars, the TruXedo TruXport's price range of $349.99 – $379.99 is a breath of fresh air. It's not just about the affordability, though.
This product manages to offer an impressive blend of features, durability, and aesthetics at a cost that won't break the bank. For budget-conscious truck owners, it's a win-win.
Industrial Strength
Many covers use standard fastening systems, which can deteriorate over time, but not the TruXedo TruXport. Its Velcro Roll Up Cover ensures a consistent and robust grip, regardless of the weather conditions. The industrial-strength Velcro is a testament to the attention to detail and the commitment to longevity.
Easy Installation
Nobody wants to spend hours wrestling with a new tonneau cover. The TruXedo TruXport has taken the hassle out of the equation.
Its No-Drill Clamps mean that even those with minimal DIY skills can install their new cover in under half an hour, making it an excellent choice for those who value simplicity and efficiency.
Bed Access
The functionality of a truck bed cover shouldn't compromise the primary purpose of a truck bed: storage and accessibility. The TruXport delivers in this department, allowing for unrestricted access to your cargo.
Whether you're hauling tools, sports equipment, or weekend getaway gear, accessing your belongings is smooth and hassle-free.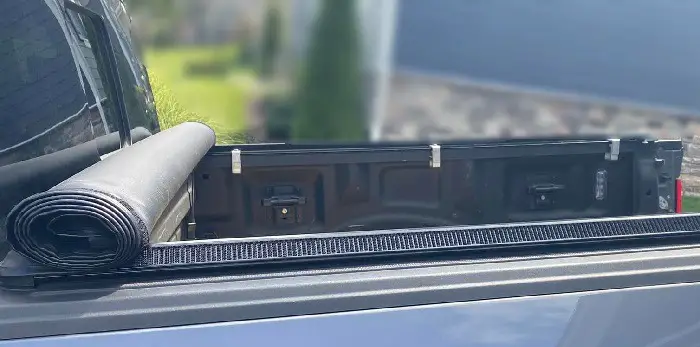 Sleek Design
Beyond its functional aspects, the TruXedo TruXport is a looker. The 1.5-inch profile is subtle and sleek, ensuring that while it's noticed for its style, it doesn't dominate your truck's appearance. It's the perfect blend of understated elegance and modern design.
Tension Control
Flapping or sagging truck bed covers are both unsightly and ineffective. TruXedo's Easy Tension Control ensures your cover remains taut, regardless of seasonal temperature changes. It's a feature that not only maintains the product's aesthetics but also its functionality.
Durability
Built to withstand the onslaught of the elements, the TruXedo TruXport's construction is a testament to quality. Its marine-grade vinyl is resilient against rain, sleet, and snow, while the aluminum frame provides robust structural integrity. It's a tonneau cover built for the long haul.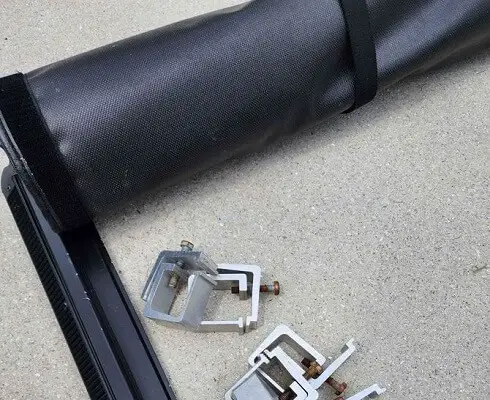 Smart Latch
Ease of use is paramount. The dual paddle latch system of the TruXport ensures that opening and rolling up your cover is as straightforward as possible. Even those new to tonneau covers will find the process intuitive and straightforward.
Warranty
A product's warranty often speaks volumes about its quality. With a five-year warranty on the TruXedo TruXport, it's clear the company stands firmly behind its product. It's not just about repairing or replacing faulty parts—it's about instilling confidence in their customers.
Perfect Fit
A truck bed cover that doesn't fit is of little use. Designed explicitly with the 2015 – 2023 Ford F-150 5′ 7″ Bed (67.1″) in mind, owners of this vehicle can rest easy knowing the TruXport will fit like a glove. It's customization at its finest, ensuring optimal performance and appearance.
Our Observation
Upon review, I find the TruXedo TruXport a highly user-friendly and functional addition for truck owners. Its no-drill clamps make installation a breeze—I'm quite impressed with the 20-30 minute installation time.
The industrial-strength Velcro and top-grade marine vinyl cover offer superb protection against harsh weather, ensuring your cargo remains secure and dry. Both convenience and quality are prioritized, from the easy tension control to the sleek, low-profile design.
Additionally, the five-year warranty underscores the brand's confidence in the product's durability and quality, assuring users of a hassle-free experience.

Peter Rees, your go-to car parts expert, bridges the gap between mechanics and motorists. With over decades in the automotive industry, he decodes the intricacies of vehicles in his insightful blog, steering readers toward savvy decisions and smooth rides.