Gator HR1 vs Bak Revolver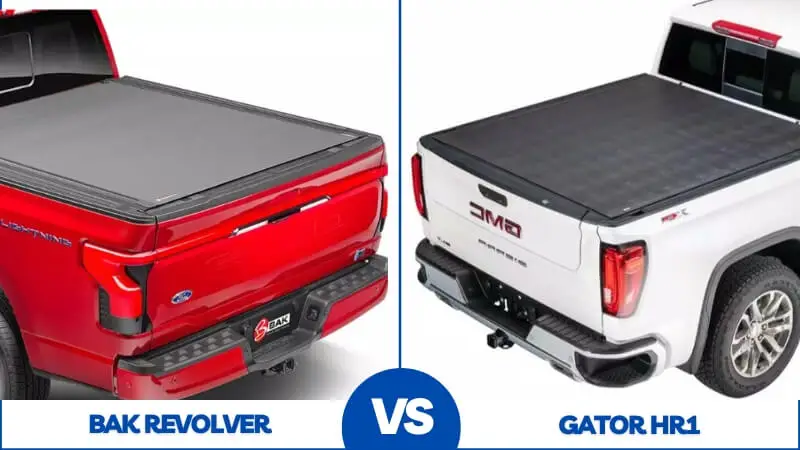 In the evolving world of automotive accessories, tonneau covers are a staple for truck owners seeking both aesthetic appeal and functional performance. These covers not only secure the cargo in the truck bed against theft but also protect it from environmental elements, enhancing the overall lifespan and appearance of the truck.
Among the myriad options available in the market, the Gator HR1 and Bak Revolver X4S stand out as premier choices, promising durability, security, and style. In this article, we comprehensively compare these two eminent models to aid potential buyers in making an informed decision based on their individual needs and preferences.
BAK Revolver Hard Rolling

Bak Revolver X4S has Sleek matte design with durable vinyl and aluminum construction. Offers a 5-year warranty and can handle 400 lbs. Ideal for modern aesthetic appeal.
| | |
| --- | --- |
| | Gator HR1 comes with robust blend of vinyl, leather, and aluminum with a 3-year warranty. Superior weather resistance and grainy finish. Perfect for enhanced protection and rugged look. |
Gator HR1 vs Bak Revolver
This table provides a side-by-side comparison of the key features of the Bak Revolver X4S and Gator HR1 tonneau covers.
| BAK Revolver | Gator HR1 |
| --- | --- |
| Constructed with Vinyl & Aluminum | Crafted from Vinyl, Leather & Aluminum |
| Features a Matte finish appearance | Boasts a Leather-Grained finish |
| Priced at $1,159.88 | Available for $949 |
| Designed for 2021-2022 Ford F-150 | Suited for 2015-2019 Ford F150 |
| Comes with a 5-year warranty | Protected by a 3-year warranty |
| Can support up to 400 lbs. | Holds up to 400 lbs. of weight |
| Exhibits high durability (though may vary in extreme weather) | Displays superior durability with enhanced weather resistance |
| Offers safety features like Theft Prevention and Rotational Locking Rails | Incorporates safety measures such as Theft Prevention, Central Slam Latches, and Hook-and-Loop Fasteners |
| Allows for No-Drill, Clamp-On installation | Features a No-Drill, Clamp-On installation method |
| Has a sleek, smooth, low-profile design | Emphasizes an ultra-low, streamlined profile |
Materials & Construction
The Gator HR1 tonneau cover is constructed using a robust blend of materials, including marine-grade vinyl, leather, and aluminum. This combination ensures longevity and offers resistance against potential external threats.
On the other hand, the Bak Revolver X4S utilizes marine-grade vinyl overlay in conjunction with aluminum slats, providing a sense of durability and sturdiness that ensures cargo remains protected.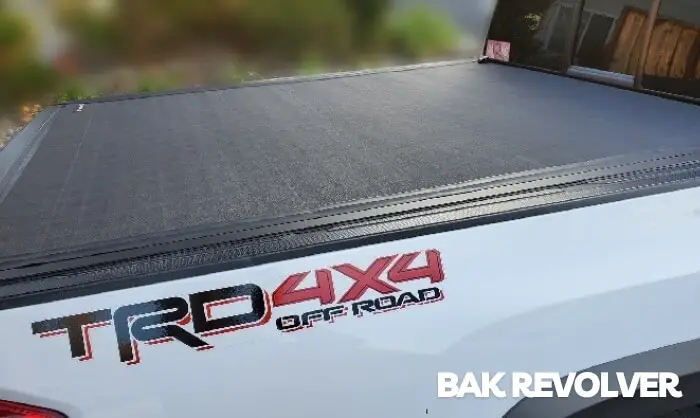 Aesthetic Appeal
The aesthetic appeal of the Gator HR1 is characterized by its grainy finish, which emits a vibe of rugged sophistication. The touch of a leather-grained vinyl tarp adds luxury, making it a preferred choice for those who prioritize a blend of appearance with functionality.
In contrast, the Bak Revolver X4S, with its entirely matte-black finish, brings forth a sleek, contemporary appeal. Its redesigned rear corner caps and flat side seals further enhance its look, offering a distinctly modern touch.
Price
In terms of pricing, the Gator HR1, at $949, is slightly more wallet-friendly, offering a commendable feature set at this price point. The Bak Revolver X4S, priced at $1,159.88, is in the premium segment.
Despite its higher cost, it presents a range of enhanced features and refinements that potentially justify the higher price tag.
Compatibility
The Gator HR1 is tailored for owners of the 2015-2019 Ford F150 trucks, catering specifically to those with slightly older models. Meanwhile, the Bak Revolver X4S targets owners of the more recent 2021 – 2022 Ford F-150 trucks, making it an ideal fit for those with the newest models.
Warranty
When considering warranty coverage, the Gator HR1 comes with a 3-year warranty, offering protection against defects related to manufacturing and workmanship. The Bak Revolver X4S stands out with its longer 5-year warranty, providing potential buyers with greater assurance.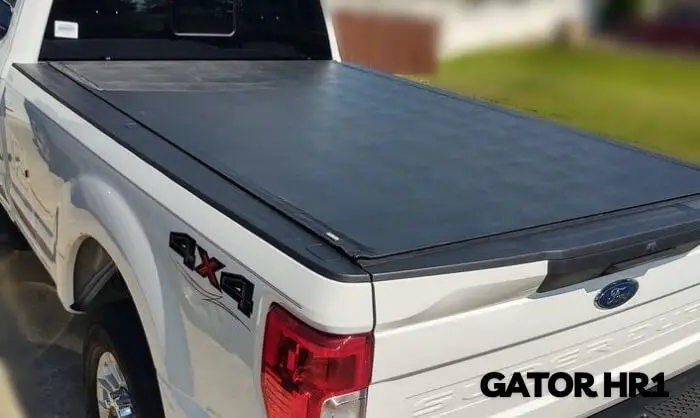 Safety & Security
Both the Gator HR1 and Bak Revolver X4S excel in theft prevention. Their specific designs ensure that unauthorized access or cutting through is nearly impossible without first opening the tailgate.
Installation
One shared advantage between the two is the ease of installation. Both tonneau covers can be set up in a quick span of roughly 5-6 minutes. There's also no need for drilling or specialized tools to simplify the process further.
Weight Capacity
Regarding weight capacity, both covers are commendably robust, capable of bearing up to 400 lbs. This ensures that they can comfortably support heavy cargo without any risk of strain.
Durability
In terms of durability, the Gator HR1, with its mix of three premium materials, might possess a slight advantage, especially under severe weather conditions.
The Bak Revolver X4S is known for its durability; however, when subjected to prolonged extreme conditions, it might face challenges compared to its Gator HR1 counterpart.
Our Observation
With their distinct features and capabilities, the Gator HR1 and the Bak Revolver X4S cater to a diverse range of preferences and needs. The Gator HR1, with its superior protective attributes and lower price point, is an excellent choice for those who prioritize security and protection under extreme conditions.
On the other hand, the Bak Revolver X4S, with its premium construction and sleek appearance, appeals to those who seek a blend of style, durability, and functionality.
Ultimately, the choice between these two highly competent models concerns individual requirements, aesthetic inclinations, and budget considerations. Regardless of the choice, both models stand as testimonies to high-quality engineering and design, promising valuable additions to your truck.

Mark Takahashi, Car parts guru with a passion for mechanics. Blogger extraordinaire, translating auto jargon into everyday magic. Drive into his world of knowledge!