Gator SR1 vs SR2 Tonneau Cover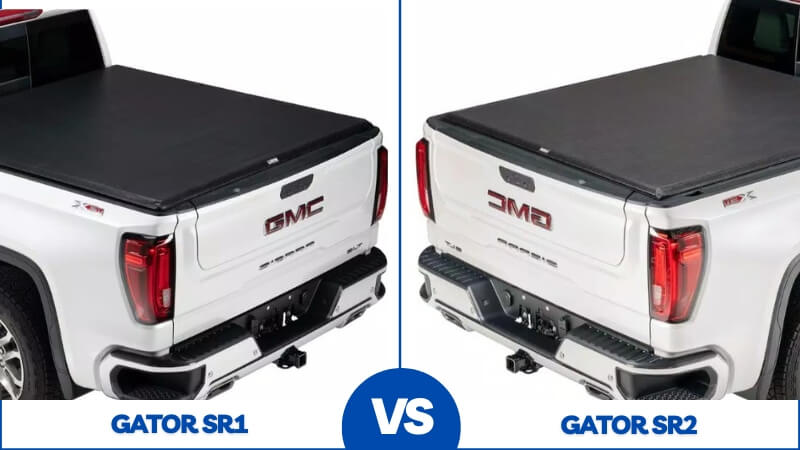 Choosing between the Gator SR1 and Gator SR2 tonneau covers is akin to choosing between two titans of protection. Both hail from a lineage known for durability and design, but each boasts distinct features that cater to different preferences.
Dive into the world of Gator covers, where weather resistance meets sleek design, and discover which of these masterpieces is your truck's perfect match.
Gator SR2 Premium Roll Up

Sleek, aerodynamic design with single-trigger latch for convenience, manual tension adjustability, and double-coated vinyl for added durability. Ensures superior weather resistance and comes with a 5-year warranty.
| | |
| --- | --- |
| | Offers full bed access, sits 1 1/2" above bed rails, made of commercial-grade vinyl with a sturdy aluminum frame, and has a 5-year warranty. Great for durability and automatic tension control. |
Gator SR1 vs SR2
This table provides a side-by-side comparison of the features of the Gator SR1 and Gator SR2 Tonneau Covers based on the provided information.
| Gator SR1 | Gator SR2 |
| --- | --- |
| Constructed with commercial-grade vinyl and a heavy-duty aluminum frame. | Built with double-coated, heavy-duty vinyl and a durable aluminum frame. |
| Offers a drill-free installation with clamps, taking less than 30 minutes. | Can be installed using bolt-on clamps in about 45 minutes, with no drilling required. |
| Equipped with a dual latch system, requiring release on both sides to open. | Features an easy-open, single trigger latch system that can be operated with one hand. |
| Employs an automatic spring-loaded tension control system that requires no adjustment. | Comes with built-in adjustable tension control to ensure tarp tightness in variable temperatures. |
| Rolls up to the cab for full bed access and can be securely fastened during drives with straps. | When fully rolled up, it provides complete access to the truck bed and can be securely fastened. |
| Presents a smooth, finished look, sitting 1 1/2″ above the bed rails. | Boasts a sleek, aerodynamic design with an arched tailgate rail, blending seamlessly. |
| Comes with weather seals and industrial-grade hook and loop fasteners for enhanced water resistance. | Utilizes a Velcro seal down the sides for superior closure and weather resistance. |
| Resistant to tears and rips and is backed by a 5-year warranty. | Offers enhanced durability and is backed by a 5-year warranty against manufacturer's defects. |
| Features simple, easy-to-use latches and accessible support bars attached to the underside. | Designed with user convenience in mind, requiring only one hand to operate the latch. |
| Proudly made in the USA. | Manufactured in the United States. |
| Priced between $289.00 and $329.00. | Ranges between $359.00 and $399.00. |
Latching System
The SR1 tonneau cover distinguishes itself with a dual latch system. This unique design necessitates releasing the latch on both sides before opening it. The advantage here is an added layer of security, ensuring that the cover remains firmly closed.
On the other hand, the Gator SR2 model employs a single-trigger latch system. This design caters to convenience, allowing users to unlock the cover even when standing on just one side of the truck. This can be particularly beneficial for quicker access to their truck bed.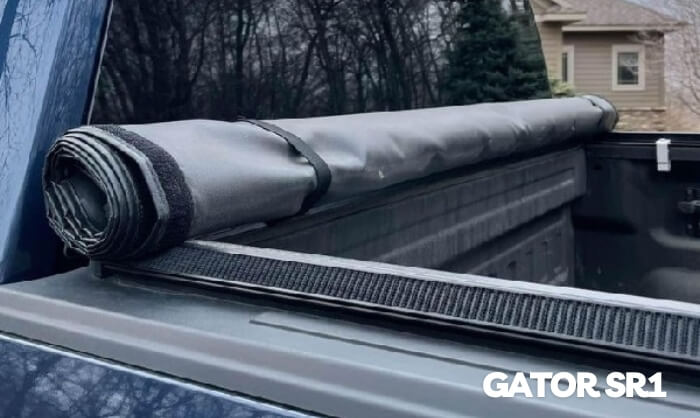 Tension Control
The tension control system in the SR1 is automatically managed by its tension spring system. This feature ensures that the tarp remains taut without requiring any manual adjustments.
Conversely, the Gator SR2 offers a thumbscrew adjuster. This manual system places tension control directly in the hands of the user, giving them a personalized grip over the tautness of the cover.
Installation Clamps
Regarding clamping mechanisms, the SR1 is designed with top-mounted clamps. However, it's worth noting that these clamps do eat into the bed space, taking up about 3/4 of an inch.
The Gator SR2, in contrast, uses the patented Gatorbite clamps. These clamps are reputed for their superior clamping force and have the added benefit of causing minimal intrusion into the bed space.
Design & Mounting
The SR1 tonneau cover has a mounting design on top of the bed caps. This positioning gives the cover a slightly raised, higher profile. The Gator SR2, however, is designed to fit snugly inside the bed rails. This design choice results in a more seamless, streamlined appearance.
Durability
The SR1 is crafted from marine-grade vinyl designed with a single layer. While this makes the cover reasonably durable, it could be more susceptible to potential chips and cuts. The frame of the SR1, made from an aluminum alloy, is sturdy but less robust than the Gator SR2.
The Gator SR2 steps up in terms of durability with its double-coated vinyl construction. This not only increases resistance to tears but also offers better UV damage protection. Its frame also boasts a noticeable sturdiness.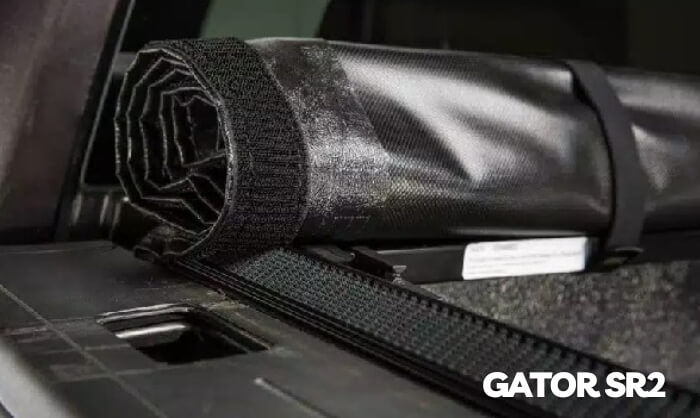 Weather Resistance
Weather resistance is a crucial factor in tonneau covers. The SR1 holds its own against standard weather elements such as dust, rain, and sunlight.
The marine-grade vinyl used in its construction makes the cover almost waterproof. The Gator SR2, with its aerodynamic design and double vinyl coating, is particularly adept at withstanding harsher weather conditions, notably heavy winds.
Price Point
Regarding affordability, the SR1 emerges as the more budget-friendly option, retailing between $289.00 and $329.00. The Gator SR2, while slightly on the pricier side with a range between $359.00 and $399.00, justifies its price with a broader array of features.
Warranty
Gator Covers showcases its confidence in both the SR1 and Gator SR2 models by offering a generous 5-year warranty. This warranty period stands as an assurance of the product's durability and longevity.
Customers can take comfort in knowing they have a safeguard against any manufacturer defects for a considerable duration post-purchase.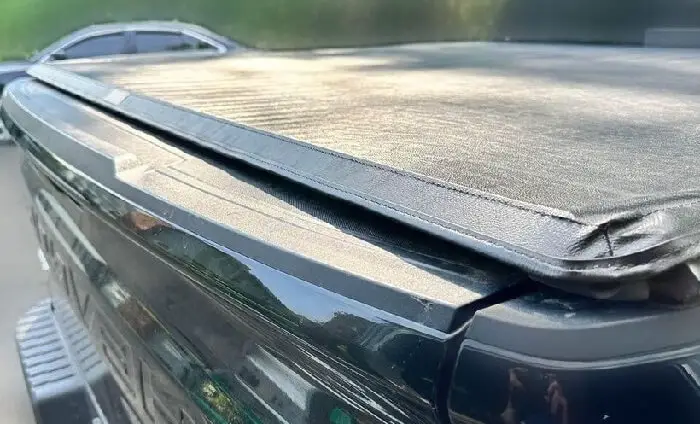 Ease of Installation
Both the Gator SR1 and Gator SR2 tonneau covers prioritize user-friendliness in their design. They champion a no-drill clamp installation system.
This ensures that truck owners need not permanently alter their vehicles. The entire installation process is designed to be swift, with most installations completed in under an hour.
Full Bed Access
One of the standout features of both models is the advantage of complete bed access. Once the cover is fully rolled up, truck owners can exploit the entirety of the bed space unhindered. This is particularly beneficial when transporting larger, bulkier items.
UV Protection
Both the SR1 and Gator SR2 covers are made from UV-resistant materials. This dual protection ensures that the covers remain unaffected by the sun's harmful rays and shield the truck bed's contents from UV damage. Over prolonged periods, this can play a crucial role in preventing fading or degradation of materials stored in the bed.
Maintenance
Maintenance is a breeze with both the Gator SR1 and Gator SR2. A simple cleaning regime using mild soap and water is sufficient to retain the cover's pristine look and ensure its prolonged lifespan. The choice of materials in their design also negates the need for frequent re-tightening or other adjustments.
Our Observation
The Gator SR1 and Gator SR2 tonneau covers are reliable for truck bed protection but cater to slightly different preferences. The SR1, with its dual-latch system and automatic tensioning, seems ideal for those prioritizing security and simplicity. Its marine-grade vinyl and above-bed mounting design make it a solid choice for weather protection.
On the other hand, the Gator SR2, slightly pricier, offers a sleeker aerodynamic design with a manual tensioning feature. Its single-trigger latch system emphasizes convenience, while the double-coated vinyl ensures longevity and robust protection. Ultimately, the choice between the two would come down to specific needs: security and ease with SR1 or design aesthetics and adjustability with Gator SR2.

Mark Takahashi, Car parts guru with a passion for mechanics. Blogger extraordinaire, translating auto jargon into everyday magic. Drive into his world of knowledge!