Gator Trax vs Gator Trax MX
I'm absolutely thrilled to bring forward a comprehensive comparison between the innovative GatorTrax and GatorTrax MX Tonneau Covers! These covers are synonymous with resilience, versatility, and impeccable design. Crafted with precision, both options offer a sleek matte black finish on heavy-duty aluminum slats and are available for a wide range of brands and models.
However, there are subtle differences and unique perks that each cover brings to the table. So let's dive deep and explore which one aligns best with your preferences and lifestyle!
| | |
| --- | --- |
| | Heavy-duty aluminum, LED cargo light; supports 500 lbs; installs in 20-30 minutes; priced $1,800-$2,300; extended 3-year warranty. |
Gatortrax Retractable Cover

GatorTrax offers resilient LEXAN construction, customizable locking, and superior water resistance with a 1-year warranty.
Gator Trax vs Gator Trax MX
| GatorTrax | GatorTrax MX |
| --- | --- |
| Built with durable Aluminum in a matte finish. | Constructed of heavy-duty Aluminum with a matte-black powder coating. |
| Available for 9 brands covering 33 models. | Offered for 9 brands encompassing 33 models. |
| Provides coverage from one to eight feet. | Ranges from one to eight feet in cover size. |
| Equipped with multiple locking handles. | Features multiple locking handles for enhanced security. |
| Designed for easy usage. | User-friendly with smooth operation. |
| Can be installed in twenty to thirty minutes. | Installation typically takes twenty to thirty minutes. |
| Priced between $1,300 to $1,500. | Ranges from $1,800 to $2,300 in price. |
| Comes with a 1-year warranty. | Backed by a longer 3-year warranty. |
| Features a sleek, low-profile design. | Comes equipped with a bright LED cargo light and superior weather protection. |
Material & Finish
Both the GatorTrax and GatorTrax MX are constructed using durable aluminum and are coated with a striking matte-black powder finish.
This not only offers a sleek look but also ensures resistance against wear and tear, making them ideal for those who are seeking both aesthetics and durability.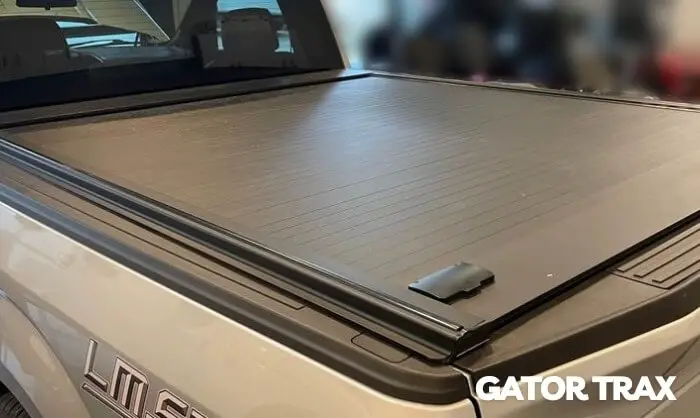 Compatibility
Whether you drive a Ford, a Chevy, or any of the other seven brands, both covers are available for a total of 33 models. This wide range of compatibility ensures that truck owners won't be left wanting.
From the smallest truck bed to the largest, both the GatorTrax and GatorTrax MX offer sizes ranging from one to eight. This means a snug fit and optimum coverage, regardless of your truck's size.
Support Capacity
The strength of a tonneau cover can be gauged by how much weight it can support. Both these covers are robust, with GatorTrax supporting up to 300 lbs and the GatorTrax MX boasting an even higher capacity of up to 500 lbs when weight is evenly distributed.
Security
Safety is paramount when it comes to your cargo. Both models have multiple locking handles, ensuring your belongings remain safe and secure. Both covers proudly assert their American origin, which is synonymous with quality and reliable manufacturing for many consumers.
Installation
Time is of the essence, and both these covers understand that. With installation times ranging between 20 to 30 minutes, getting these covers onto your truck is a breeze.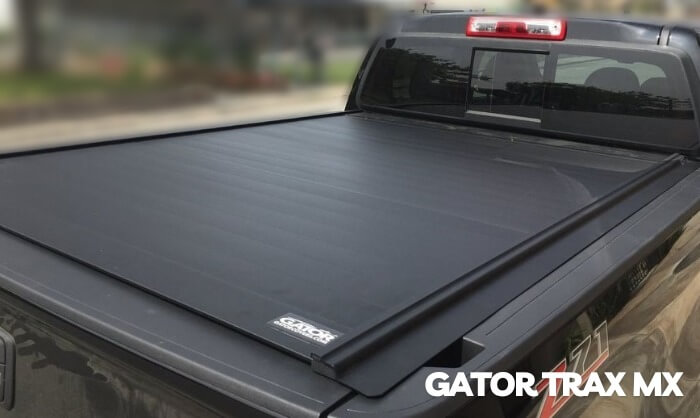 Price
While both covers offer remarkable features, there's a notable price difference. The GatorTrax ranges from $1,300 to $1,500, whereas the GatorTrax MX, with its additional features, is priced between $1,800 to $2,300.
Warranty
When investing in a tonneau cover, it's essential to know that the manufacturer stands by its product. The GatorTrax comes with a 1-year warranty, while the GatorTrax MX offers a more extended 3-year warranty, showcasing its commitment to longevity and customer satisfaction.
Weather Resistance
Both GatorTrax and GatorTrax MX are designed to withstand the elements. Whether you're facing torrential downpours, heavy snow, or the scorching sun, these covers offer superior protection to ensure your cargo remains dry and undamaged.
Ease of Use
A tonneau cover that's tricky to open and close can be a significant deterrent. Fortunately, both the GatorTrax and GatorTrax MX are user-friendly, ensuring smooth operations every time, thanks to their sealed ball-bearing mechanism.
Low Profile Design
For truck owners who appreciate aesthetics, the low profile design of both these models ensures a sleek appearance that seamlessly integrates with your truck's design. This design not only looks good but also offers improved aerodynamics.
LED Cargo Light
While this feature is specific to the GatorTrax MX, it's worth mentioning. The LED cargo light with an automatic on/off feature ensures visibility in your truck bed even in low-light conditions, making loading and unloading easier.
Our Observation
Comparing the Gator Trax and Gator Trax MX tonneau covers, both are constructed from durable aluminum with a matte-black powder coating. They cater to a similar range of brands and models, ensuring versatility. Installation time is consistent between the two, indicating a user-friendly design.
However, the Gator Trax MX stands out with a more extended warranty of 3 years compared to the 1-year warranty of the Gator Trax. Additionally, while the MX is priced higher, its extended warranty suggests a longer lifespan and better value for money.
Based on these factors, the Gator Trax MX is the better investment due to its enhanced warranty and potential for longer-term durability.

Mark Takahashi, Car parts guru with a passion for mechanics. Blogger extraordinaire, translating auto jargon into everyday magic. Drive into his world of knowledge!