Michelin LTX AT2 Vs MS2 Tire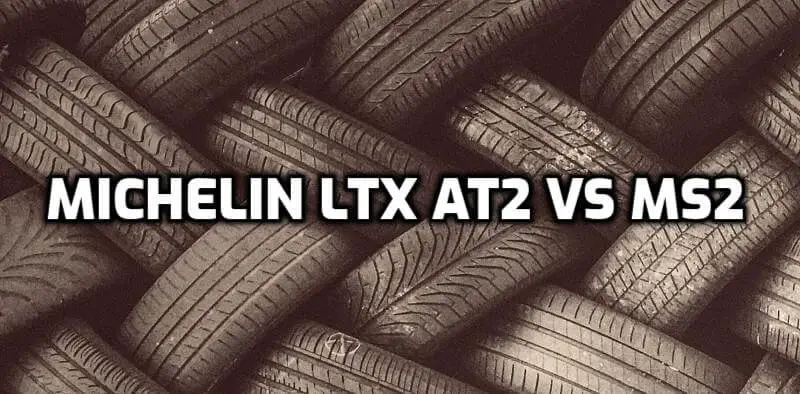 For years, Michelin tires have been the standard for those who demand quality and performance. But, in recent years, their competition has increased significantly. Which one is better? The Michelin LTX AT2 or MS2 tire? This blog post will compare these two leading brands to see which one is a better choice for your vehicle.
Michelin LTX AT2 Vs MS2 Table
We'll compare the Michelin LTX A/T2 and the LTX M/S2, two of the best all-season tires. Let's examine their features and determine the best and most appropriate tire for your vehicle.
| | |
| --- | --- |
| | |
| | |
| | |
| | Tire Size is 275/55R20 113H |
| | |
| | |
| Load Capacity is 2365 Pounds | Load Capacity is 2304 Pounds |
| Tough off-Road Endurance Capability | Provides Exceptional Traction in Snowy Conditions |
| Michelin tire has Comfort Control Technology | Maxtouch Construction Maximizes the Tire |
| Best for Light Trucks, SUVs, and Crossovers | Best Tire for Light Trucks, Suvs, and Crossovers |
| | |
Why Compare?
One factor to consider if you want to enjoy your road trip or avoid missing any critical appointments is the quality of your tires. Make sure they can withstand the various conditions at your destination. Don't wait until you're stranded somewhere else due to bad tires.
That is why we bring you the two popular tires and their features to give you a clear idea of what can be the right one for you. The main difference between Michelin LTX AT2 and Michelin LTX MS2 Tire is the tread warranty period. Michelin LTX At2 comes with a 60,000 Mileage Warranty, and Michelin LTX MS2 comes with a 70,000 Mileage Warranty.
Dry Performance
The Michelin LTX M/S2 is an all-season tire, so it can easily carry you from point A to point B without hesitation. Whatever you drive, whether a truck, SUV, or van, this tire can give you a wholesome feeling of driving. Also, you have to thank the slightly stiffer sidewalls cause it gives you a solid and confident experience even while changing the lanes at high speeds and can be handled smoothly. But you can find yourself driving it on a sandy or muddy road.
Being an all-terrain tire, the Michelin LTX A/T2 has responsive steering to improve your driving experience. And, if you drive a truck, the vehicle will accelerate without wheel spin because of A/T2's longitudinal traction. However, that gives competition to the other terrain tires.
Despite being an all-terrain tire, the LTX A/T2 tire gives an experience like the highway tire cause it's stable and surefooted on the highway, unlike any other terrain tire. As the tire is sound, it gives a safe feeling, and the driver can easily communicate with this tool; that is why most drivers like to drive this tire daily.
Wet Performance
A good performance in rainy or damp weather makes one tire better than other tires. And it is one of the reasons for the success of the LTX A/T2 tires. Moreover, the tire will be as responsive as in dry weather, so there is no doubt about its accessibility. Barking distance will be shorter, and you won't experience wheel spin much during acceleration because of its incredible longitudinal traction.
In heavy rain, stability is something that you should concern about. Still, your worries become less with LTX A/T2 and its hydroplaning resistance. The grip levels of LTX A/T2 are among the best of any all-terrain tire on the market. Furthermore, the tire feels very good at the limit, with no understeer or oversteer.
On the other hand, the Michelin LTX M/S2, an all-season tire, gives incredible service in the wet season. The tire has developed some features to enhance its performance. The silica in the tire tread improves water evacuation from the track, reducing stopping distance on wet roads.
To improve the traction, they design the 3d spies in a zig-zagged shape to increase the surface area. This tire features Michelin's MaxTouch design, which creates an optimal patch of contact with a wet road, allowing you to confidently corner and stop without fear of slipping or hydroplaning. This is an excellent tire for damp and slick conditions.
On Snowy Roads
The Michelin LTX M/S2 is not the right choice for snowy or icy weather as it is an all-season tire. But surprisingly, it does a pretty decent job in such weather. The tread design has been improved from the previous model, with 8% more biting edges on the track. The greater the number of biting edges, the better the traction in light snow, and the safer you will be in light winter conditions.
These changes in the tire let you drive in less-than-ideal conditions with the same confidence and stability. The Michelin LTX M/S2 tires are not meant to be executed on icy roads. Even though they're pretty suitable for an all-season tire, the tread and rubber aren't designed for optimal ice performance all-season highway tire rather than a snow and ice tire. Remember to drive slowly and carefully if you are stuck in heavy winter weather. But if you live in an area with long or rich winter, we wouldn't recommend this tire.
The aggressive tread pattern on modern all-terrain tires helps them perform well in snowy conditions. However, the tire must have multiple sipes across the tread, preferably waved or zig-zag, for outstanding traction on snow. There are none on the Michelin LTX A/T2. You may still anticipate more grip than most highway tires, but not enough to drive with confidence in the cold.
What is the life expectancy of Michelin tires?
There is no assurance about how long your tires will last because it relies on how you utilize them. However, it can last up to ten years on average. As a result, to preserve their lifespan, you must operate them correctly. Also, ensure that they are well-kept.
Summary
So, in conclusion, the Michelin LTX A/T2 is an excellent choice for an all-terrain tire, providing excellent grip and hydroplaning resistance. The LTX M/S2 is also perfect for an all-season tire, offering superb traction in wet conditions. However, neither of these tires is ideal for snowy or icy weather.
If you live in an area with long winters, we recommend choosing a tire specifically designed for winter driving conditions. Michelin tires are built to last, with an average lifespan of 10 years. They also feature Michelin Comfort Control Technology, which reduces vibration and road noise. Overall, the Michelin LTX A/T2 and LTX M/S2 are excellent choices for all-terrain and all-season tires.
Related Article

Peter Rees, your go-to car parts expert, bridges the gap between mechanics and motorists. With over decades in the automotive industry, he decodes the intricacies of vehicles in his insightful blog, steering readers toward savvy decisions and smooth rides.