Hercules AT2 Vs Cooper AT3 Tire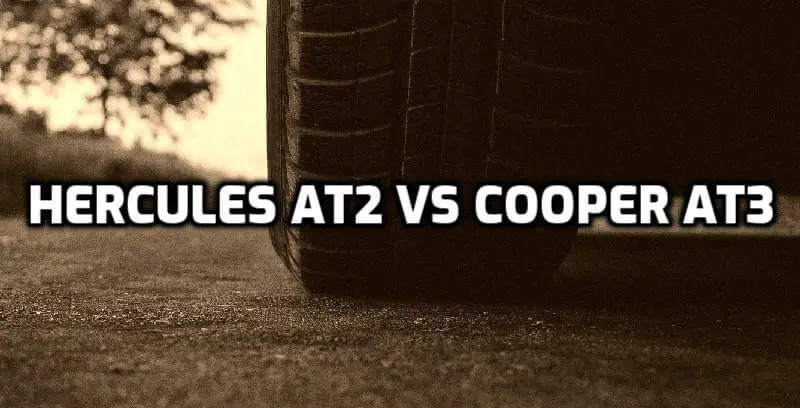 As 4×4 vehicles become increasingly sought-after, more and more drivers are venturing off the beaten path. To guarantee you have a thrilling journey when navigating unpaved terrain, your tires must be coated with the ideal amount of tread. With proper tire preparation, driving on backroads and mountain trails can be an unforgettable experience!
Hercules AT2 Vs Cooper AT3 Table
These tires have very different features that make these tires comparable to each other. We bring you the apparent differences between Hercules AT2 and Cooper AT3. To find out more about reading this article till the end.
| | |
| --- | --- |
| | |
| | |
| | |
| Load Capacity is 2403 Pounds | Load Capacity is 3195 Pounds |
| Section Width 245 Millimeters | Section Width is 265 Millimeters |
| Meets The Required 3PMS Rating | |
| Balanced On- And Off-road Performance | Its A Extreme Durability For Hauling |
| Has Tusk Grooves And Heavy Siping Boost Traction | It offers Durable-Tread Technology |
| Its Delivers Superior Wet And Off-road Traction. | Works Well Under Severe Weather, Rain Or Shine |
| All Types Of Light Trucks, Suvs, Jeeps And Other 4x4 (4WD) | Best For Pickup Trucks, Work Vehicles & Full-size Suvs |
| | |
Why Compare?
The Hercules AT2 and Cooper AT3 are the most popular all-terrain tires on the market. They both offer excellent traction and durability, but some critical differences could make one a better choice for your vehicle.
The tread warranty period is the main difference between Hercules AT2 and Cooper AT3 tires. The Cooper AT3 is a long-lasting tire backed by an outstanding 55,000-mile treadwear warranty. The Hercules AT2 is also built to last with 60,000 miles of protection.
Dry Performance
On the street, the Terra Track AT IIs is fantastic. They have excellent handling, don't lose traction during panic braking, and are nearly quiet. Our test vehicle was a 2003 Jeep Grand Cherokee with 29.5-inch factory replacement tires. We saw no difference in fuel efficiency with these 265/70R16 tires, which were roughly an inch higher.
The Cooper AT3 does not serve its best on dry roads. But you'll feel comfortable and stable while driving because of its traction and stability. You will perform better with good traction for stability and short stopping distances, even at higher speeds. Even carrying vast and heavy trailers, the tire stays stable under severe load. So, if you're going Overlanding with a trailer, these are some of the most outstanding tires available.
Wet Performance
The Hercules AT2 is excellent on wet and slippery roads. Even in heavy showers, water appears to be routed well enough out from beneath the tire to preserve adequate grip on the road.
The Hercules AT3 is an all-terrain tire with deeper grooves and an aggressive tread compound. Those features ensure better-hydroplaning resistance and give the required stability to trucks or SUVs. It is one of the best tires available because of its ample traction on damp roads, so you can speed swiftly out of a bend without fear of the rear axle sliding.
Snowy Performance
Hercules AT2 is one of the right choices for snowy weather. Significant levels of sipping and circumferential grooves with a broad striking pattern assist in producing additional lateral edges, increasing snow grip. The aggressive and deep tread design of the AT3 XLT makes it easy to dig through snow and slush.
On the other hand, winter tires often have shorter grooves but perform admirably in the snow, so that's not the whole issue. The rubber compound should remain soft and malleable To offer enough traction in the winter. Despite not being a winter tire, we strongly recommend getting a winter tire if you stay in a heavy winter area. The Discoverer AT3 XLT also incorporates small zig-zag sipes inside the tread blocks, aiding snow traction by providing additional biting edges.
Off-Road Driving
For enhanced grip on dirt, sand, rock, gravel, and mud, Hercules has combined an aggressive buttress design with alternating scallops on the shoulders of the tread. Stone ejector ribs, tapered steps, and the tire's distinctive groove wall angle all work together to decrease stone retention and increase performance.
The AT3 XLT is an excellent tire for off-roading. I believe it is one of the finest for off-roading in terms of all-terrain tires — the aggressive and deep tread pattern is instrumental in slick circumstances. The tire performs incredibly well on the hardpacked ground, giving the driver plenty of grip and stability through the turns. It's particularly encouraging to learn that the tread compound can withstand abrasion, cuts, and chips, as dirt and gravel may quickly degrade other tires.
In addition, the AT3 XLT operates admirably in shallow muck. Deeper mud may be more challenging to navigate, but any all-terrain tire would struggle in such a situation. Tire manufacturers develop mud-terrain tires for a purpose.
Noise
After navigating a few turns and waiting out long-winded traffic turns out that Hercules AT2 does not make noise. Most drivers except this tire make noises like other all-season tires, but the result will surprise you, as mentioned before.
The Cooper AT3 XLT is undoubtedly a member of that group, but not as a frontrunner. The tire is quiet, especially given the aggressive tread design with huge tread blocks, although there is a slight tread grumble.
Who manufactures Hercules tires?
Cooper Tire manufactures Hercules tires. Hercules, Cooper, and other private-label brands are all manufactured under Cooper Tire. Hercules & Cooper will celebrate 60 years as tire partners in July 2020.
Are the Cooper Discoverer AT3 XLT tires a decent choice?
The Cooper Discoverer AT3 XLT is a rugged all-terrain tire that should handle everything that most people can throw at it. While more aggressive tires are available, they offer excellent on- and off-road traction while quieting at highway speeds.
Do Cooper AT3 tires make a lot of noise?
Cooper tires are not the quietest, but they generate little noise. Cooper tires may not have significant noise-reduction technology like its competitors, but they provide some quiet performance.
Summary
The Cooper Discoverer AT3 XLT is a good all-terrain tire for those who want excellent off-road capability without sacrificing on-road performance. The tire is durable and offers good traction in dry and wet conditions. It is not the quietest tire on the market, but it does provide some noise reduction.
The Cooper AT3 is the better choice for most drivers. It has a more extended treadwear warranty and slightly better performance but comes at a higher price. If you are looking for a more budget-friendly option, the Hercules AT2 is a great choice. It has a shorter treadwear warranty but offers comparable performance.
Related Article