American Tri-Fold Tonneau Cover Review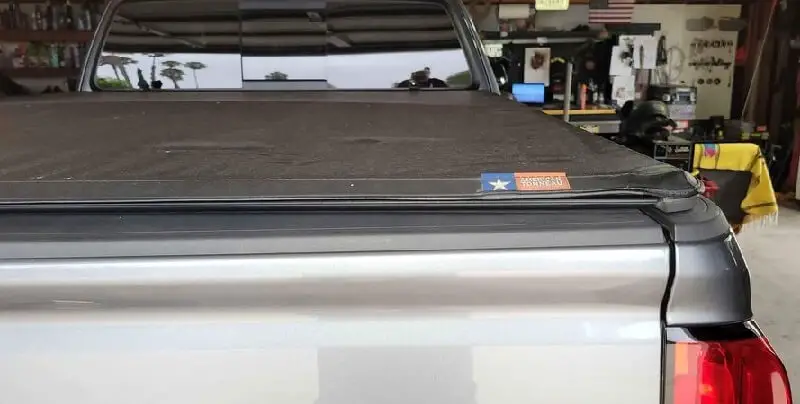 In the world of truck bed covers it can often feel like you're swimming in an ocean of generic, one-size-fits-all options. However, once in a while, a product comes along that not only catches the eye but performs with an efficiency that truly stands out.
The American Tonneau Hard Tri-Fold Tonneau Cover is one such product, offering an impressive combination of security, style, and functionality. After rigorous testing and analysis, here's what we found.
| Feature | American Tri-Fold |
| --- | --- |
| Material | ABS composite panels with vinyl exterior |
| Weather Resistance | High (non-exposed hinges, flush fit) |
| Installation | Pre-assembled, no-drill, no tools needed |
| Security | ABS composite panels; enhanced with tailgate lock |
| Weight Limit (on top) | Up to 100 lbs (evenly distributed) |
| Bed Access | 2/3 when fully opened; 100% with quick removal |
| Warranty | Limited lifetime warranty |
| Made In | USA |
| Extra Features | Mold/mildew-resistant, lightweight, easy removal & installation |
| Full Bed Accessibility | Yes (cover can be completely removed) |
| Tailgate Lock (for those without) | Aftermarket option available |
American Tri-Fold Tonneau Cover

American Tonneau's Tri-Fold offers robust protection with its durable ABS and vinyl design. Easy install, stylish look, and backed by a lifetime warranty.
Build Material
The American Tri-Fold Tonneau Cover is manufactured using robust ABS composite for the rigid sub panels and a resilient vinyl exterior, offering a durable and stylish outlook.
This concoction of materials guarantees resistance against harsh weather conditions, ensuring the cover's longevity.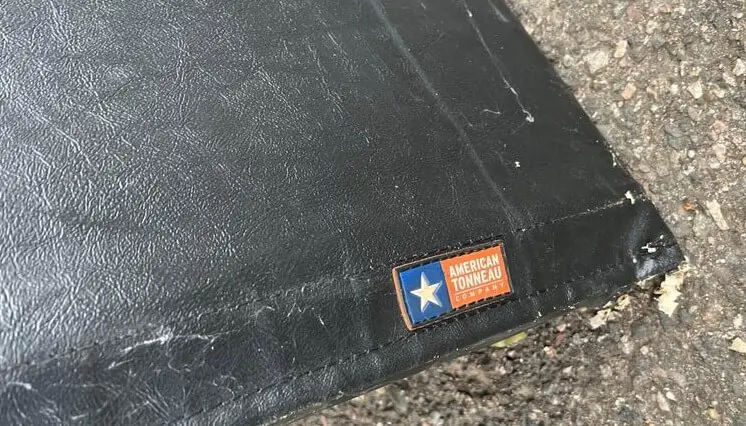 Weather Resistance
Engineered for all seasons, this cover stands strong against the scorching desert sun and the freezing Arctic winds.
The hidden hinges and the non-exposed joints provide an additional layer of weather resistance, guarding your truck bed against rain, sleet, and snow.
Security Features
The hard ABS panels beneath the vinyl exterior are designed to deter thieves and critters, offering impressive security.
While it may not be as secure as some aluminum frame models, the cover, when combined with a locked tailgate, provides substantial protection against potential breaches.
Installation Guide
The American Tri-Fold Tonneau Cover promises a hassle-free experience, arriving pre-assembled and requiring no additional tools or drilling for installation. The entire cover can be removed swiftly, ensuring easy access to the truck bed whenever necessary.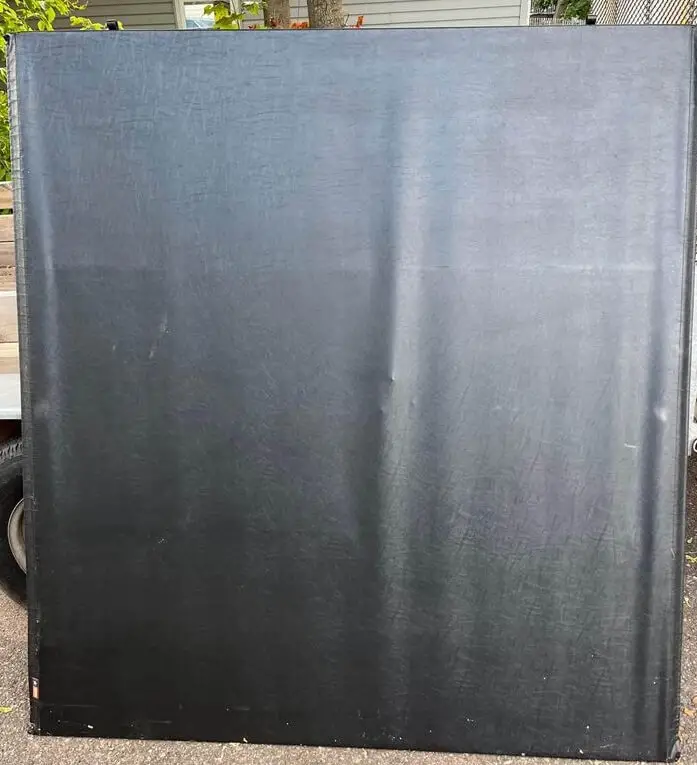 Design & Aesthetics
The sleek design and stylish vinyl top skin of this cover enhance your truck's overall appearance.
The non-exposed hinges contribute to weather resistance and add to the aesthetic appeal by providing a sleeker look compared to alternatives.
Customization Fitment
Custom-made to match specific make and models, this cover ensures a flush fit, optimizing weather resistance and maintaining a cohesive look with your vehicle. Industry-leading design technology is utilized to attain the perfect fit for your truck.
Functionality
Folding back the panels from either end grants immediate access to the gear in your truck bed. The cover is also designed for quick and effortless removal, providing complete access to the bed without leaving any hardware or rails behind.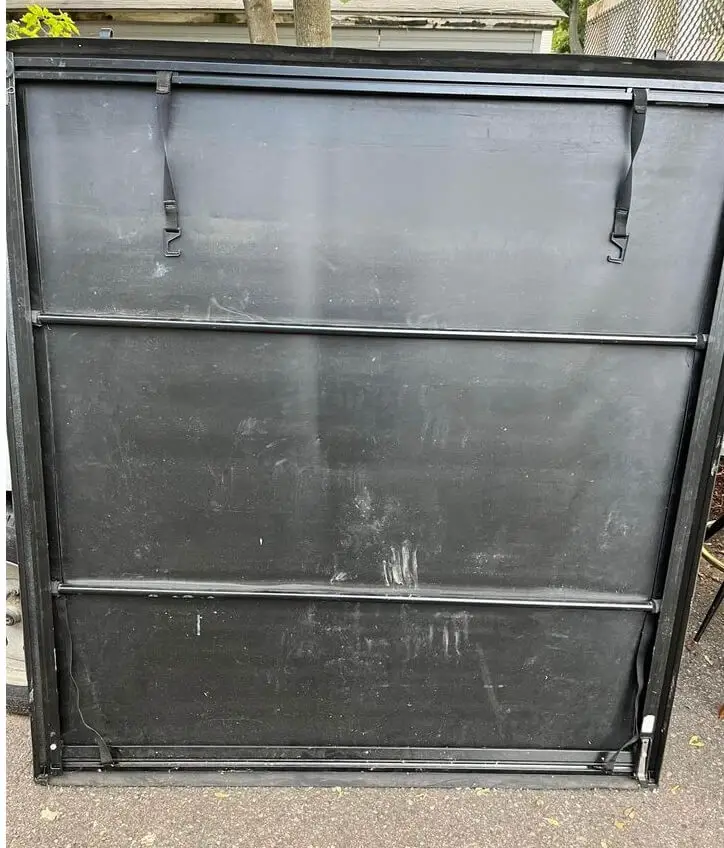 Warranty
Backed by a Limited Lifetime Warranty, the American Tri-Fold Tonneau Cover proves its dependability and quality. This assurance accentuates the manufacturer's confidence in the product's durability and functionality.
Weight Capacity
Although cargo can be placed on top of the cover, it is advised to limit the weight to 100 lbs and ensure it's evenly distributed. This feature adds an extra layer of functionality to the cover, allowing users to transport items on top when necessary.
Made in the USA
Reflecting national craftsmanship, the American Tonneau Hard Tri-Fold Tonneau Cover is proudly made in the USA, ensuring high-quality production and adherence to manufacturing standards.
Our Observation
From the moment I delved into the specifics of the American Tonneau Hard Tri-Fold Tonneau Cover, I was genuinely impressed. It's evident that security and durability are paramount in its design. The combination of hard ABS plastic and a weather-resistant vinyl top layer is commendable, ensuring both strength and protection against the elements.
What strikes me most is its user-friendly design; the fact that it comes pre-assembled and requires no tools for installation is a game-changer. While no truck bed cover can promise absolute waterproofing, this one has made every effort to keep one's cargo as dry as possible.
Plus, the flexibility of folding it for larger payloads or completely removing it when necessary is noteworthy. This tonneau cover perfectly blends functionality and style for any truck owner.

Peter Rees, your go-to car parts expert, bridges the gap between mechanics and motorists. With over decades in the automotive industry, he decodes the intricacies of vehicles in his insightful blog, steering readers toward savvy decisions and smooth rides.