Gator SFX Tonneau Cover Review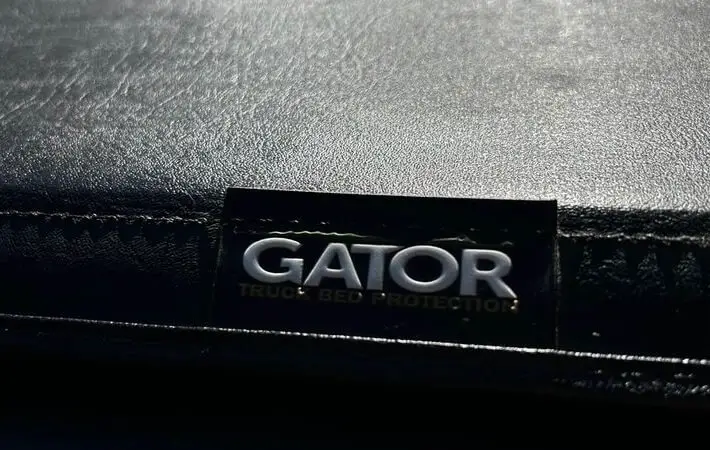 Truck owners worldwide understand the essential role of a reliable bed cover. They serve as shields, protecting your precious cargo from weather extremes and unwanted gazes.
In a saturated market of bed covers, the Gator SFX emerges as a shining star. I recently had the opportunity to delve deep into its features, and here's my comprehensive take on this product.
| Feature | Gator SFX |
| --- | --- |
| Material | Premium marine-grade, tear-resistant vinyl |
| Weather Protection | Weather seals for elemental protection |
| Fastening Mechanism | Secure buckles for stability |
| Clamp System | Speed Klamp – self-locking and pivot storage |
| Support Bows | Monster Support Bows with reinforced corners |
| Guarantee | 30-day "love it or swap it" |
| Installation | Tool-free in less than 10 minutes |
| Compatibility | 2019-2023 RAM 1500 6'4″ Bed – with/without multifunction tailgate |
| Accessibility | Folds to expose up to ⅔ bed for large cargo |
| Warranty | Limited-lifetime structural and 10-year warranty on vinyl |
Gator SFX Tri-Fold Tonneau

Robust construction with marine-grade vinyl, Monster Support Bows for added weather resistance, tool-free 5-min installation, up to ⅔ bed access. Best for extreme weather protection. Warranty: Limited lifetime frame, 10-year vinyl.
Premium Materials
The Gator SFX utilizes top-tier marine-grade vinyl for its cover, a testament to its commitment to unparalleled quality. This specific type of vinyl is known for its resistance to water and other environmental conditions, making it ideal for long-term outdoor use.
Additionally, the sleek finish not only ensures longevity but also enhances the overall aesthetics of the truck bed cover.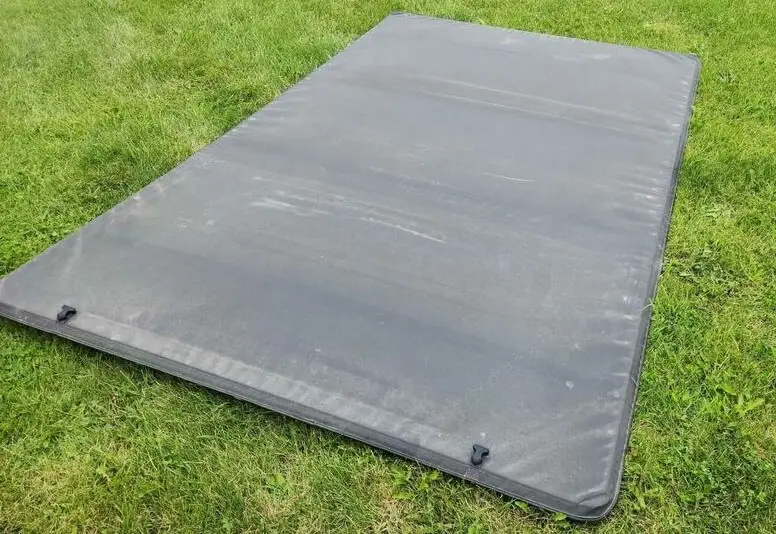 Weather-Proof Design
Weather unpredictability is a truck owner's nemesis. With the Gator SFX's specialized weather seals, there's no need to worry about climatic variations.
Whether you're traversing through the heat of a desert or getting caught in an unexpected rainstorm, this cover ensures that the contents of your truck bed remain untouched and dry.
Fastening Buckles
Driving dynamics often cause many truck bed covers to shift or flap, which can be a safety concern. The Gator SFX has tackled this problem head-on with its strategically designed fastening buckles.
Their sturdy construction and secure design ensure the cover remains firmly in place, regardless of your driving speed or terrain.
Klamp Magic
In today's fast-paced world, convenience is king. Recognizing this, the Gator SFX introduces the Speed Klamp system—a cutting-edge mechanism emphasizing quick locking and storage ease.
It's designed for users who don't want to fumble with complicated locking systems, offering a straightforward approach.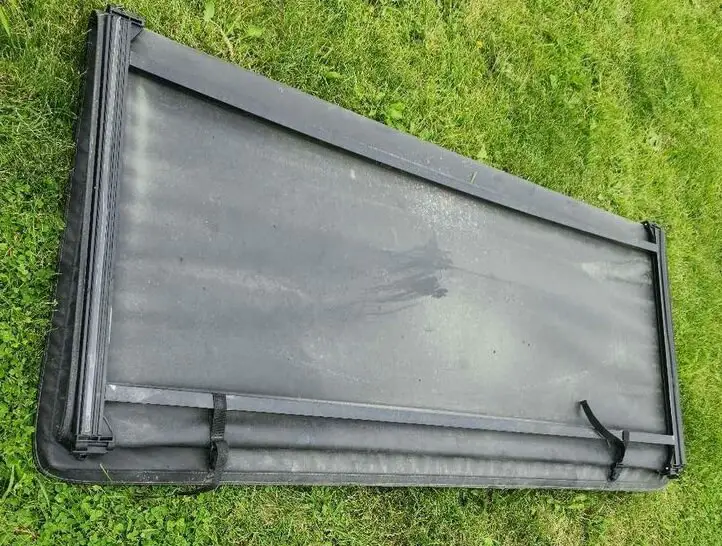 Functionality
A sagging truck bed cover can diminish the overall look and function. The Monster Support Bows on the Gator SFX are more than just reinforcements; they're a statement of its robustness.
Positioned strategically, these bows ensure uniform tension across the cover, maintaining its shape even in inclement weather.
Gator Promise
Customer satisfaction takes the front seat with Gator's 30-day guarantee. It's a testament to the brand's confidence in its product, ensuring that customers can make their purchase without any reservations. If the product doesn't match your expectations, Gator provides a hassle-free exchange process.
Effortless Installation
Installation can often be daunting, especially for those who aren't mechanically inclined. The Gator SFX revolutionizes this process by offering an easy, tool-free installation that even novices can execute flawlessly within minutes.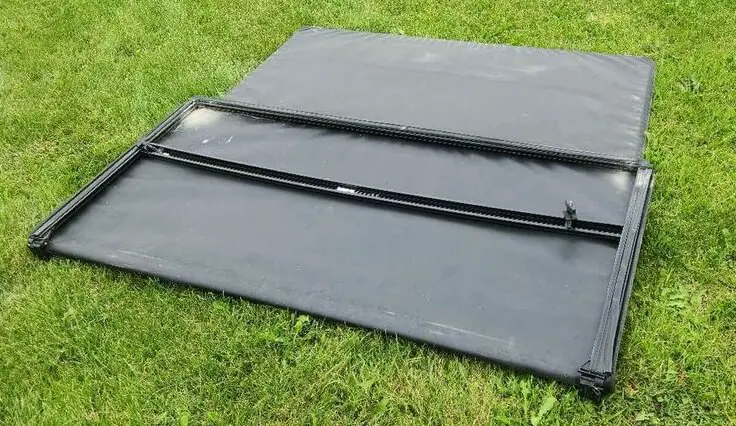 Compatibility
Every truck model has its unique specifications. The Gator SFX, designed meticulously for the 2019-2023 RAM 1500 6'4″ Bed New Body Style, ensures a perfect fit. It complements the truck's design, whether or not it's equipped with the multifunction tailgate.
Functional Design
Protection is essential, but functionality determines a product's real value. With the Gator SFX, users don't have to compromise. Its foldable design allows truck owners to utilize their bed space efficiently, catering to different cargo sizes.
Assured Longevity
Commitment to quality is evident in the warranty Gator offers. With a limited-lifetime structural warranty and a 10-year warranty on the vinyl, it's clear that Gator stands behind the durability and performance of the SFX.
Our Observation
I'm rather impressed with the Gator SFX bed cover's meticulously crafted features and thoughtful design, particularly the use of premium marine-grade vinyl, which radiates quality and resilience.
The ingeniously incorporated Speed Klamp system enhances the user experience by offering quick and easy access, a crucial feature for on-the-go users. The weather-proof seals and Monster Support Bows offer unrivaled protection against harsh weather conditions, ensuring the cargo remains safeguarded.
Additionally, the generous warranties and the 30-day guarantee portray Gator's confidence in the product and commitment to customer satisfaction. The effortless installation and adaptability further accentuate its appeal, making it a noteworthy choice for those owning compatible vehicles.

Mark Takahashi, Car parts guru with a passion for mechanics. Blogger extraordinaire, translating auto jargon into everyday magic. Drive into his world of knowledge!