Duralast Platinum H6 AGM Battery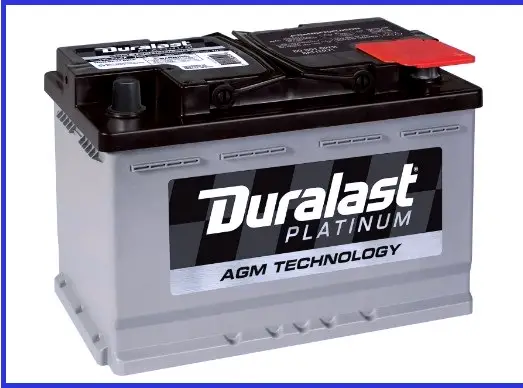 The Duralast Platinum H6 AGM Battery is a top-of-the-line absorbed glass mat (AGM) battery designed to deliver exceptional power, durability, and versatility for vehicles with high electrical demands. In this review, we will examine the key features and specifications of this premium battery.
| Specification | Details |
| --- | --- |
| Battery Technology | Absorbed Glass Mat (AGM) |
| Warranty | 3 Year Warranty |
| Weight | 46.9 lbs |
| Battery Type | Starting |
| Voltage | 12V DC |
| Polarity | Reversed Terminals |
| Positive Terminal Location | Top Right |
| Negative Terminal Location | Top Left |
| Dimensions | 11″ x 6.94″ x 7.5″ |
| BCI Group Size | 48 |
| CCA (Cold Cranking Amps) | 760A |
| CA (Cranking Amps) | 950A |
| RC (Reserve Capacity) | 130 mins |
| Amp Hour Capacity | 70Ah |
Battery Technology
The Duralast Platinum uses AGM technology, which utilizes a fiberglass mat separator to absorb and immobilize the battery's electrolyte fluid.
This makes AGM batteries spill-proof and allows them to be installed in almost any orientation without leakage. AGM batteries also offer low internal resistance, allowing them to produce high currents on demand and recharge rapidly. The tightly packed glass mats provide excellent vibration resistance compared to conventional flooded batteries.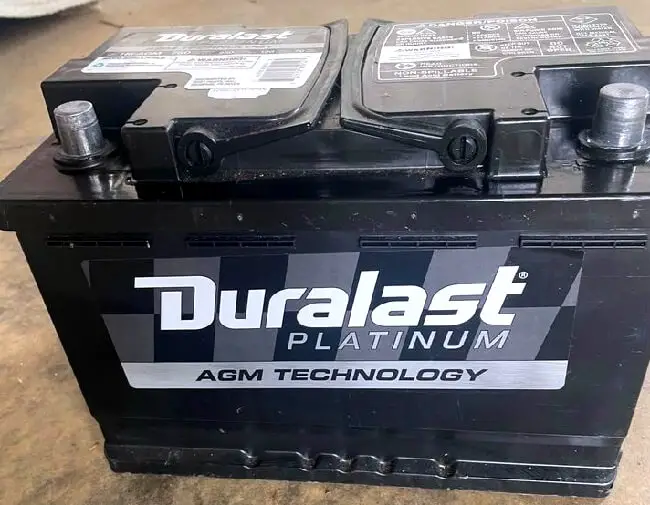 Warranty
Duralast provides a 3-year free replacement warranty on the Platinum AGM battery, covering defects in materials and workmanship.
This is double the warranty period of most conventional lead-acid batteries, demonstrating Duralast's confidence in the durability of their AGM product. The nationwide warranty provides peace of mind no matter where you are located.
Group Size
The Duralast Platinum H6 has a 48 group size, making it a direct replacement for many original equipment AGM batteries of the same size.
The group size 48 form factor ensures the battery will fit correctly in most modern vehicles designed for AGM batteries.
Cold Cranking Amperage
With an impressive 760 cold cranking amps (CCA), the H6 delivers tremendous starting power even in extreme cold temperatures as low as 0°F.
The high CCA enables fast engine cranking to get your vehicle started reliably on the coldest winter days.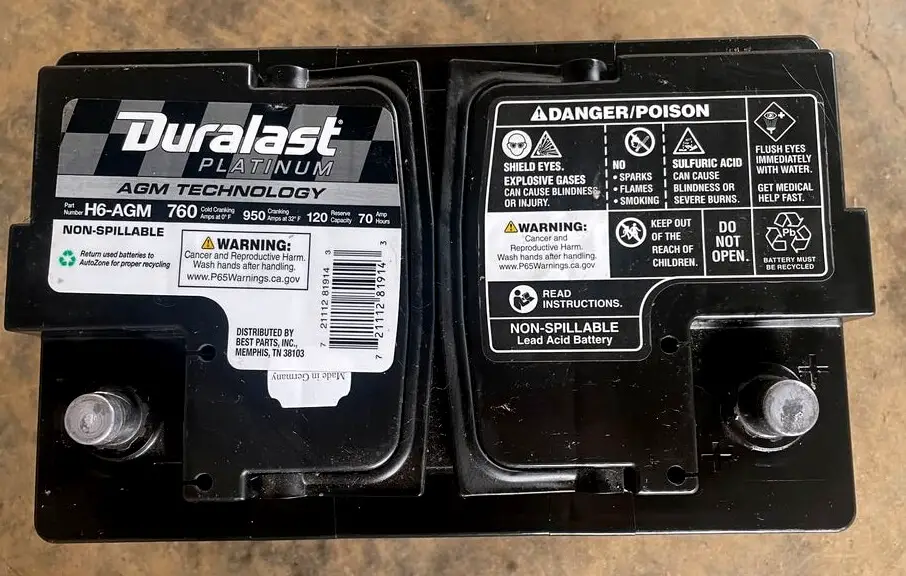 Cranking Amperage
In addition to robust cold cranking ability, the Duralast Platinum generates a maximum current output of 950 amps.
This high cranking amperage provides the surge of power needed to turn over a starter motor when starting your engine. More cranking amps means faster starts.
Reserve Capacity
The H6 provides a reserve capacity of 130 minutes, meaning the battery can deliver a minimum voltage for 130 minutes after the charging system fails.
This provides you ample time to drive to safety or get assistance in the event of an alternator breakdown. The high reserve capacity is ideal for vehicles with many electronics that drain the battery while driving.
Price
With an MSRP of $249.99, the Duralast Platinum H6 sits at the higher end of the price range for AGM batteries, but its outstanding 3-year warranty and high-end design make it a compelling value for the premium price point.
The battery delivers performance on par with many AGM options costing much more from OEM dealers.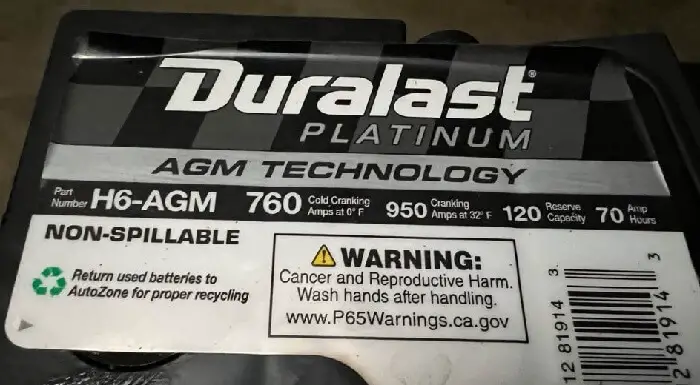 Terminal Location
The H6 features a reversed post configuration with the positive terminal located on the right and the negative terminal on the left (from the vantage point of the installed battery). This reversed layout matches modern OEM battery designs for simple installation as a replacement.
Dimensions
Measuring 11 inches long by 6.94 inches wide and standing 7.5 inches tall, the H6 conforms to a standard group size 48 battery envelope.
The compact sizing and AGM design allow flexible mounting, even in confined engine compartments.
Weight
At a hefty 46.9 pounds, the H6 weighs noticeably more than a conventional flooded lead-acid battery, but this extra mass lends the AGM battery its vibration resistance and sturdiness.
The robust sealed construction reduces corrosion issues associated with the weight of older style vented batteries.
Voltage
The Duralast Platinum H6 utilizes a standard 12-volt DC configuration suitable for most passenger vehicles. The 12V rating ensures proper compatibility as a replacement battery.
Additional Features
The H6 AGM battery delivers up to twice the cycle life of conventional lead-acid batteries. It is certified as non-spillable and maintenance-free due to the sealed AGM design.
Designed for superior performance in vehicles with start-stop technology, the H6 functions well under the frequent charge and discharge cycles required by these fuel-saving systems.
It also holds up to the increased power demands from the array of electronics and accessories found in luxury and performance vehicles. The Duralast Platinum H6 offers premium power for today's advanced auto battery requirements.

Peter Rees, your go-to car parts expert, bridges the gap between mechanics and motorists. With over decades in the automotive industry, he decodes the intricacies of vehicles in his insightful blog, steering readers toward savvy decisions and smooth rides.