Everstart Maxx vs DieHard Battery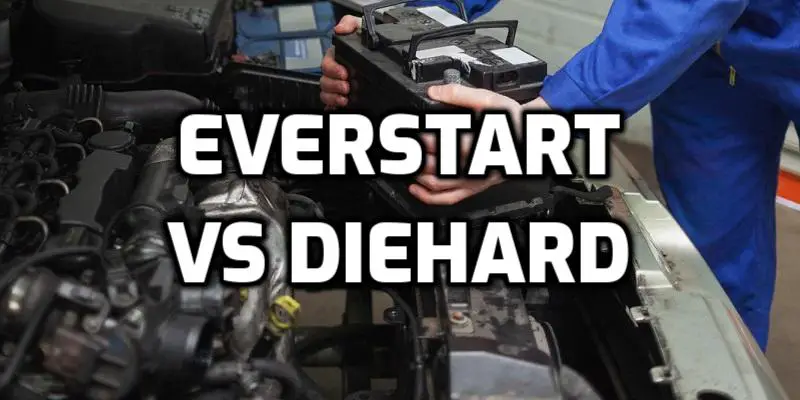 Car batteries are one of the essential parts of any vehicle, and they are in high demand all the time. Considering the market, several brands are successfully manufacturing car batteries and have been satisfying the customers for ages.
Everstart and DieHard are probably the most prominent names in the car battery business. At the same time, Everstart amalgams both premium and budget-friendly models and mostly excels for budget models and durability. DieHard beats all the competitors with its both on-road and off-road power supply.
Everstart Maxx vs DieHard Table
Both these brands are commendable. Thus we have framed an Everstart and DieHard comparison so that the customers can determine in which product they would invest.
| | |
| --- | --- |
| | |
| | |
| Model is Everstart Maxx 79 | |
| Lead Acid Automotive Battery | Absorbent Glass Mat Battery |
| Dimension is 10.94 X 6.89 X 7.72 inches | Dimension is 9.13 X 6.75 X 7.69 Inches |
| | |
| | |
| 36 Months Free Replacement Warranty | 36 Months Free Replacement Warranty |
| Has A Reserve Capacity Of 140 Minutes | Provides 120 Minutes Of Reserve Capacity |
| Negative Terminal Location Top Left And Positive Terminal Location Top Right | Negative Terminal Location Top Left And Positive Terminal Location Top Right |
| Comes With 840 Cold-cranking Amperage | Features 775 Cold-cranking Amperages |
| Weight Is Around 44.1 Pounds | Weight Is Around 37.6 Pounds |
| Top Post Design With Easy To Access Positive And Negative Terminals | Spill Proof Design Provides Extra Protection For Sophisticated Electronic |
| | |
Battery Types
The Everstart Maxx 79 is an essential lead-acid battery that uses lead peroxide and sponge leads to convert chemical energy into electrical power. Dilute sulphuric acid works as the main component or fluid. As lead-acid technology has been used for several years, it is quite mature and ensures constant performance efficiency. They are easily recycled yet ensure high performance.
To maintain the consistency of its performance, it is structured with a limited depth of discharge. Usually, an ideal battery has 1500 cycles within 80% of the discharge. Plates, containers, active materials, battery terminals, and separators are the essential components of any lead-acid battery. These batteries get charged very fast and yet are very reasonable in price due to the low-cost manufacturing system.
DieHard 38232 is an AGM or Absorbed Gas Matt battery, or in easy words, it is a sealed lead-acid battery. This type of battery keeps the electrolyte in a suspense state. In contrast, standard lead-acid batteries keep the electrolyte in a fluid form. The spill-proof design provides extra protection to the delicate parts of the vehicles.
Moreover, AGM batteries are well known for ensuring protection from external vibration. Still, this particular model claims 20X more protection from vibration. Again compared to the normal lead-acid batteries, it provides 2X cycle life and eventually improves the performance and durability. The structure is tamper resistant and heat-sealed, which means extreme durability. And all these amazing features come to your basket without any maintenance.
Reserve Capacity
The main difference between Everstart Maxx and DieHard is in the reserve capacity. The Everstart Maxx 79 battery can last up to 140 minutes, and the DieHard 38232 battery can last up to 120 minutes. The Everstart Maxx 79 battery comes with a high reserve capacity of almost 140 minutes which means this battery can provide 25 amps of power to the engine until the voltage drops to 10.5V.
Reserve capacity is critical to provide a necessary backup to the engine once it gets discharged. Also, the reserve capacity lets the users know how long the engine will work and prevents overuse of the engine. 140 minutes of reserve capacity is pretty high for any battery and is above standard. The DieHard 38232 comes with 120 minutes of reserve capacity.
However, it is not as high as the Everstart model, yet 120 minutes of backup is nothing less than a deal. Suppose anyhow the alternator fails to provide energy to the sensors, wipers, and other components, and the engine starts to use electricity. In that case, this battery will be able to give back up to the engine for 120 minutes.
Cold-Cranking Amperage
Cold-cranking amperage is the standard measure to determine how well the battery will perform to start a vehicle under the coldest weather conditions. The Everstart Maxx 79 battery has 840 cold-cranking amperages, higher than an average model. This means in 0F temperature, and this battery will provide 840 amps of starting power to the vehicle for 30 seconds.
This is amazing for sure. Cold-cranking amperage does not only associate with temperature conditions. It is also a parameter of how well the battery will perform. Even if you don't belong to a cold place and don't need extra starting power under the cold temperature, the higher the CCA is, the better the battery performance will be.
The DieHard 38232 features 775 cold-cranking amperages, lower than the Everstart Maxx model, but is undoubtedly more than enough for any vehicle in 0F temperature. If you need to replace the alternator at any time of your vehicle usage or if your vehicle already has a heavy alternator.
You would need a battery with a high cold cranking amperage to make the battery compatible with the alternator. Also, different car manufacturing company suggests a different range of cold cranking amperage in a battery. Thus, one must read the manufacturer's guide to determine the perfect CCA for their vehicle.
Voltage
Both models feature 12V voltage, a standard parameter for a car battery. 12v voltage can run the alternator well and manage the extra components like the sensors, the wipers, the lights, and so on without any hassle.
Group Size
The Everstart Maxx 79 belongs to BCI group 79 and is perfect for automotive vehicles. These batteries are very high in reserve capacity and cold cranking amperage. Eventually, it can provide extreme backup to the engine.
Also, this battery can provide power to USB ports, inverters, light bars, navigation computers, winches, entertainment systems, and so on. Users will not face any problems with the sensors while this battery is installed. Moreover, the high cold cranking amperage makes it eligible for extremely cold temperatures.
The DieHard 38232 battery belongs to BCI group 34 and is also used as a starting and dual-purpose battery. These batteries are mostly bigger and go with a different range of vehicles. Most of the group 34 batteries are AGM batteries and excel in protecting against external vibration and leakage.
Warranty
Both the models claim three years of replacement warranty which means users can simply get a replacement if any problem occurs during the first three years of purchase.
Dimensions
Battery dimension is an essential factor to consider before purchasing a battery. The Everstart Maxx 79 comes with the following dimensions 10.94 x 6.89 x 7.72 inches and weighs 44.1 pounds. On the other hand, the DieHard 38232 features 9.13 x 6.75 x 7.69 inches and weighs 37.6 pounds.
Terminal Location
Both the models feature the left top position for the positive terminal and the proper top position for the negative terminal.
Conclusion
After analyzing both models in-depth, it is safe to say that both the batteries are good enough and come with great features. The Everstart Maxx 79 battery is better in cold-cranking amperage and reserve capacity. In contrast, the DieHard 38232 battery features a more extended warranty period and is compatible with a wider range of vehicles. Thus, it can be concluded that the Everstart Maxx 79 battery is a better option overall and is an excellent choice for anyone looking for a high-performance battery.
Related Article

Mark Takahashi, Car parts guru with a passion for mechanics. Blogger extraordinaire, translating auto jargon into everyday magic. Drive into his world of knowledge!