Exide vs Everstart Car Battery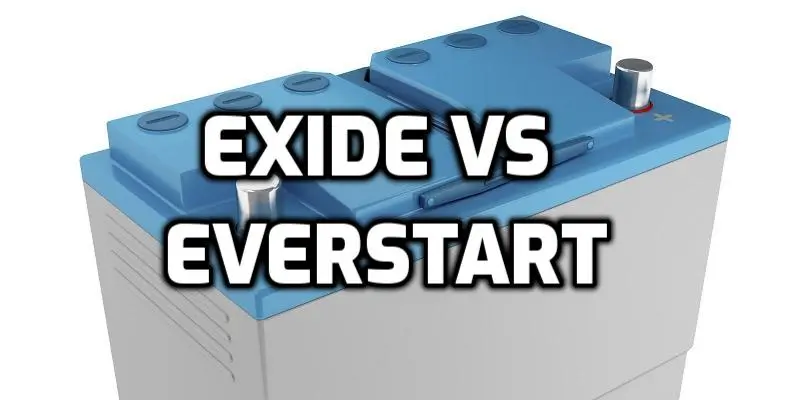 Both these brands are landmarks in the car battery industry. At the same time, Exide excels in durability and has almost six times more cycle life. The Everstart is the best battery on a budget. Everstart according to consumers and even as per the brand's claim, is twice more powerful than its competitors within the same price range. On the other hand, Exide is applauded for its consistent performance-driven results and extreme heat tolerance.
Exide vs Everstart Table
| | |
| --- | --- |
| | |
| | |
| Model is Everstart Maxx 78N | |
| Lead Acid Automotive Battery | Absorbent Glass Mat Battery |
| Dimension is 10.90 X 7.35 X 7.29 Inches | Dimension is 9.06 X 7 X 8 Inches |
| | |
| | |
| 3 Year Free Replacement Warranty | 40 Month Free Replacement Warranty |
| Reserve Capacity Between 100 To 130 Minutes | 80 Minutes Of Reserve Capacity |
| Positive Terminal On The Left Side And A Negative Terminal On The Right Side | Negative Terminal Location Top Left And Positive Terminal Location Top Right |
| Delivers 800 Cold Cranking Amps | |
| Weight Is Around 37.3 Lbs | Weight Is Around 40.78 lbs |
| It is Side Posts For Easily Connecting Positive And Negative Terminals | Highly AGM Separators Provide Cushioning For Better Vibration Resistance |
| | |
Battery Types
The Exide FP-AGML5/49 belongs to the AGM (Absorbent Glass Mat) type of battery, ultimately a sealed lead-acid battery. This battery is way more efficient than the traditional lead-acid batteries due to the developed technology. This battery excels in preventing spillage as the Glass Mats are designed to keep the electrolytes in place.
It has a minimal internal resistance, which ultimately means more power output. Also, the charging time is commendably minimal, and this AGM battery stands out with its extreme durability. Though it might demand more production and is high on the price range but considering the quality, this Exide AGM battery is a great deal.
Everstart 75N is a lead-acid battery which means the primary fuel material of this battery is lead peroxide (PbO2), dilute sulfuric acid (H2SO4), and sponge led (Pb). This battery provides power for everything from the starting, electronics, and much more.
It is ideal for starting internal combustion engines due to its high surge and current capability. A lead-acid battery is very convenient to manufacture. As the manufacturing cost is low, the ultimate consumer price also remains under the budget.
Reserve Capacity
The Exide FP-AGML5/49 features 160 minutes of reserve capacity which means 160 minutes of the constant voltage supply. Before being completely drained, this battery can provide 25A at a stretch for 160 minutes. This reserve capacity is considered high among all the other models and is suitable for backup.
The Everstart 75N comes with 95 minutes of reserve capacity, which is considerably lower than the competitor models. Though it can sustain 25A voltage for 95 minutes, the Exide one is way better than this one. Yet 95 minutes of backup is not anything bad considering the price point.
Cold-Cranking Amperage
Cold Cranking Amperage or CCA is a standard measure for starting reliability of an engine in extreme temperatures. The Exide FP-AGML5/49 provides 850 CCA which is practically impressive as the standard CCA of a battery is not more than 700 CCA. The users will get 850CCA in 0F temperature to start the engine.
The Everstart 75N comes with 700 CCA which means under the extreme condition of 0F temperature, and this automotive battery will provide 700 cold cranking amperage. Considering the CCA rate, the Everstart 75N might not be as good as the Exide one. Still, it meets the general needs, yet no doubt the Exide FP-AGML5/49 is better for vehicles under cold temperatures.
Voltage
Exide FP-AGML5/49 and Everstart 75N feature 12V, a standard voltage the vehicle techies consider. 12V is enough to run the alternator without creating any pressure or hassle. Moreover, within this voltage, the sensors remain protected as well. If hard start is the main concern for anyone, they can choose any of them as a 12V battery eliminates the risk of hard start.
Group Size
Exide Edge FP-AGML5/49 belongs to the BCI 49 group, is one of the most popular batteries, and is widely used in cars and other vehicles (Check your vehicle's user manual). This group of batteries is usually manufactured for dual-purpose use, for starting/ cranking the engine, or providing power to other loads.
As the Exide Edge FP-AGML5/49 is also an AGM battery, this combination is highly resistant to mechanical impacts and vibration. Also, when deeply discharged, this one ensures better recovery than others. The Everstart 75N belongs to the BCI 75 group; this battery is designed to start and power the system. This group size applies to light trucks, cars, and many other vehicles.
To understand whether this group size is suitable for your vehicle or not, the users must check their vehicle's manual. Though it is commonly used to start combustion engines, it also plays an essential role in providing power to the lights, sensors, winches, and other loads.
Warranty
Exide Edge FP-AGML5/49 battery gives probably the highest warranty in the market; it is covered by nine years of warranty. Everstart 75N offers three years of free replacement warranty.
Dimensions
Exide Edge FP-AGML5/49 battery is relatively bigger in dimension; 13.9 x 6.89 x 7.48 inches. For lead-acid batteries, item dimension is very crucial as more dimension means more available fluid fuel. Considering that, this battery contains a good amount of fuel fluid. Everstart 75N is 9.55 x 7.45 x 7.37 Inches; it is smaller than the Exide model and contains less fuel fluid, yet it is a good choice for lighter vehicles.
Terminal Location
Exide Edge FP-AGML5/49 is an SAE top post terminal battery. The Negative terminal is located on the left side, and the positive terminal is located on the right side. The Everstart 75N features a side post terminal to easily connect the positive and negative terminals. In Side battery terminals, positive terminals are usually based on the left side, and the negative terminal is based on the right side.
Weight
Exide Edge FP-AGML5/49 weighs 59.8 pounds; though weight does not specifically determine the battery quality in most cases, heavyweight batteries perform better. Everstart 75N battery weighs 32.4 lbs.
Conclusion
The main difference between Exide and Everstart is in the reserve capacity. The Exide FP-AGML5/49 has 160 minutes of reserve capacity, and the Everstart 75N comes with 95 minutes of reserve capacity. The Exide Edge FP-AGML5/49 battery is better than the Everstart 75N in various aspects, from CCA to weight.
If you are looking for a powerful and long-lasting battery, Exide Edge FP-AGML5/49 should be your choice. However, if you have a lighter vehicle and budget is your concern, Everstart 75N can be a good option.
Related Article

Mark Takahashi, Car parts guru with a passion for mechanics. Blogger extraordinaire, translating auto jargon into everyday magic. Drive into his world of knowledge!