Everstart Value vs Maxx Battery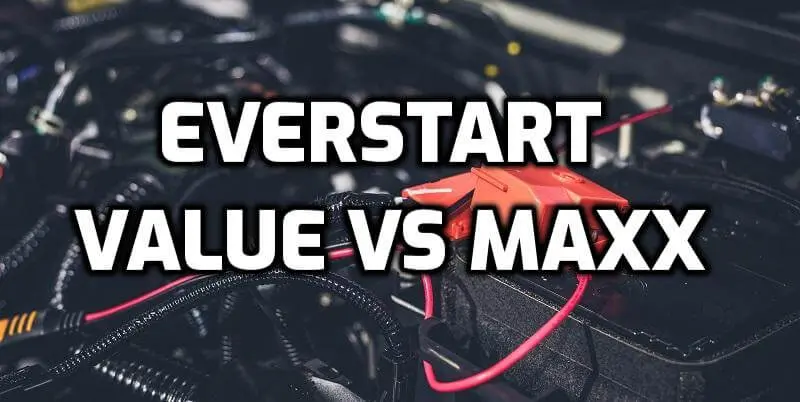 As Everstart has several series and lines o products, the Maxx series is just one of the advanced series. This series is quite different from the basic Everstart lines; there is a prominent difference between the group sizes, CCA, reserve capacity, warranty, dimension, etc. Customers, while buying products of this brand, can easily get puzzled.
Everstart Value vs Maxx Table
Thus our team has picked two models to highlight a thorough Everstart and Everstart Maxx comparison.
| | |
| --- | --- |
| | |
| | |
| Model is Everstart Maxx 78N | |
| Lead Acid Automotive Battery | Lead Acid Automotive Battery |
| Dimension is 10.90 X 7.35 X 7.29 Inches | Dimension is 7.60 X 12.00 X 7.60 Inches |
| | |
| | |
| 3 Year Free Replacement Warranty | 12 month Free Replacement Warranty |
| Reserve Capacity Between 100 To 130 Minutes | Reserve Capacity Around 95 Minute |
| Positive Terminal On The Left Side And A Negative Terminal On The Right Side | Positive Terminal On The Right Side At The Top Of The Battery |
| Delivers 800 Cold Cranking Amps | 650 Cold-cranking Amperage |
| Weight Is Around 37.3 Lbs | Weight Is Around 47.2 lbs |
| Provides Reliable Starts In All Weather | Dependable Power At A Value Price |
| | |
Battery Types
Both Everstart Value 65 and Everstart Maxx 51 belong to the Lead-acid type of battery; these batteries convert the chemical energy into electrical power by using sponge lead and lead peroxide. This technology is relatively mature and has been present in the market since the 19th century.
A lead-acid battery usually compromises five sections; container, plates, active material, separators, and battery terminals. The customers highly accept these batteries due to their easy charging ability, can easily be recycled, and provide high performance. Lead-acid batteries are designed with a limited depth of discharge for consistently high performance.
A standard battery comes with 1500 cycles within 80% discharge. Though over the years, different battery technologies have emerged with the superior outcome, a lead-acid battery knocks off its competitors with commendable durability. Moreover, it comes within a minimal budget and features a universal structure to fit maximum numbers of vehicles.
Reserve Capacity
The Everstart Value 65 offers a solid reserve capacity of almost 130 to 150 minutes. This battery will provide backup power of 25 amps for 130 to 160 minutes before the voltage drops to 10.5 volts. Usually, the alternator provides energy to the sensors, wipers, lights, and other components.
Still, when the alternator fails to provide the necessary power, the engine starts to use electricity. This is where the reserve capacity plays its role. It also helps reduce the chances of overrunning the engine. Thus, customers cannot compromise a higher reserve capacity to ensure better backup.
The Everstart Maxx 51 on the other hand, offers 70 minutes of the power supply until the voltage drops to 10.5V. This battery will run the engine in case of an alternator failure for 70 minutes. Users must not run the engine after 70 minutes of discharged condition. Otherwise, it will put extra pressure on the battery. 70 minutes of reserve capacity is not bad but it is nothing great. It is perfect for medium power-consuming vehicles, but this amount of backup may cause problems for heavy vehicles.
Cold-Cranking Amperage
The Everstart value 65 battery offers 650 cold-cranking amps, which means when you start your car at 0F, it will provide 650 amps of power for 30 seconds to start the car engine. Now, cold-cranking amps are related to the weather conditions as well. Suppose you are living in the coldest parts where your car engine may need extra support to get started.
In that case, nothing is alternative to a high cold cranking amperage. But cold-cranking amperage is not always about the weather, and it also determines the quality of a battery. Especially when the user needs to replace the alternator for any reason and May switch to a high-performance heavy alternator, the cold cranking amperage must also be high. Otherwise, the alternator will not be compatible with the CCA and eventually be damaged.
The Everstart Maxx comes with 500 cold-cranking amps; this battery can provide 500 amps of power to get any car engine started for 30 seconds at 0F temperature. Even if the buyers are not from the cold region, it is always better to have a high cold cranking amperage to ensure that the alternator of the car engine is compatible with the battery. 500 is a decent number to support an average car in the coldest weather. And surely it is worth the money.
Voltage
Both these models feature the same voltage, which is 12v, and it is the standard voltage for any average battery. Voltage is very important, and it determines how efficient the battery is and how much power it may supply to the system. Neither high nor low voltage is good.
Instead, one should opt for an adequate amount of voltage. 12v is a universal voltage for any vehicle. Usually, 12v batteries are widely used, but the customers must read the user manufacturer's description to understand how much voltage they need in a battery.
Group Size
The Everstart value 65 belongs to BCI group 65. It is used as a dual-purpose, starting, and deep cycle battery for marine, industrial equipment, automotive, etc. It offers 70-75 Ah 20h capacity and is a mid-size battery that fits plenty of vehicles.
The Everstart Maxx 51 belongs to the BCI group 51; it is used highly on automotive vehicles and is a common fit for a huge number of vehicles. It is used both for starting a vehicle and for dual purposes.
Warranty
The Everstart value 65 offers a 1-year free replacement warranty. If the buyers face any problems regarding the battery, they can claim replacement until one year.
The Everstart Maxx 51 on the other hand, is more confident in its durability and offers three years of replacement warranty.
Dimensions
Battery dimension is also an important matter to consider. When it comes to the dimensions of the battery, both these models are almost identical in size. The Everstart value 65 measures 13 x 6.9 x 9.3 inches, and the Everstart Maxx 51 measures 10.8 x 6.9 x 8.4 inches. One must read the manufacturer's guidelines to ensure the dimensions match their vehicles.
Terminal Location
The Everstart value of 65 places the positive terminal on the top left and the negative side on the top right corner.
The Everstart Maxx 51 places the positive terminal on the left side and the negative terminal on the right side. They both are top post batteries and place the terminals so that they can be connected easily with the vehicle engine.
Weight
The Everstart value 65 weighs 46.3 pounds, and the Everstart Maxx 51 weighs 38.4 pounds. The Everstart value65 is a little bit heavier than the Maxx 51, but the weight difference is not that significant.
Conclusion
The main difference between Everstart Value and Maxx Battery is in the Reserve Capacity. Everstart Value 65 has the 130 minutes of reserve capacity and Everstart Maxx 51 has 70 minutes of Reserve Capacity.  In conclusion, both these models offer some great features, and they are almost identical in many ways.
But the Everstart Maxx 51 is a better choice when it comes to choosing between these two. It offers more cold-cranking amps, a more extended warranty period, and a better battery overall. However, it is always wise to read the user manual of the car and the battery before purchasing to ensure compatibility.
Related Article

Mark Takahashi, Car parts guru with a passion for mechanics. Blogger extraordinaire, translating auto jargon into everyday magic. Drive into his world of knowledge!