Truxedo Sentry Review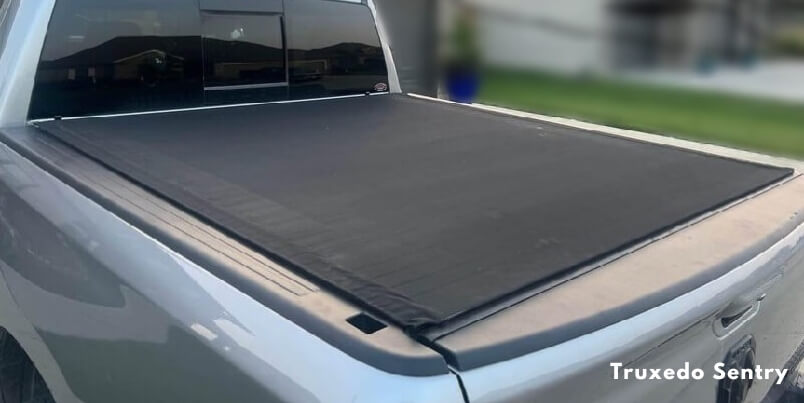 Truck owners often look for the best bed cover solutions, balancing aesthetics, protection, and usability. The TruXedo Sentry is a truck bed cover that claims to offer all this and more. Let's dive deep into its features, design, and functionality to determine if it truly lives up to the hype.
| Feature | TruXedo Sentry |
| --- | --- |
| Type | Hard Roll-up |
| Material | Leather-grain vinyl + Aluminum slats |
| Appearance | Xtra-low profile, Gloss & Matte black finish |
| Operation | One-hand roll, Dual-side latches |
| Protection | Weatherproof, Sealed with fasteners |
| Installation | No-drill, Self-leveling rails |
| Bed Access | Full when rolled up |
| Visibility | Unobstructed rear view |
| Compatibility | Ford F-150 (2015 – 2022) 5′ 7″ Bed |
| Warranty | 3 years |
| Origin | USA |
| Additional Feature | Matte black upgrade option |
| | |
| --- | --- |
| | Sleek TruXedo Sentry cover offers robust protection with its durable material. Easy to install and operate. Comes with a 3-year guarantee. Made in the USA. |
Industrial-Strength Construction
The TruXedo Sentry is crafted with industrial-strength, leather-grain vinyl fabric, promising durability and resilience against harsh weather conditions.
Additionally, its heavy-duty aluminum slats, pressure-bonded to the vinyl, add an extra layer of security, ensuring the longevity of the cover.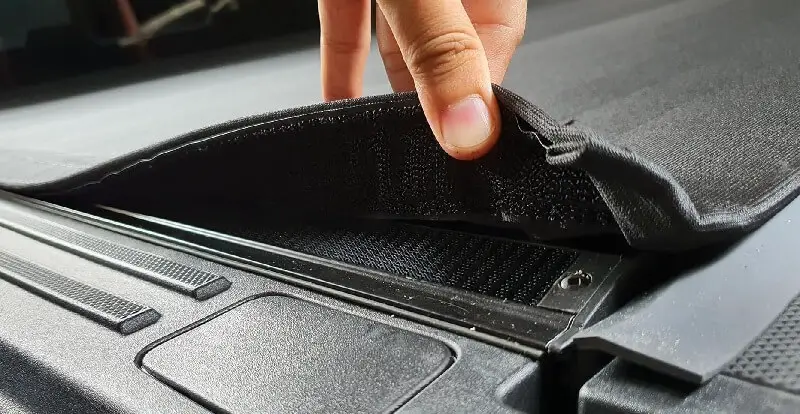 Signature Appearance
With TruXedo's signature Xtra-low profile design, the Sentry doesn't just perform well—it looks good doing it.
The gloss black finish on the vinyl paired with matte black aluminum slats exudes a sleek and sophisticated appearance, accentuating the overall look of your truck.
Convenient Operation
The one-hand rolling approach facilitates easy operation, and the operation cables located on either side of the tailgate make unlocking a breeze. This design allows you to access your truck bed effortlessly from either side, making it user-friendly and convenient.
Advanced Latching System
The slam latches and additional security latches on both sides near the center of the truck bed ensure the cover remains secure. These features offer peace of mind that your belongings are safe, especially when traveling through rough terrains.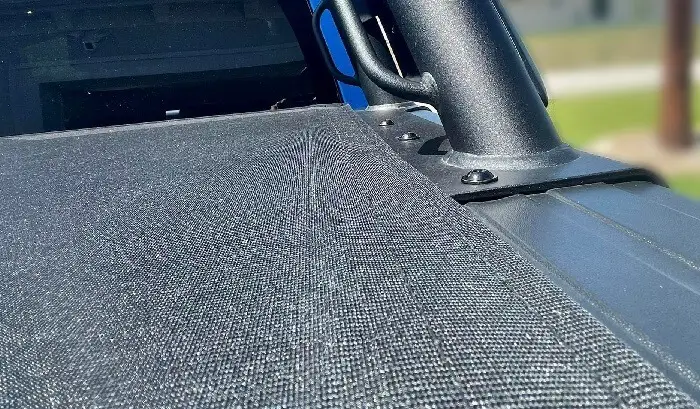 Full Bed Access
When rolled up in the cab, the TruXedo Sentry provides full access to the bed, enabling you to utilize your truck's space efficiently. It doesn't obstruct rear view visibility or the third brake light, ensuring driving safety.
Secure Driving When Open
With sturdy straps to secure the cover when it's open, you can drive with ease knowing that the cover won't flap around, potentially causing damage or creating noise.
Superior Protection
The Sentry offers optimal protection against weather and debris, featuring industrial-grade hook and loop fasteners that effectively seal the cover along the bed rails, safeguarding your cargo against the elements.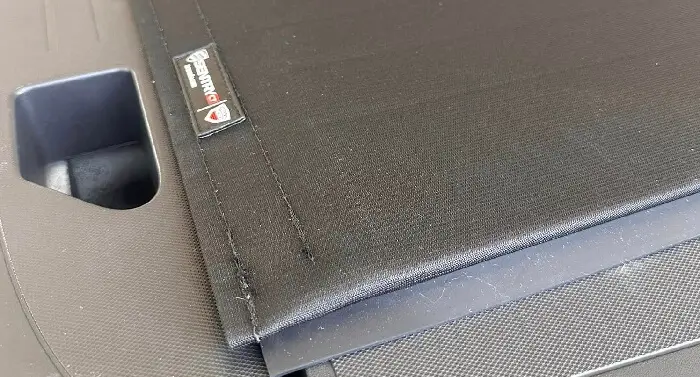 Easy Installation
The no-drill installation and self-leveling rails make mounting the TruXedo Sentry a task that can be accomplished in under 30 minutes. Plus, the quick-release system removes the cover without tools, adding to the convenience factor.
Warranty Period
The TruXedo Sentry comes with a reassuring 3-year guarantee, and TruXedo provides exemplary support and replacement parts, ensuring that help is at hand should any issues arise.
Made in the USA
Proudly manufactured in the USA, the TruXedo Sentry is a testament to top-notch American engineering and craftsmanship.
The additional feature of an upgrade option to a matte black version allows for customization, letting you tweak the appearance to your liking.
Our Observation
From my perspective, the TruXedo Sentry truck bed cover is an impressive blend of design and functionality. It's evident that TruXedo has put thought into the aesthetics, with its signature Xtra-low profile look and the sleek gloss and matte finishes.
I'm particularly intrigued by the industrial-strength vinyl combined with aluminum slats, suggesting durability while still maintaining style. The one-hand rolling approach and the additional center latches highlight user convenience. Installation without drilling and under 30 minutes is also a significant plus.
With its comprehensive protection and clear rear visibility, this cover offers a lot for 2015-2022 Ford F-150 owners. Made in the USA and backed by a 3-year guarantee, it speaks volumes about its quality.

Mark Takahashi, Car parts guru with a passion for mechanics. Blogger extraordinaire, translating auto jargon into everyday magic. Drive into his world of knowledge!