Bakflip F1 Review
Truck owners know the importance of a robust and reliable tonneau cover to protect the contents of their truck bed. The BAKFlip F1 Hard Tonneau Cover stands out as a premium option, blending aesthetics, durability, and functionality into one seamless design.
This review will delve into the features and benefits of the BAKFlip F1, helping you decide whether it's the right fit for your truck.
| Feature | BAKFlip F1 |
| --- | --- |
| Design | Low-profile, Tri-fold |
| Material | Fiberglass Reinforced Polymer (FRP) top panels, Rigid aluminum frame, High-density foam core |
| Durability | Resistant to UV rays, scratches, dents, and dings |
| Security | Hard cover latching into aluminum rails prevents unauthorized access |
| Accessibility | Full bed access without removal, Easy operation for latching and unlatching |
| Water Drainage | Built-in rail guides water to the front of the bed and empties it through drainage tubes |
| Installation | No-drill clamp for quick installation |
| Protection | Premium weather seals form a tight seal with bed rails, preventing water and debris entry |
| Appearance | Mounted flush with the truck bed for a stylish, almost invisible side view |
| Cargo Hauling | Can be secured in an upright position for larger cargo without removal |
| Impact Resistance | Advanced impact-resistant construction |
| Weight Capacity | Can hold up to 400 Lbs. of evenly distributed weight |
| Warranty | Comes with a 5-year warranty against manufacturing or workmanship defects |
| | |
| --- | --- |
| | BAKFlip F1 excels in durability and functionality, offering a sturdy, secure truck bed cover with a sleek appearance and 5-year warranty. |
Premium Design
The BAKFlip F1 is known for its premium and low-profile design, making it a sleek addition to any truck. It merges aesthetic appeal with practicality, ensuring truck owners don't have to compromise on style or functionality.
Durable Cover
Constructed with Fiberglass Reinforced Polymer (FRP) top panels, this cover offers unmatched durability and resistance against potential damage such as scratches, dents, and dings.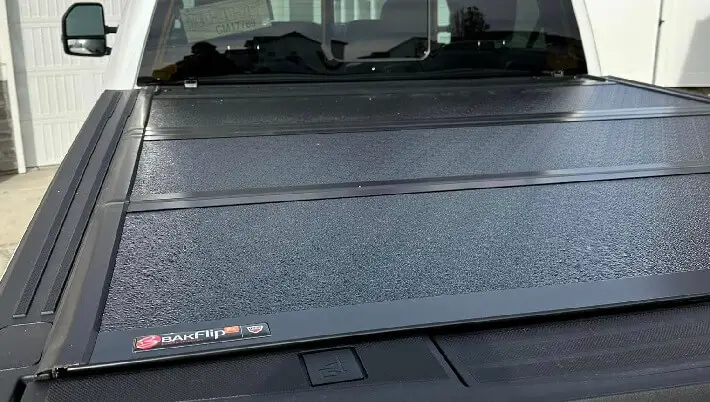 Easy Tool Access
The innovative design allows for tools to be easily placed on top of the cover, providing quick access without having to open the cover completely, which is especially handy for those who use their trucks for work purposes.
Tri-Fold Access
With its intuitive tri-fold design, accessing different sections of the truck bed is a breeze, giving owners the flexibility to manage their cargo effectively.
Impact Resistant
The fiberglass material used in the cover resists the harmful effects of UV rays, ensuring long-lasting color and integrity. Furthermore, its advanced impact-resistant construction means it can withstand the challenges of everyday use.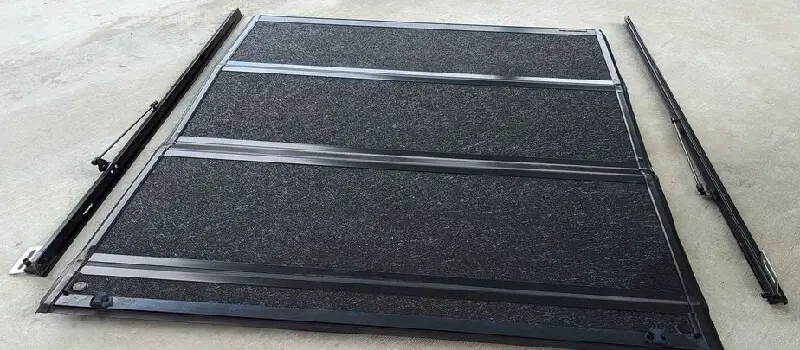 Enhanced Security
The hard design provides an additional layer of security, acting as a formidable barrier against theft. The cover latches securely into the aluminum rails when closed, preventing unauthorized access.
No-Drill Installation
Installation is swift and hassle-free, with no need to drill into the truck bed, preserving the vehicle's integrity and value.
Adjustable Position
The cover's adjustable positions provide versatility, allowing partial or full access to the bed. The space-efficient design extends only about an inch and a half into the bed and about an inch at the top, maximizing the available cargo space.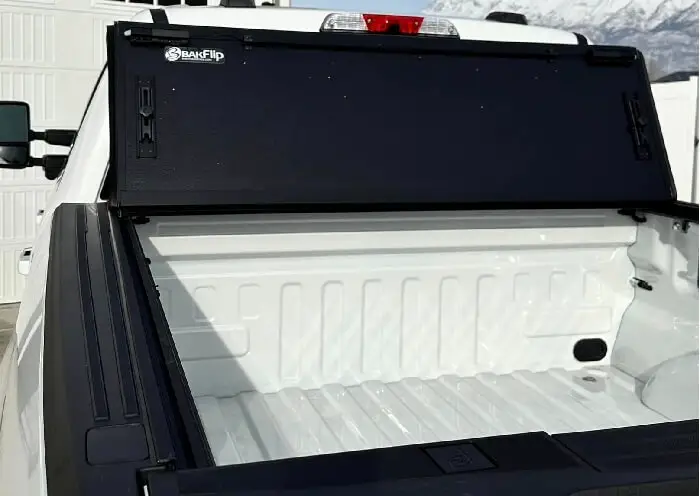 Drainage System
Featuring innovative rails that collect and guide water to the front of the bed and out through drainage tubes, this system effectively prevents water accumulation, protecting your cargo from water damage.
Premium Seals
Equipped with durable and weather-resistant EPDM seals, the BAKFlip F1 ensures a tight seal with the bed rails and employs rounded-style hinges to prevent water and debris from entering the truck bed.
Generous Warranty
Offering peace of mind to its owners, the BAKFlip F1 comes with a 5-year warranty against manufacturing or workmanship defects, highlighting the manufacturer's confidence in the product's quality and durability.
Our Observation
From my vantage point, the BAKFlip F1 tonneau cover truly impresses with its combination of design and functionality. I'm particularly taken by its textured FRP top panel, which not only adds an aesthetic appeal but also promises durability against daily wear and tear.
The water drainage system is an ingenious addition, ensuring that rainy days won't lead to water pooling in the truck bed. While its low-profile appearance gives a sleek look, the feature that truly stands out for me is its easy operation.
With the no-drill clamp installation and dual-action seal tailgate operation, it seems BAKFlip has genuinely considered user convenience. All in all, the F1 appears to strike a harmonious balance between style, security, and ease of use.

Peter Rees, your go-to car parts expert, bridges the gap between mechanics and motorists. With over decades in the automotive industry, he decodes the intricacies of vehicles in his insightful blog, steering readers toward savvy decisions and smooth rides.